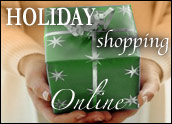 Like great athletes in football or basketball, the most prepared merchants win online commerce in the fourth quarter, when rabid fans propel businesses to profitability. You've likely completed your sourcing and planned many of your general holiday sales and promotions already.
Now, it's time to go through your pre-game checklist again to make sure you're prepared for an online sales storm of Sandy proportions in 2012.
Shoppers will be buying online this holiday season even more than in years past, drawn by the selection, value, and convenience available online.
Check It Twice
Beating out your competition for these valuable sales requires diligent preparation and great execution. The following checklist can ensure you're well prepared to capture more than your fair share of this holiday's online sales.
Promote your Black Friday and Cyber Monday deals widely. Aggregate your deals into a single promotional page that prominently displays your holiday deals and labels them as Black Friday or Cyber Monday deals. This approach not only maximizes search engine optimization (SEO), but also enables you to promote all your deals through social engagement. These deals are also easier for your shoppers to share with the loved ones whom they hope will be the consumer and gift giver. (Hint: Add social sharing buttons to your main deals for added traffic).
Tease daily deals to generate repeat visitors. Limiting your online deal promotions to just two days every holiday is so 2008. Reserve some of your hottest deals and make them available each day throughout the holidays to encourage repeat site visitors. Teasing some product offer information can further increase the incentive for shoppers to return. The day after Christmas is one of the busiest shopping days of the year, so plan deals for that day as well. Encouraging social engagement by offering select deals to those who follow you socially on Twitter, Facebook, and Pinterest can grow your sales well beyond the holiday sales cycle.
Give your mobile shopping customers a great buying experience. Review your site in a mobile browser to ensure the experience is one that would make you happy as a customer. If not, you or a third party can improve mobile enablement in mere days. If you aren't ready for this commitment, you can also get your product in front of mobile shoppers on Amazon or eBay, which already drive billions of dollars in mobile shopping sales.
Leverage third-party fulfillment to avoid bottlenecks. If your ability to process orders and ship items limits the gains you make during the holidays, then let others do the grunt work. While leveraging a third-party fulfillment center is not a cheap solution, fulfillment by Amazon and other similar options provide reliable services that can scale faster and more reliably than holiday help and seasonally expanding warehouse space. The increased sales opportunity available with added fulfillment capability can offset the added seasonal costs.
Offer free shipping. While merchants understand nothing is free, we can no longer deny the draw free shipping has for consumers. Amazon offers free shipping widely, and eBay merchants and online retailers generally have followed suit. Even if you have aggregate cart value or quantity purchase requirements for customers to attain free shipping, having it as part of your marketing message draws shoppers into your online store and propels them to add items to your online shopping cart.
Offer gift wrapping. Even if the price you need to charge for gift wrapping seems excessive to you, don't underestimate the convenience this service offers the gift-wrapping challenged. Gift wrapping is an area where holiday help can be leveraged to increase your overall holiday profit margins and cover the weaker margins of your door-buster deals.
Offer expedited shipping to extend the online shopping season. In past years, online holiday sales trailed off significantly after Dec. 15, as nervous shoppers avoided the risk that their precious holiday gift shipments wouldn't arrive in time. Offering expedited shipping can extend your holiday selling season and have you scurrying the night before the night before Christmas.
Sell gift cards that can be redeemed through your online store. While generally leveraged historically by larger merchants, smaller merchants can also sell gift certificates. If you sell a broad variety of products in a specialized niche that may be more familiar to the gift recipient than the gift giver, gift certificates represent excellent sales opportunities. Gift certificates not only have some potential for "breakage" gains but also smooth the holiday cash inflows into shipments that can be sent in Q1 when the warehouse has more capacity. They also lead to lower return rates by avoiding the "close, but not quite" gift selection problem.
Include coupons for discounts on purchases in January. Gifts naturally enable sharing between someone who knows your online store and someone who may not. Encourage this new potential customer to increase their collection of goods from your store by offering discounts on future purchases. Q1 is generally the second-strongest behind Q4 because smart merchants carry the momentum through holiday returns, repeat visits, gift cards, and coupon redemption — plus the newfound holiday cash burning holes in pockets.
Be social, even when you're busy. The holidays are a time for joy and togetherness. Reflect that spirit in your social engagement, and your potential customers will respond in kind (and be more likely to shop with you). Remember, busy means sales, so let that happiness show through your customer engagements. The happy customers you create will tell their friends and give you the least expensive and most compelling marketing channel you can have.
Measured Success
Having a key general readiness checklist going into the holidays can definitely help you grow your online sales. No one knows your business better than you do, however, so keep your own lists along the way.
Every season is a learning experience, so take notes as you go. Write everything you can down in a notebook, so you can make and review your own custom preparedness checklists for this time next year. If you're already reviewing your notes from prior seasons, it's much more likely we'll be visiting your store this holiday and having an amazing shopping experience.
Happy holidays and have a happy and prosperous selling season!