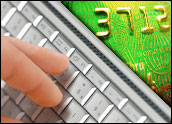 As the holiday shopping season wraps up, what better time to take a look back at what has changed in retailing this year as we set priorities for 2008. The most important development in retail in 2007 was the shift in consumers' attitudes about online shopping.
We learned during the past year that online shoppers have become increasingly sophisticated and discriminating. They are accustomed to highly visual, interactive and dynamic experiences elsewhere on the Web and are demanding a similar experience when shopping online.
In order to maintain their online market position and far surpass the competition, online retailers will need to up the ante in 2008. Playing conservatively for table stakes is not a viable strategy in a world where consumer online behavior is quickly shifting.
For multichannel merchants, the stakes are particularly high, as a customer's failed experience online directly impacts other parts of the business. In fact, retailers selected "online/multichannel retailing" as "the issue most likely to become even more important in 2008," according to the National Retail Federation.
Nearing Customer Saturation
While consumers' expectations are rising, the online shopping market is reaching customer saturation. Retailers' marketing focus is shifting from acquiring new customers to better retaining existing ones. Retention puts more emphasis on the shopping experience rather than on outbound marketing efforts.
Online retailers must now focus on those aspects of the shopping experience most closely tied to customer satisfaction and repeat purchases. Everyone knows that consumers want low prices, cheap shipping and better customer service.However, those are not the only factors driving Internet shopping.
Looking across different consumer studies conducted by Shop.org and Forrester Research, Stores magazine and The E-tailing Group, it is very clear that consumers also want an online shopping process that is quick, clear, informative and easy. Consistently delivering a positive experience that matches those criteria is now — more than ever — imperative for online retailers.
The Experience Gap
Companies that are able to create an "experience gap" between their offering and competitors' offerings will reap rewards for many years to come. Take, for instance, Apple's iPod. Apple created and delivered a compelling and positive customer experience, one that Microsoft and others could not quickly match.
In doing so, Apple has built tremendous customer loyalty for the iPod and their company. Now, even if Apple's competitors can offer something that's better, they are unlikely to gain back lost market share.
Retailers should look to create the same sort of experience gap with their online stores. No matter what category — from apparel to electronics — online retail leadership can be achieved with an aggressive and long-term focus on enhancing the customer experience. Quick fixes and snazzy add-ons are not going to achieve sustainable market leadership.
Steps to Take
So, what concrete projects should online retailers consider as 2008 initiatives that can help create an experience gap? Here are a few suggestions:
Clarity is increasingly important for shoppers.One way to increase clarity is to provide concise and accurate product information that's easily and quickly accessed. Implementing product "quick look" functionality that shows inventory availability, offers alternative views, provides more product details and lets the customer immediately add to their shopping cart is one strategy for achieving greater transparency and efficiency for your customers. Retailers who continue to rely on flat product category and detail pages risk being left far behind.
Speed means more than managing load times.Speed is achieved when a customer feels they have accomplished their task quickly and efficiently. Page loads are one factor in speed but with higher bandwidths they are no longer the core issue. Rather, improving processes so that they are smoother, more intuitive and easier is what really makes online shopping faster for your customers.

Customers want a quick way to move from exploring merchandise to buying what they like. Making online merchandising displays fully integrated with commerce so that consumers can immediately add items of interest to their shopping cart is an important strategy for optimizing the consumer's experience. At the end of the shopping experience, a checkout process that provides helpful error messaging and allows for easy editing of items is one that's going to meet with customer approval time when it means a lot.

Being both informative and fun is an effective way to strengthen customer loyalty.Adding video is one way to insert added information and flair to your website. But, more than simply showing products in new ways, video should be directly linked to your overall merchandising and shopping process.

Customers should be able to easily click in and out of each video to explore products more fully and add them to their shopping cart. Missing that link to shopping will only frustrate and annoy the very consumers you wish to entice with the video.
In 2008, many retailers will be updating their Web sites to meet rising customer expectations as to what the online shopping experience should be like. Web site projects that enable customers to better understand what they're buying, make buying easier and quicker, and make it fun and engaging will be good bets to make.
---
Graeme Grant
is chief operating officer for
Allurent
, an e-commerce solutions provider.
---