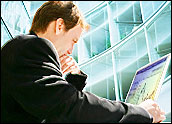 The decentralization of software and services has greatly changed the way businesses need to approach and appeal to their customers' whims. Before, software vendors could work with distributors to get their boxes onto shelves and into customers' hands — but when was the last time you went to Fry's or Best Buy and purchased a physical disc to install? Today's software and software buyer simply don't need or want to interact that way, opening new ways for vendors to put their wares in front of and ultimately in the hands of their audience.
The distribution channels that were available to you still exist but have fundamentally changed today. As nearly every software purchase has moved online, your previously behind-the-scenes channels have now become highly important avenues and new pressures arise to utilize them all or fall behind the pack. We need to dissect the most common models and how they could be holding back your business in the age of SaaS and cloud computing, and of course, look at what has made your distribution model more visible than ever to the market.
Direct Sales
You know this model like the back of your hand: you hire a handful of salespeople to cold-call, utilize their networks and grow the company's network, and sell directly via your Website. This is the most basic way of distributing your software and seemingly the easiest when you are an organization with the right personnel and structures in place to support a full sales team.
That last point is critical though in the software industry, as many startup vendors are resource-strapped and do not have the experience to know what to look for in a strong sales team or how to properly build one. This creates havoc that could lead to poor hires, low performance and financial loss as a company could hire a seemingly strong salesperson with a heavy compensation package, only to find that they cannot deliver on the sales needed.
A direct-only sales model also presents other challenges in terms of reach and growth that amplify the pressure to sell in more markets from inception of the business. By maintaining all operations in-house, the marketing and support organizations need to be highly focused on continuing growth in their core market while expending that same effort to properly grow in their new market — again, hard for smaller software vendors with smaller teams that only have so much bandwidth. By minimizing outside help for sales, vendors both large and small must work that much harder to ensure that not only are they targeted on their key customers, but also executing broader networking and sales operations simultaneously. This approach can create gaps in coverage, and especially when trying to grow globally, stunt your reach to new markets.
Channel Sales
Some companies elect to take the exact opposite approach to their distribution model by selling and distributing solely through the channel. This model has particular benefits for cloud services providers as their channel salespeople can also provide services to expedite deployment and minimize disturbances for the buyer who may not be as tech savvy. Utilizing a channel sales-only model also means that you can reach a broader range of audiences and markets without straining resources by creating a distributed network of existing sales personnel across regions. Furthermore, this extension of your team is fully versed in your new market's buying behaviors and can handle the sales and retention aspects of the customer lifecycle much more effectively
However, channel sales as your sole model is not without its confusion as well. Most glaringly, a channel-only model means that you can be at least one step removed from your end user. Support services, renewals management, payment processing, and upselling and cross-selling are all handled by your channel sales representative, which can create a disparity between vendor intentions and partner actions if actual usage information from the vendor is not shared properly. In other cases, after the initial sale by a channel partner, the vendor will pull the customer "in-house" for the rest of the product lifecycle, but a lack of customer knowledge causes more disconnects in the end-user relationship that harm the overall product experience that is crucial to online software sales. This could mean you may never get the end users' payment info or even contact info.
Mixed Model
This brings us to a mixed program for your distribution model that encompasses both channel and direct sales. The mixed model seemingly offers the positives of both programs by allowing vendors to directly manage customer relationships in most cases and expanding the sales channel through channel partners. These activities give software a broad net to move through and mean that buyers are now interacting with the vendor through multiple avenues, increasing awareness and intent to buy.
The mixed model comes with a set of negatives that are unique in comparison to the individual channel- or direct-only models however. For one, a mixed model requires a highly trusted channel partner network that will accurately convey the correct product and company messages consistently in tandem with the direct sales teams. The potential problem of having two organizations selling the same product with different or even competing messages is a hefty one when the consumer can easily switch to a competitor at the slightest sign of disconnect. Mixing these two channels also means that you have to maintain a high level of connectivity between the two organizations to ensure separation of prospects and accurate data management, which can harm your relationships and recurring revenue streams.
The New Kids on the Block
With direct sales forces under heavy pressure and channel partners becoming scarcer as the reseller market undergoes shifts, a new type of distribution that encompasses both and more is emerging. This new model takes into account not just general sales tactics; it also considers the latest in social, CRM, app-usage and help-desk technologies to not just find buyers, but also anticipate when they'll come and what precise deployment they'd be looking for.
The new model also incorporates every avenue available for distribution, including hosted services, device-specific sales platforms, and vendor and device app stores. Furthermore, this model involves mixing both channel with direct sales and blurs the line between service provider and simple reseller. Ultimately, the fully mixed combination of technology and distribution models allows for software providers to truly engage with their customers rather than simply try to sell them products they are unsure they want.
This new model clearly represents the best methodology for today's software business. The commoditization of software and services across the Internet means that companies looking to be competitive must utilize any and every channel they have to interface with potential buyers at the right time. They must also build broader awareness globally and easily. With the most difficult aspect of this model being relationship and data management, automated and integrated systems work to resolve that issue and streamline the sales process for the consumer. After all, they ultimately want as seamless a transaction as possible and as little interaction with the vendor as needed until an issue or renewal arises.