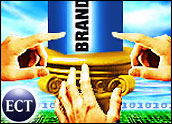 There was a day not that long ago when companies actually controlled their brands. Their marketing teams decided which messages their consumers were going to see and hear. Companies decided which publications, television shows and Web sites they wanted their ads to appear in, and they limited their customer interactions to 800 numbers and customer service counters with long queues.
Customers didn't like being fenced in like that, but what choice did they really have? They could vote with their feet and perhaps choose a competitor's brand, but their word-of-mouth activities were geo-bound and often didn't go beyond a few neighbors and colleagues that were within earshot of the complaining customer.
Along comes the Web and, ultimately, social media, providing scale and speed to word-of-mouth conversations. Tools such as blogs and third-party social networks like Twitter, Facebook and LinkedIn are transforming the way companies interact with their customers — and, more importantly, how customers are interacting with companies.
Formulating a Plan
While brand ownership may be shifting away from the corporation and toward the customer, there is no rule forcing your company to sit on the sidelines and watch idly. In fact, companies that take the right approach can benefit from this new world order that puts customers much more in control. What companies need is a plan: how to engage with their customers and begin to "shepherd" their brand, even if they no longer "own" it. This starts with the process of figuring out how one's social efforts will align with overall company goals. Just creating a Twitter feed or blog strategy isn't enough.
Every day, it seems, there are accounts of executives who have read about "social media" in a major newspaper or trade pub and then all of a sudden demand that their teams put up a blog or sign up for a Twitter account. While both of these activities can lead to positive results, they can be tremendous drains on time and resources if they are undertaken without a tie-in to the greater goals of the company. Given the current economic environment, very few companies can afford to waste either of these precious commodities.
So, let's take a look at some of the areas in which smart companies are not only working to shepherd their brands, but are in fact benefiting from their social efforts:
Product innovation: While tapping social media for product innovation and customer cocreation may not be for everyone, big companies like Dell and Starbucks are tapping their customers to build new products and improve existing ones. On its Ideastorm.com site, Dell asks its customers if they want to view other customers' suggestions, post their own idea, vote on an existing idea (the top vote-getter at this writing is a recommendation to standardize cables across all laptops) or see their ideas in action. My StarbucksIdea.com takes a similar approach, suggesting to its customers that they, "help shape the future of Starbucks — with [their] ideas."
Customer support: While some companies are trying to decide whether or not they should create a Twitter presence, other companies, like Comcast, have dedicated an entire team to this three-year-old social network. Comcast is often cited as "the" company to watch in a world where social meets customer support; @ComcastCares (the company's main Twitter outpost) regularly responds to and even seeks out customer service issues and works to solve them on the spot.
Lead generation: Companies have had a more difficult time pulling off lead generation with their community efforts, mainly because many assume that this means overwhelming its customers with ads in the same places it's trying to engage its customers. As demonstrated by Procter & Gamble, which has done a wonderful job with its BeingGirl.com community, it's really more about taking a lifestyle approach. In P&G's case, a lifestyle approach takes shape through discussions of the things that teen and preteen girls care about — i.e., music, games and celebs. As P&G engages its audience with topics they care about, it subtly place topics ("your period") and ads ("Tampax") in the background. According to public case studies written about the BeingGirl.com community — like the one featured in Josh Bernoff and Charlene Li's best selling book Groundswell — this property is accomplishing its objectives in spades.
Marketing: On the marketing front, there are a number of different possibilities — such as conducting cost-effective market research, improving loyalty, deepening consideration and preference, and increasing advocacy — for social activities to support a company's goals. Ford Motor Company is just one of the many large corporations that is starting to dedicate resources to these efforts. Its current Ford Fiesta movement that spans YouTube, Flickr, Twitter, Facebook and blogs, is not only creating tons of buzz, but also helping teach new and future customers why the Ford Fiesta "agents" love driving their cars. It also allows Ford to watch how people are reacting to their cars and learn what people like or don't like about the brand.
Get Started
Clearly, the shift of brand ownership from the business to the customer can be an opportunity. Here are five tips for getting started on your own path toward reaping the benefits:
Plan — Align your corporate goals with the types of social activities you plan to engage. This will take time and may cause frustration for folks who just want to move forward, but skip this step at your own peril.
Watch/Listen — Where are your customers having conversations about you or the types of products and services you sell? What is the protocol for engaging in those channels? It's important that you engage in these places outside your company's four walls or your Web site, as you work on shepherding your brand.
Create — Customers love good, educational content. If you're not in the habit of creating it (think articles, webcasts, videos, courses, calculators and other engaging vehicles), think about hiring someone to do this for you — either an agency, contractor or even a full-time employee.
Engage — Once you've got a plan in place, understand the etiquette of the areas where your customers are talking and have some seed content to get you started, you can begin to engage in the conversation. Be sure to take a conversational versus sales approach. If your customers sense that you are trying to sell them something, they'll run the other way. Or worse yet, you'll be held out as an example of someone who doesn't get it.
Build — If you find that you're gaining traction in the third-party social network space, think about bringing the party back to your place with an online community. The key to success here is following the four steps above. An online community is a great place to energize your advocates and create more customized experiences for your customers.

Shepherding your brand in the new world of social media should be a different experience for each company. What works for one certainly doesn't work for all, but paying attention to some of the companies mentioned in this article is a good place to start.

Make sure you have a plan, and you'll find out just how rewarding losing control of your brand can be.
---
Aaron Strout
is CMO of
Powered
, a social marketing company.
---