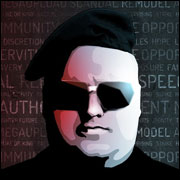 Someone perhaps even more flamboyant than Donald Trump may be getting involved in the U.S. presidential race — and not on the Republican side.
Notorious Internet entrepreneur Kim Dotcom is not running for office, but as his extradition case heats up in New Zealand, a possible Democratic candidate for the presidency — mild-mannered Harvard law professor Lawrence Lessig — has come to his defense.
In a nutshell, the U.S. has demanded that New Zealand extradite Dotcom to face charges of copyright infringement in connection with Megaupload, a file-sharing company he founded in 2005. Megaupload flourished until the DoJ shut it down in 2012, simultaneously pressing charges against Dotcom and three others.
Dotcom brazenly defied the U.S. authorities by relaunching his company as Mega just a year from the day the FBI took down Megaupload.
And why shouldn't he have done so? Dotcom has done no wrong, according to Lessig, who filed a 37-page affidavit on his behalf in a New Zealand court this week.
The actions spelled out in the DoJ's indictment of Dotcom "were not prohibited by criminal statutes of the United States. Filings of the DoJ attempt to create a false impression of criminal guilt and are not reliable," the affidavit concludes.
Business Under Pressure
In the meantime, even as he's been fighting the U.S. government tooth and nail, Dotcom has continued to pursue his cloud storage ambitions.
His latest project is development of an open storage service to compete with Mega — that's right, a competitor to the company he founded after the feds took down Megaupload.
Dotcom plans to begin working on the project when his non-compete agreement with Mega expires at the end of the year, he said earlier this summer in a Q&A session published on Slashdot.
The new service will be nonprofit, with a model similar to that of Wikipedia, and Dotcom will depend on donations to keep it going.
Why Launch an Anti-Mega?
Dotcom's separation from Mega is a drama in its own right.
A Chinese investor wanted in China for fraud conducted a hostile takeover of Mega, and his shares have been seized by the New Zealand government, according to Dotcom.
Further, entertainment companies have seized all the Mega shares Dotcom had in a family trust for his children, he said.
These and "other confidential issues," mean Mega is no longer trustworthy, Dotcom added, and data on that site is not safe.
Mega's Side of the Story
Of course, there are at least two sides to the story of how Mega and Dotcom came to be at loggerheads.
Dotcom's comments on Slashdot were defamatory and self-serving, according to Mega CEO Graham Gaylard.
Mega has had several rounds of equity investment, and more than 75 percent of its shareholders support recent equity issues, so there was no hostile takeover, he explained in a letter provided to the E-Commerce Times last month.
The Dotcom family trust has 6 percent of Mega's shares and is controlled by Dotcom's estranged wife. Those shares were frozen by the New Zealand High Court on an application by five Hollywood film studios in November, but that's a matter for the trust, Gaylard maintained.
Although Dotcom cofounded Mega, he wasn't involved in designing and implementing its technology, he pointed out. Further, he has not received any salary, remuneration or other payments from Mega, and he has not held a managerial role at the firm since he resigned as a director in October 2013.
Mega has published the full source code for the client-side user-controlled SDK on GitHub, according to Gaylard. The HTML source code for the browser Web application can be viewed in the browser and examined by any security researcher.
The company's encryption code has been examined by various international experts, including the Spanish National Cybersecurity Institute, and no flaws were found, he said.
Mega "has no backdoors in its encryption technology," Gaylard told the E-Commerce Times.
Help Thou Mine Unbelief
Dotcom's plan has been greeted with skepticism.
"I think he's likely looking at a Pirate Bay kind of model, but one that better anticipates the problems Pirate Bay had and deals with them up front," said Rob Enderle, principal analyst at the Enderle Group.
"The amount of money we're talking about likely exceeds by at least one magnitude what he'll be able to raise," he told the E-Commerce Times, "but stranger things have happened. Look at Linux and bitcoin. So it isn't impossible, just extremely unlikely."
Wikipedia needs about 400 servers and about 250 employees to manage and serve its static, unsecure content, noted Jeff Hill, channel marketing manager at Stealthbits.
Donations let Wikipedia do that, but "storing, securing and distributing massive amounts of unstructured data is a completely different animal," he told the E-Commerce Times.
Free is a Four-Letter Word
"Anything free can be a great marketing idea, but not a long-term business plan," remarked Richard Blech, CEO of Secure Channels.
Dotcom's service "is a concept at this point, not a plan," he told the E-Commerce Times. "Trying to create a service with donations is basically impossible."
Several questions arise once United States government regulations are factored in, including who controls the data, who will make decisions governing the data, and who will make decisions about whether the U.S. government has a backdoor, Blech said. "The devil is in the details."