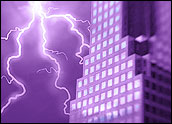 Part 1 of this two-part series started a conversation with ubExact.com CEO Wilhelmina Stephenson. Part 2 continues the discussion.
When ubExact.com's CEO Wilhelmina Stephenson started work on her innovative beta platform last year for a new search engine concept, she had every reason to believe consumers would gravitate to the new search technology designed around the way they searched the Internet. However, what she did not count on was a marketing industry that failed to go for the money-making model she was pitching.
ubExact.com went out of business, unable to sustain enough financial traction to make the innovation viable. The search startup was a direct navigation, action-based search engine created to tackle search frustrations, according Stephenson. The company's goal was to offer fast and easy searches that maximized the relevance of hits listed in search results.
The Rest of the Story
TechNewsWorld: Was the technology you were developing impacted by bad timing?
Wilhelmina Stephenson:
There were two additional timing issues that became crucial to our launch. First, the nature of our horizontal search engine required us to construct the architecture's framework before uploading our index. Because it sat on top of the Internet, it became publicly visible while we made the necessary connections and secured the navigational code. Though we worked diligently to quickly upload and expand our index, it was contrary to the way the public was used to seeing search engines launch. This was especially the case when we appeared right after two highly publicized ex-Googlers who released what was touted to be a massive index that could surpass that of Google.
TNW: Still, users could see the continuing improvements as you built the index. Shouldn't that have garnered their support?
WS:
Our index quickly doubled during the time we were active. Nevertheless, some asked why ubExact didn't stay hidden until our index was fully loaded. The reason was because we were horizontal, and not some big vertical portal where an index could be poured in and then a curtain magically pulled. We had to piece ubExact together before we could upload our "custom index." But what this meant for users was that they could then quickly skim along the top of the Internet, with the fastest technology possible, from question to immediate answers.
TNW: What other factors got in the way of your initial timing plans?
WS:
The development phase itself was not without its own, sometimes detrimentally invasive, issues. These included getting hacked to the point our servers became unstable and had to be completely reconfigured. This happened on more than one occasion. We continued to increase security and stability. But again, this required more costs and more time.
TNW: From what you've said, it appears that public perception got in your way. Is this a part of what happened?
WS:
At our launch a few critics who insisted on measuring us against the "giants" felt our index just wasn't fat enough and doubted we could ever get a robust index online. They refused to acknowledge that startups could actually be "different" and still be good. But had the economy — our second perilous timing issue — not hit us so quickly, we would have proved them wrong. We were ready to upload an additional 65,000 spam-free, major metro area geo-specific Web sites, ranging from some of the most popular, to the deep Web's most obscure, when we went offline. Had we survived even several more weeks, our index would have included roughly 100,000 of the most popular and relevant Web sites visited on the Internet. This would have been a great feat for a totally unique young startup.
TNW: If you could have sidestepped the other factors, what was the biggest hurdle you could not overcome?
WS:
That would be the global economy. Our decision to take ubExact offline was mostly attributable to our unfavorable economy. When the idea for ubExact was germinating in 2006, Google was trading around (US)$400 a share and climbing. When ubExact's initial 2007 target release date passed, Google's stock was trading close to an all-time high. Even Microsoft and Yahoo were holding their own. Though our goal was not to beat those giants, they certainly were a gauge on the state of the industry. Had ubExact not encountered months of delays in authoring its patent-pending never-before-done code, and released on our 2007 target date, I believe ubExact would have had enough time to build a robust index and garner user-mass before that year's end, while the industry was still financially stable. But so it goes with genuine innovation, the time it takes to develop truly unique technology takes time. This pushed our release into late 2008.
TNW: Was it a case of your launch being in the wrong place at the wrong time?
WS:
Coinciding with our launch in 2008, financial institution and economic doom and gloom were the news of the day. Almost immediately upon our release, the financial market worsened. Most stocks plummeted, including many in the search and global marketing industries. Hostile takeover discussions regarding one search engine were among top news items. Even Google's stock was declining, and has since fallen roughly 20 percent from its price on the date of our launch. Blue chip companies reported record losses and brands, and in some cases industries, curtailed expenditures and/or closed shop prompting massive increases in unemployment. And with this economic fall, brands, marketing agencies, the media, venture companies and even users seemed to recoil to strategize on how to weather an uncertain financial future.
TNW: Besides the global economy hitting at the wrong time, were there shortcomings with your internal financing?
WS:
Current economic conditions have not adversely affected all startups, especially those with low overhead costs. Unfortunately, ubExact was not one of them. Through a family-and-friends angel investment, we were able to create and launch something never before done on the Web. And though we expected to cover operating costs beyond our initial scheduled launch date, it became increasingly difficult to fill the gap created by such an extended development phase. What that delay ate was our financial buffer and most all our marketing budget. Though our PR team garnered some great press, we almost immediately began to count on advertising revenues to meet operating expenses. But the economy increasingly continued to falter. Ad revenues never had a chance to grow to the point of sustaining us past three short months. Ultimately, we realized our internal financing wasn't enough to help us weather the current economic storm. So we turned off the lights.
TNW: What of your future plans? Will you try to resurrect ubExact when the timing and economy are better?
WS:
Pursuing a patent for the world's only direct navigation "in context" search engine is certainly enough to excite our ubExact team. As voice recognition mobile search continues to evolve, our technology has even greater application potential, as its design also facilitates "in context" spoken search queries to move immediately and seamlessly from one Web site to the next. Do we have plans to revive the site in the short term? Not currently. We don't have the necessary funding to do so. But since our architecture is completely coded, it most certainly can be resurrected.
TNW: What role might an upcoming ICANN (Internet Corporation for Assigned Names and Numbers) decision make about new domain names in bringing ubExact back?
WS:
Those in the industry understand that ICANN is currently considering many more domain extensions to accommodate the ever expanding Web. This will give Internet users even more to remember, even though most already suffer from user memory loss. Yet many in the industry state these efforts are necessary to increase recognizable Web site names. ubExact is already designed to expand as needed on a patent-pending coded prefix dot com platform. So though we're not active on the Web, ubExact still has life and huge potential. However, given the current economy, we plan to wait for continued advancements in voice recognition, then pursue a mobile partner or a global marketing agency with existing brand relationships who'd like to advance search beyond the vertical portal and go direct with direct navigation.
TNW: What advice can you offer other would-be start-ups?
WS:
Timid marketing agencies produce an immediate and eminent uphill battle for startups wanting to provide anything other than mainstream technology or the mainstream ad model. The aim is not to try and beat the giants or even beat each other. Startups make great efforts to reach the masses. But collectively you are already part of the masses. A great goal is to ban together with other like-minded startups to educate timid agencies on the benefits of how a move towards new technologies can produce a different, more useful and more enjoyable user experiences and higher ROI (return on investment) for their clients. Listen closely to your allies, work together, become a united voice. And if agencies don't listen, prepare to directly serve brands, even collectively if necessary.
TNW: What about cost planning?
WS:
When you plan your IT development costs, triple it if you are authoring a unique design. The greatest ideas can be stopped cold without sufficient funds to build something truly unique. Also, be flexible with your schedules. The best time to launch is always yesterday. And since you've missed that, launch as soon as you possibly can. But not before your product is solid. And when you are ready, even if others are not, launch. If you don't, technology will evolve right past you. Black-hatters and those that don't understand your technology may pick you apart. This is to be expected. Listen to constructive criticism and don't take it personally. Most really want to help. They want you to succeed. Listen to them, and when appropriate, make changes.
TNW: Any final thoughts on the state of capital funding?
WS:
Continuously review your capital requirements. Some startups can be created and maintained on a shoestring. Others, like ubExact, require great up-front expense with modest fixed costs going forward. Still others commence on a dime but evolve into major expensive operational machines. Regardless, plan for an economy where you may have to stand alone for a while. If your technology won't fully mature for some time, don't count on venture money, especially in this economy. Yet if someone sees your value early on and comes knocking, or you have connections, explore those opportunities. It may save you. But if they don't appear, hold on to your technology. It still has life, and you never know who you might hook up with in the months ahead.