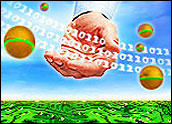 What started out on Sept. 2, 2008, as a potential innovation in the search engine space ended this month as the latest technology sacrifice to the economic gods.
ubExact.com went out of business, unable to sustain enough financial traction to make the innovation viable. ubExact spent much of its beta and post-launch endeavors designing the search platform and loading a database of information and vendor links keyed to Metro Service Areas around the nation.
The search startup was a direct navigation, action-based search engine created to tackle search frustrations, according to Wilhelmina Stephenson, CEO of ubExact. The company's goal was to offer fast and easy searches that maximized the relevance of hits listed in search results.
"The decision to take ubExact offline is attributable to five primary reasons: 1) timid marketing agencies, 2) development costs, 3) timing, 4) the global economy, and 5) internal financing," ubExact CEO Wilhelmina Stephenson told the E-Commerce Times in an exclusive post-mortem interview.
For the benefit of the startup community, Stephenson agreed to address these issues so that her experience will help other would-be startups to learn from someone who lived it.
In this first part of a two-part conversation, Stephenson discusses some of the most pressing issues contributing to her failed startup.
Company Background
ubExact launched as the world's only direct navigation "in context" search-by-action, geo-specific, privacy-protecting, spam-free, human-edited search engine," as she described her company. It is quite a mouthful, she agreed, but it accurately describes the capabilities of this user-centric search architecture.
Stephenson designed the search platform on the needs of searchers rather than on the basis of existing technology. Because it catered so specifically to the way users interact with search, it easily targeted specific searching communities for advertisers.
This patent-pending horizontal architecture allowed users to speed along from one Web site to the next, without concern for privacy, spam or the surprise of irritating requests or inappropriate content, she explained. In addition, its social component engaged the user community and was non-discriminatory with non-dot-com or hard-to-remember Web sites.
"Its design innately protected brands from infringement and copycats while promoting high ROI (Return on Investment) through a very unique advertising model. This is the story of why ubExact's online life lasted only three short months," she said.
Stephenson tells the story of her company's demise in a far-reaching exchange with the E-Commerce Times
E-Commerce Times: What events happened that led up to your decision to fold the company?
Wilhelmina Stephenson:
Timid marketing agency practices were a major cause. For years, respected Internet advisers have been telling brand managers that getting the most from their online media expenditures requires them to focus on blended media buys with mainstream search providers as well as the robust opportunities available with search innovators. Yet few brands or their designated marketing agency commit much time to understanding today's rapidly advancing search technologies, or how they may better reach niche communities to render a greater ROI.
ECT: What led to this lack of agency response?
WS:
Lack of marketing agency "media buy modernization" can be caused by rampant agency executive turnover and their fear of initiating the "what were you thinking" response from revered clients. Many of the clients themselves don't understand the advantage of technologies lacking the market muscle of search giants. Trends to move expenditures to "novel technologies" have historically produced lackluster results. So in spite of continued advice to pursue new technologies — which may be significantly different than the familiar marketing strategies, or require additional effort to understand its uniqueness — brands and agencies continue to conform instead of looking deep into real innovation and its true upside potential.
ECT: What else do you think caused a lack of agency support?
WS:
Additionally, marketing agencies are often compared to one another by how well they perform, at least initially, with "existing technologies" rather than their knowledge about new technologies. Mainstream agencies tend to be more comfortable looking at previous years rather than developing strategic plans that include innovative opportunities. Often they just take that historical look, mix it up, and apply it to redundant technologies.
ECT: Why does this happen?
WS:
Why? Often it's because their success is being measured by the same metrics used on their predecessor, or a potential competitor. Occasionally, by the time an agency introduces innovative technologies (outside of tracking and dashboard mechanisms, most of which are proprietary), clients move on to a new agency promising higher ROI (again, generally using redundant technologies).
ECT: How did ubExact's money plan not fit this pattern?
WS:
ubExact offered a unique advertising model utilizing full-page ads and direct navigation. Full-page ads are generally unheard of on the Internet. At best, interstitials or pop-unders are as close as one gets to a full-page, top-of-the-fold advertisement. And while agencies understand it is desirable for users to view full-page ads, ubExact never found a third-party ad server who — for a startup — would provide this type of service to marketing agencies. And though agencies prompt their clients to spend great sums on stating and restating a brand's Web addresses to the user community, direct navigation is something agencies somehow fail to understand. Yet, when users type a Web address into an address bar and goes directly to the brand's Web site — a marketer's nirvana — this is in fact direct navigation. And this patent-pending offering was utilized exclusively by ubExact.
ECT: What do you see as the outcome of the short-sightedness by ad agencies?
WS:
Marketing agencies must realize that smart brands may soon take matters into their own hands, especially as they trim costs in tough economic times, and go directly to alternative search providers who would gladly serve them directly. Many providers have ad serving capabilities in-house, and they certainly have an inside track on how to fairly — yet superbly — optimize the brand's ads on their own platform.
ECT: What role did your development costs play in your decision to close the doors?
WS:
There are many issues facing brands when they develop an online presence. Unfortunately, the seedy underbelly of the Internet must become a paramount consideration when formulating online strategies. These issues include click fraud, identity management, brand image, black hatters, hackers, privacy, security and other considerations. These threats are real, and they are rampant. All online entities should expect to encounter them and have a defensive plan in place.
ECT: How did these hurdles impact your development costs?
WS:
Since ubExact's code was developed from scratch, our horizontal architecture design addressed most of these issues for brands very well, and seamlessly. Unfortunately, to address these issues meant significant upfront development costs, many of which were incalculable upon the initiation of the design. There was an upside and downside for including them in the initial design. Our design was intended to render an architecture that would require minimal IT re-tooling as user preferences shifted, niche communities formed and expanded, and voice recognition technology continued to advance towards mobile search (a huge plus). Furthermore, building out and integrating many of these never-before-done features allowed ubExact to exhibit proof of concept as we sought patent protection. Additionally, excluding them for later integration would have ultimately been much more costly.
ECT: Did you consider user subscriptions as an interim funding method?
WS:
Some have asked if charging subscription fees for our search services would have improved ubExact's revenue model. We do not believe this would have positively impacted the life of ubExact. General public search engines don't charge for information retrieval services. Yet, some search engines do very well with fee requirements for accessing the special information they retrieve. In contrast, other search engines offer to pay searchers for using their services. Both models work well in specific situations. However, ubExact was created around research on "user search preferences," and since most public information on the Internet can be obtained for free, ubExact followed user preference and opted to allow free access to its content, to provide it quickly and to make it relevant.
ECT: How much a part of your decision was influenced by the economic downturn of the last few months?
WS:
Timing was a factor. Development of patentable technology is much like formulating a new drug by pharmaceutical companies. For them it is the "first pill" that costs thousands, and sometimes millions. For ubExact, developing a horizontal direct navigation "in context" search by action and/or geo-specific architecture was paramount in building a foundation that was exceedingly user-centric. Hence, it could perform extraordinarily well for advertisers. Though we did out best to adhere to completion schedules, developing these components to further our proof of concept ultimately meant modifying project schedules in favor of "getting it right," which pushed our launch date far beyond our initial expectations.