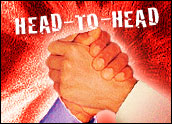 Until about six years ago, the wireless world was pretty predictable. BlackBerry and Nokia were the leaders, and everything was growing and stable. Then the iPhone earthquake changed everything. Android soon followed, creating more disruption. Today the global handset leaders are Samsung and Apple.
However, the big story in 2013 is who will be No. 3. The competition will be intense.
Nokia vs. BlackBerry
BlackBerry and Nokia, the leaders a few short years ago, are gearing up for battle to become No. 3. BlackBerry is rolling out its brand new BB10 devices, like the Z10, in the next couple of weeks. At the same time, Nokia is pushing its Lumia phones — which run Microsoft's Windows Phone OS — and it looks to be a worthy opponent.
AT&T Mobility gave me a Nokia Lumia 920 to use, and the operating system is completely different from any other OS on the market. It's very good — but very different. Expect a learning curve, but once you get past that you may love it. There are many valuable apps loaded up from the start.
The new BlackBerry sounds innovative as well. I'll have one in the next week or so and be able to compare. I'll be looking at how easy it is to use, what's new — and what's missing.
Plenty of Contenders
Don't think the battle is just between BlackBerry and Nokia, though. Sony is re-entering the smartphone handset space and intends to win the No. 3 spot. It may have been asleep at the switch for the last few years, but it's back. Now let's see if the marketplace will recognize it once again. Its strategy to win customers in different countries with different features sounds promising.
Sony will compete against Huawei Technology and ZTE, which also have their eyes on No. 3 — and there's more. Motorola, HTC, LG and others could also make a play.
That's why I say 2013 will be the year of the battle for No. 3. It will be a wild and wacky world with marketing, advertising and public relations. New devices from many of these key players will be introduced in the next few weeks and months.
Comeback Kids
I think BlackBerry, Nokia and Sony will have a relatively good year, at least compared with the last few. There are many existing customers who want something new. Who will win in the long term is the question. What will the marketplace look like over the next few years? The long term may be very different from the first year — it always is.
The industry changes quickly. Fifteen years ago, the wireless business was analog voice. Ten years ago, it was digital, and was just about voice, text and email. Five years ago, Apple's iPhone hit the market and Google then launched its Android OS. A number of manufacturers offer handsets running Android, but Samsung leads the pack. Today Samsung and Apple are the world's No. 1 and 2 smartphone manufacturers.
What about the next few years? We are just in the very early innings of this new smartphone game. The wireless and smartphone industry is one of the most exciting business sectors on Earth today. It's important to realize, however, that not every company is doing well. Sure, Samsung and Apple are doing strong business on the handset side, globally and in the U.S.
Rough and Ready
AT&T Mobility and Verizon Wireless are the dominant U.S. carriers — but many other companies are struggling.
I believe 2013 will be very interesting and re-set the leadership scoreboard. A quick look at the Consumer Electronics Show, as well as wireless shows like MWC and CTIA, makes that very clear. There is a wide assortment of phone makers, networks, app developers and more — all competing for attention, market share and success. Only a few will make the top of the list.
So the question is, which company will become No. 3 in 2013? This is going to be a loud and activity-filled year. The market needs a larger selection of operating systems — people want choices. 2013 will be all about choice.
As of today, I think Samsung and Apple will hold onto the No. 1 and 2 spots. The battle for No. 3 is where the action will be this year. So who will win? And what will the marketplace look like in another five years? Interesting questions. No one knows yet. The industry can change on a dime. So — ready, set, let the games begin.