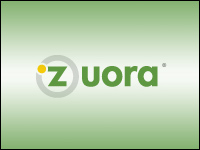 Zuora, a provider of on-demand subscription billing and payment services, was cofounded in March 2008 jointly by Tien Tzuo, who serves as its CEO; Cheng Zou and K.V. Rao. It received $6.5 million in Series A funding later that month and $15 million in Series B funding in October of 2008. It has been profitable since.
The company's more than 100 customers include Thomson Reuters, Box.net, Rearden Commerce, Pandora Media and HD Cloud. Its suite of products includes Z-Payments 2.0, a complete payment solution for subscription businesses built with PayPal X; three versions of Z-Commerce (for Facebook, Media and AppExchange); and Z-force, a billing and payment system fully integrated with Salesforce.com and 100 percent native to the Force.com platform. Zuora plans to unveil version 3.0 of Z-Force on Wednesday.
E-Commerce Times: How many employees does Zuora now have?
Tien Tzuo:
We have over 75 employees, and will be going to 100 by the end of the year.
ECT: Like Marc Benioff, you're a former Oracle employee; further, you're an ex-Salesforce employee. What did you learn from these two companies?
Tzuo:
That was a fantastic experience. These two companies were a fantastic place to spend my time and they were at the heart of both their industries, and I was in the thick of the client/server and SaaS revolutions. Today, we're trying to take the lessons we learned from our previous companies and bring them to our company.
From Oracle, we learned about building great product and understanding enterprise applications; from Salesforce we learned what the Internet means and how you redefine it as SaaS.
We focus on a monthly release cycle that allows us to get an enormous amount of product out in a short time, and we focus on our sales force.
ECT: You seem to do billing for SaaS companies — handle the billing cycle for them.
Tzuo:
At Salesforce, we talked about two big changes — how the technology was different, and multitenant systems, which people now call "cloud-based systems." The business model has changed away from a manufacturing-centric view of business — shipping CDs is a manufacturing exercise — to a services view, where companies pay as they go on a monthly basis.
Our premise is that this trend is not limited to SaaS or software, but that the whole world is moving this way, whether you're talking about software or hardware or automobiles transforming into services like Zipcar; music transforming into services like Rhapsody or Pandora.
The interesting thing for us is, if you need to run this subscription-oriented business, you need a whole new infrastructure to allow your customers to not just place the initial order but go back in and add five more licenses or add text messaging, or upgrade to a bigger calling plan, for example, and you need a whole different system to track metrics like churn, renewal rate and so on.
We're in the heart of information — information on SaaS, information on the cloud, the monetization of online content.
ECT: So what is it that you do? You look like a billing service.
Tzuo:
The telephone companies spend 5 or 6 percent of their revenues on billing. The market there is at least $10 billion a year.
We do commerce, billing and payments. We allow our customers to design price plans, for example. Take AT&T — it has a 450-minute plan, an unlimited plan, a family plan, each of which has different fees, activation fees and monthly fees and if you go over your monthly allowance of minutes they measure that and charge, say, 45 cents a minute for overage; and they also have a cancellation fee.
We allow our customers to design how they charge their fees and publish this information on their website and in their CRM applications, and take not just initial orders but also subsequent orders, all with a point and a click.
The whole commerce capability is what we do.
The second piece we do is the billing. In the old world you'd ship me my products and you'd invoice me for that and you'd be done. In a recurring world, that's not the end; it's hopefully the first of many interactions and you'll invoice me on a monthly basis.
We take care of that. We're a big calculating machine. We calculate how much each of your customers should be invoiced on a daily, weekly or monthly basis. In our office, there's a huge abacus on the wall.
Third, we do the payments. We plug into PayPal or Pay Tech to process credit card transactions; we plug into your banks; and we track all your payments so you can see how much customers owe you, who's got an outstanding balance, who's got a credit card on file, and whom you want to send a reminder to.
All that complexity — pricing and packaging, taking orders, collection, the storing of files in encrypted formats so you're PCI-compliant — we do all that on a pay-as-you-go basis.
ECT: You don't have a telephone company customer though, do you?
Tzuo:
Open Range Communications is a telephone company and we're deploying there right now.
ECT: Many of your customers, such as Rearden Commerce, Pandora and HDCloud, seem to be cloud companies. Is that correct? Why is this the case?
Tzuo:
Being a SaaS company in Silicon Valley, a lot of our early adopters were technology companies. A whole block of SaaS companies fueled our early growth. But if you look at our Q1 results, in the most recent quarter, when we signed on $1 billion of contracted revenue we signed on companies across the board. We're just now seeing strong adoption of our services across the board.
ECT: So the more traditional companies with in-house systems won't find it as advantageous to use your services?
Tzuo:
They don't typically think of themselves as using a subscriptions-based model. But, if you have a coffee-of-the-month sale, you're a potential client.
ECT: So are you going after those guys even if they're legacy companies?
Tzuo:
We are interested in being the engine of the subscriptions economy.
ECT: You signed more than $1 billion in contracted subscriptions revenue for the first quarter of your fiscal year which ends April 30. What does that mean — that you're handling $1 billion-worth of contracted subscription revenues for clients?
Tzuo:
That's exactly right.
ECT: How do you work? For example, do you charge X dollars then give discounts on that to larger customers?
Tzuo:
Our list price is 2 percent of how much you invoice through our system on a monthly basis. That's if you want it completely in arrears. But if you know how much business you're going to do, we give you a better deal. That's business.
ECT: Do you look for large companies or those with a minimum number of subscriptions?
Tzuo:
That's the great thing about being a cloud company; you don't really care. Our pricing model lets us support all kinds of companies of all sizes.