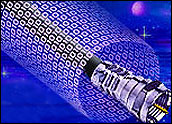 A few weeks ago, I read a SmartMoney article titled "10 Things Cable Companies Won't Tell You." I have to admit it was a real eye-opener. We are all aware of a few of these items, but to have them all laid out in one piece was very powerful.
It looked at many top cable players such as Comcast, Time Warner Cable, Cox, Cablevision and others. As competition finally starts to enter the picture, it spelled out some of the areas where the cable television industry falls flat and even hurts the customer and ultimately itself.
The first item: Customers are fed up with the cable television industry. The biggest cable television companies like Comcast and Time Warner Cable were listed among the top 10 most-hated companies in America for 2012. That says a mouthful right there, doesn't it?
On and On
The list continues: Service quality is generally poor. Cable companies aren't an official monopoly even though they might be the only choice in town. Yet they continue to raise prices despite the damage it does to their reputation with customers. Isn't technology supposed to cost less as time goes by?
It also talks about how Verizon, which is supposed to be an arch-enemy and competitor, is actually becoming a partner with the cable television industry. Rather than promoting Verizon FiOS television, Verizon Wireless is promoting Comcast.
Customers who call the cable company customer service and say they are considering canceling and moving to a competitor often get serious discounts to stay put. Does that mean everything is overpriced?
Data Throttling
The cable television industry is also quietly introducing limits on how much Internet data customers can use each month.
These and many other items really get you thinking when you consider them all. In a competitive market when customer care and being the best are important, why is the cable television industry committing suicide with this behavior?
If you listen to the advertising, it sounds like the cable TV world is one of the best places to be on Earth. So why such a difference between this dreamland and reality?
Good question.
Swing and a Miss
The Telecommunications Act of 1996, signed into law by President Clinton, was supposed to usher in a new era of competition. Local and long-distance companies were going to start to compete. Cable television and telephone companies were too. So what happened?
The new law couldn't keep up with the rapidly changing industry. Suddenly, long-distance companies were gone. Suddenly, the Baby Bells started to merge — so did the cable television companies. The Internet and wireless began to grow rapidly, and they were not even addressed in the new law.
All the competition we were supposed to see in the space simply didn't occur.
Luck of the Draw
Only recently, after 15 years of mergers, the Baby Bells started moving into the television business with AT&T U-verse and Verizon FiOS. They both offer high-speed Internet, television and telephone. The only problem is that they only offer competition to a portion of the marketplace.
Customers in other areas don't have much choice. That means cable television companies don't have much competition. That means service quality has no reason to increase and prices continue to rise rapidly. Not a recipe for success in the cable industry.
Companies complain about competition, but the threat of losing business also makes them the best they can be. That means they are much more successful, and that is not happening in the cable television world today.
Step One
So what can the cable television industry do to save itself? Its members must play like they are in a competitive industry. They must take care of the customer — delight the customer. They need to demonstrate to customers that they are dealing with a company that is not trying to assault them, but rather to win their hearts.
Success is that simple. Can the cable television industry do that, is the question.
So my recommendation for the best first step? Comcast and Time Warner Cable should focus on repairing their customer relationships and getting off the top 10 most-hated company list for 2013. There is no reason to have your customers hate you. That's a great place to start, don't you think?
After that we can talk about next steps.