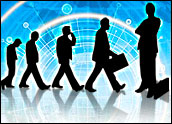 Federal information technology managers are as intrigued as any other IT community by the potential benefits from IT innovations. However, many federal managers continue to face challenges in adopting innovative technologies.
Lack of funding, employee skill gaps, and lack of organizational buy-in are the top three constraints that inhibit the use of new technologies, according to research conducted by the Association of Government Accountants and Accenture Federal Services.
Federal IT leaders also are faced with finding new ways of doing business to maximize the limited financial and human resources available to them while matching their IT function to their agency's mission, says the report, which is based on a broad survey of federal CIOs and other federal IT professionals.
"Innovation is the key for federal agencies that must adapt and overcome in the face of tightening budget constraints," said Tom Greiner, managing director and the technology lead for Accenture Federal Services.
Survey respondents clearly appreciate the benefits that accrue to innovation. Given a list of nine advantages associated with improved technology, 63 percent of federal IT professionals cited reduced operational costs as a top benefit. Other benefits mentioned include the acquisition of more accurate and timely information (58 percent), and increased workforce productivity (53 percent).
Dilemma: Spend Money to Save Money
Little progress has been made in addressing the catch-22 of innovative federal IT — that is, the shortage of funds to invest in the near term to provide efficiencies in the long term, the AGA/Accenture report indicates.
"This creates a dilemma where organizations find that methods available to reduce costs and increase efficiency are not viable because they lack funding for initial investment," the report says. A majority of survey respondents (52 percent) cited budget limits as a major problem, while "skill gaps" ranked second (14 percent) and lack of management "buy in" ranked third (12 percent).
It appears that the federal IT environment will remain a challenge for agency IT managers and that vendors will need to react accordingly — and it won't hurt if providers show an understanding of agency challenges when they engage in contracting.
"Vendors aware of government challenges would have a slight advantage, although it would not be unique to any one vendor," Greiner told the E-Commerce Times.
However, presenting an empathetic attitude is a tricky business. The first task in contracting is to respond to the requirements of a Request for Proposal (RFP). Factors such as enabling knowledge transfer, maximizing ease of use to reduce the need for complex skills, or helping to standardize formats "are rarely part of an RFP but are clearly needs of every agency," Greiner said.
Addressing these factors is possible when a vendor can refer to past performance, or during the technical evaluation process where a provider can show the reviewing agency a clear understanding of the agency's business — and as a result increase the likelihood of selection.
Still, "the limits placed on the vendor by contract law and other federal regulations sometimes inhibit their ability to truly partner with an agency in driving more transformative change," Greiner said, noting that vendors are largely bound by adherence to the contract statement of work.
"It doesn't mean the vendor can't help the agency challenge the status quo, or aid in articulating issues and problems. It just means that a vendor's ability to partner with an agency, for the most part, is limited by its current statement of work for the task at hand. But partnering should be the intent behind every statement of work," he suggested.
Shifting the Risk Burden
Possible solutions include innovative contracting agreements such as "as a Service" arrangements used with cloud technology, the report says. Under such agreements, agencies do not have to pay upfront costs typically incurred when business processes are significantly changed or moved to a service provider.
Rather, the service provider would pay all upfront costs, including network connectivity, servers, storage and labor. These arrangements greatly lower costs and mitigate risks associated with the adoption of shared service offerings and cloud computing.
The report proposes a similar method, whereby the fees paid are contingent on the business case being realized and where the costs are converted from capital to operating expenses.
Whether providers are prepared to accept such arrangements is an open question.
"Some are — particularly those who have commercial expertise with these business models. It may be more of a challenge for more traditional government contractors to pivot to these new 'as a Service' arrangements adeptly, as this may be their first venture into this new solution and deal approach," Greiner said.
"Although these initial startup costs have to be recouped eventually, some of the more advanced and mature commercial vendors are creating business models for government that create a much more affordable option for each customer agency by spreading the startup costs across multiple agencies and across multiple year arrangements, all while providing each agency their required solution," he pointed out.
Another strategy is increased use of shared services, whereby an agency looking for a particular IT function utilizes the expertise of another agency with a proven capability in that function through a sharing arrangement, thus avoiding the need to re-invent the wheel.
"As the federal government continues to push for the adoption of shared services, the majority of organizations across all levels see shared services as useful," the AGA/Accenture report notes.
At a recent federal IT forum sponsored by the Bethesda, Md., chapter of AFCEA, several participants pointed to the advantages of the shared services.
"There are probably more opportunities for sharing than agencies can devote to the strategy, so it's probably more efficient for the agencies to identify the viable opportunities. But the private sector can certainly have a role in helping agencies implement these strategies," Simon Szykman, CIO for the U.S. Commerce Department and one of the forum panelists, told the E-Commerce Times.
The Federal Buzz: Senate Cybercontract, Defense Cloud
U.S. Senate Offers Cybercontract: The United States Senate Office of the Sergeant at Arms is seeking Commercial Off The Shelf (COTS) Cyber Incident Response (CIR) software, including configuration support, installation, testing for acceptance, necessary licenses, training, documentation and maintenance. One required function is to manage and track active incident handling workflow within the U.S. Senate. Email only proposals are due by May 1, 2014, to the attention of Kathleen M. Haddow at [email protected].
DOD Security: The U.S. Department of Defense continues to plug away at implementing key building blocks to facilitate cloud adoption. DOD has granted provisional authorization under the department's Cloud Security Model (CSM) for all four of the Amazon Web Service's infrastructure regions in the U.S., including AWS GovCloud, Amazon Web Services reported last month. CSM is a security protocol for DoD that builds on the civilian FedRAMP cloud security standard for government-wide use. CGI Federal and Autonomic Resources also hold CSM authority from DOD.
The cumulative effect of the department's CSM approvals should spur cloud adoption.
"We see these authorizations that the DoD is making as indicative of both the desire and need for defense agencies to move to secure, commercial cloud services," John Keese, CEO of Autonomic Resources, told the E-Commerce Times. The company obtained its DoD authority in 2013.
"There are many DoD customers who are currently using commercial cloud/hosting solutions that are totally out of compliance with the DoD security standards," Keese said, "and this process is legitimately helping these DoD customers move to secure clouds."