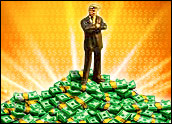 Opening up an online high-yield savings account for Jeff Dennis, 57, of Brighton, Mass., was a no brainer. "I deposited (US)$200 into an account and got a $25 bonus at a time when interest rates were in the basement," he told the E-Commerce Times.
That was three years ago. Interest rates on savings are still in the basement. The popularity of online high-yield savings accounts is zooming, so much so that financial players from banks to insurance companies are falling over each other to get a product in the market.
"If there's any area in online banking that's hot, it's this one," Serge Matta, senior vice president for marketing solutions at market research firm Comscore told the E-Commerce Times.
Hot Spot
It's estimated that 1.8 million consumers a month shop online for high-yield savings accounts and that's turned on the mammary glands of financial services providers.
"Right now this is a hot spot," Mike Bailey, managing director of Compete, a Boston-based online market research concern, told the E-Commerce Times.
"It's a highly competitive area," he continued. "We've got a lot of new entrants that have come into the space."
ING, an Amsterdam-based financial services company, pioneered the high-yield concept and built it into a $50 billion business.
Around 2004, ING's success began to attract attention, and since that time, a number of players, both known and lesser known, have made a grab for the business including Citibank, Capital One, HSBCdirect, EmigrantDirect, Washington Mutual, Wells Fargo, E-Loan, Countrywide Financial and MetLife.
Internet Essential
An important catalyst for the growth of the high-yield market has been the Internet. "It's really the only way those accounts will work," Catherine Graeber, a Forrester Research analyst told the E-Commerce Times.
That's especially true for financial institutions with large investments in bricks-and-mortar infrastructure, according to Jurie Pieterse, head of marketing communications for ING Direct.
It's estimated that the cost to a customer of maintaining a bank branch network is two to three percent on a savings account, he explained. So while ING might be able to offer 4.4 percent on a savings account, a bank with infrastructure to support can offer only 1.4 percent on the account.
"Our direct business model, by eliminating a lot of the overhead costs, provides us with the ability to provide higher yields," he told the E-Commerce Times.
Still in Diapers
High-yield savings accounts, "are one example of how the Internet has really changed a very kind of commoditized product in the offline world," Graeber observed.
"Savings accounts had been around forever with nothing new to them until this high-yield savings account came about because the Internet gives you the ability to move money easily between financial firms," she added.
Although growing in popularity, Graeber noted that the high-yield market is still in its infancy. "Only about eight percent of online consumers have a high-yield online savings account," she said. "We're still in the early adopter days on that product. Many consumers are still not aware of the product yet."
No Strings Attached
Of the products in the market, ING remains best known, according to a recent survey by Compete. It found that 78 percent of respondents were aware that ING offered high-yield accounts. In second place was Citibank, with 32 percent.
The survey also uncovered consumer resistance to imposing conditions on accounts. Respondents expressed an unwillingness to open a secondary checking account or move a primary one to obtain a high-yield savings account. Only 25 percent of them were willing to transfer more than $5,000 to a high-yield account as a condition of opening one.
"They don't want strings attached," declared Bailey, of Compete. "They're asking, 'Why should I open an account with Citibank and have to open a checking account when I can go to ING and I don't have any requirements?'"
That's one reason the authors of the Compete survey concluded, "None of the new entrants to the market appear to have the right mix of awareness and account requirements to match the success that ING Direct has seen with its Orange Savings Account."