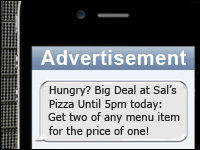 Mobile messaging — which includes SMS, MMS and rich media messaging (RMM) — has quickly become a staple in the world of marketing campaigns for many large brands. Mobile messaging, although still in its infancy, has drastically impacted the marketing landscape and is vital to any program.
Mobile messaging creates a very personal link between a brand and its customers. It has enjoyed 97 percent open rates, and 90 percent of messages sent to customers are opened in the first three minutes of delivery, according to Frost & Sullivan. Furthermore, mobile messaging provides up to 15 times higher response rates when compared to other marketing tactics such as email. This has created new possibilities when it comes to integrated marketing campaigns and customer engagement.
Because mobile messaging is so personal, there are very strict guidelines enforced to protect consumers from unsolicited messaging. Mobile messaging strictly follows permission-based communication with customers.
Must Opt In
"Mobile marketers must respect the right of the user to control which messages they receive. Users must opt in to programs via SMS, MMS, website registration and other legitimate methods. If a user opts in to only one program, marketers cannot send messages for another program," according to the Mobile Marketing Association.
The key challenge for brands is building an opt-in list from scratch. The best way to start is to integrate the mobile messaging campaign into all other initiatives. Brands should make customers aware of the mobile opt-in code through online, email, in-store, television, print and radio channels.
If customers are unaware of the mobile messaging campaign, how can they sign up? There is an investment involved to building an opt-in list as it does require an integrated effort across all initiatives. The payoff is delivered once the customer is opted in and over time messaging allows the brand to generate a direct response from the list within minutes. This is especially true with rich media messaging, where response rates can be as high as 38 percent.
Grow Your List
It is not enough to simply build a list; a brand must also maintain and grow it as well. Once a customer has opted in, the next goal is to learn more about your customer by sending specific messages to personalize the experience based on interest. This strategy not only generates better results, but also strengthens the relationship and loyalty between the company and the customer over time. Without value, the customer will simply opt out.
Redbox and Men's Wearhouse are examples of retailers that have successfully utilized messaging-based campaigns to promote value to their customers and generated incredible results.
Redbox was able to grow its opt-in list by 200,000 participants over 10 days by promoting free rentals to its existing client base. Men's Wearhouse obtained 93 percent coupon redemption rates by simply sending mobile messages.
Both of these are extraordinary examples, however, with recent advances in mobile messaging technology, it is possible to not only engage customers further by sending image- and video-based content, but also using social media to further amplify the ability to grow your opt-in list. By including social sharing links in the image and video based content, it is possible for the customer to post the latest received content easily to their social media networks for further exposure beyond the immediate opt-in list to generate further campaign participation.
The key to a successful mobile messaging campaign is to create and maintain a robust opt-in list. This can be achieved by integrating a strong call to action for the messaging campaign in all initiatives, leveraging social media to provide further exposure for image-based campaigns, maintaining the list through analytics, and sending value-based content.
With a carefully created campaign, brands can expect more from marketing programs and celebrate with unprecedented results.