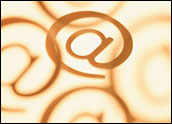 No one expects a free lunch. So when people use a free webmail service, many assume they will be bombarded with advertising. Why? Obviously, because the webmail services make money by commercializing the content of the webmail!
Actually when you sign up for free webmail, and click "I Accept," or something similar, contractually you are acknowledging that you have read, and agree to, the Terms of Service and Privacy Policies. As a result, you are often authorizing the webmail service to access the content of your incoming and outgoing emails, which allows them to commercialize your email content by selling relevant ads.
The ToS do not specifically state that webmail will be read — rather that the webmail host will run sophisticated algorithms to scan the email. It is important to understand that whether or not you read the ToS or Privacy Policies, the rights are likely granted.
Google Defends Scanning of Gmail for Advertising
A class action filed in the U.S. District Court in San Jose, Calif., claims that Google violated federal and state privacy laws by scanning Gmail notwithstanding the Terms of Service that expressly allow Google to scan Gmail. The allegations include the following claims:… that the automated processing of email in Google's Gmail service violates the Federal Wiretap Act, as amended by the Electronic Communications Privacy Act ("ECPA"), and its Florida, Maryland, and Pennsylvania state law analogues.
… that Google's automated processing of email violates the California Invasion of Privacy Act ("CIPA").On Sept. 26, 2013, the District Judge denied Google's Motion to Dismiss the class action, which means that the case will now be litigated. In its Motion to Dismiss, Google argued as follows:This case involves Plaintiffs' effort to criminalize ordinary business practices that have been part of Google's free Gmail service since it was introduced nearly a decade ago.
Like all email providers, Google applies automated systems for the delivery of email.
As part of this processing, Google's automated systems scan email content to filter out spam, detect computer viruses, and provide various features, including functions that allow users to search their email messages, automatically sort incoming email, and others.
These systems are also used to display advertisements targeted to email content, as Google has disclosed since the inception of Gmail nearly a decade ago.
Gmail's advertising-based business model is similar to that of other free email services offered by Yahoo, AOL, and Hotmail.
Not All Advertisers Like Gmail
During the summer of 2013, Google, in an effort of deal with Gmail overload, changed the in-box — much to the chagrin of many retailers who are now exiled into separate box called e-commerce "promotions." Now Google automatically puts updates from businesses like banks and mailing lists into this separate "promotions" mailbox.
Google describes the promotion category as "deals, offers and marketing emails." This may be great for end users since it's a filter to reduce the amount of primary Gmail in-box. However, many retailers who do not pay Google for ad space claim that their emails go directly to the "promotions" box rather than the standard gmail in-box and are now complaining, since Gmail users will never look at promotions.
Retailers are also complaining that Google's marketing messages from Google Analytics and AdWords have been appearing in the primary in-box rather than the "promotion" box. However, Google claims otherwise — that Google is trying to figure out the new system. A Gmail product manager reported there was "no special treatment" for Google's own promotional emails, and that the algorithm was still learning how emails should be categorized.
You'll see it get more and more accurate, and you'll probably see those types of emails moving to the place where people expect them to be.
Google's reliance on other free webmail makes good sense. To understand why Google listed Microsoft's Hotmail (recently renamed "Outlook"), let's look at Microsoft's Services Agreement:3.3. What does Microsoft do with my content?
When you upload your content to the services, you agree that it may be used, modified, adapted, saved, reproduced, distributed, and displayed to the extent necessary to protect you and to provide, protect and improve Microsoft products and services.
For example, we may occasionally use automated means to isolate information from email, chats, or photos in order to help detect and protect against spam and malware, or to improve the services with new features that makes them easier to use. When processing your content, Microsoft takes steps to help preserve your privacy. (Emphasis added.)
What Does Google Do With Gmail?
In the lawsuit, as noted above, Google defends its use of automated systems to "scan email content to filter out spam, detect computer viruses, and provide various features, including functions that allow users to search their email messages, automatically sort incoming email, and others."
In its Motion to Dismiss, Google goes on to say it "also provides a variety of disclosures throughout its website and within Gmail itself explaining that automated processing is applied to Gmail messages and that email content is scanned to deliver targeted ads."
None of this seems sinister, nor an uninvited invasion of privacy. Rather, it expressly protects webmail users against spam and malware, and that is a good thing. If folks sign up for free webmail, they should not be surprised by these policies, which are quite clear, and have been publicized in articles and news reports.
In Conclusion
This class action case is really the result of six different lawsuits: two brought in California, and one each in Illinois, Florida, Maryland and Pennsylvania. It is now before the Federal Multidistrict Litigation panel in an effort to try to consolidate the cases. Some plaintiffs are OK with consolidation, and others are not. It is unclear how quickly the dispute between the various six lawsuit plaintiffs will be resolved.
Because so many people rely on free webmail, the issues in the class action lawsuit against Google may affect millions. The outcome of the litigation may change the nature and face of free webmail — or free webmail users will have to accept the fact that they really do contractually give the webmail host the right to scan their messages and do not have privacy when they use the free services.