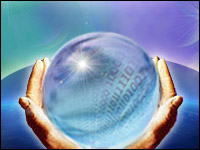 What does the future of TV look like? Is it cable TV, IPTV, Satellite TV, Google TV, Apple iTV or something crazy like watching TV over the airwaves like we used to do? Is it on your television, your computer, tablet, smartphone or whatever is coming next? Who will be the industry leaders? These questions and many others were asked at last week's Cable Show 2012 in Boston. You may be very surprised by some of the answers.
My Pick of the Week is Adaptive Mobile, a company whose mission is to protect us from problems as wireless networks go 4G.
Waves of Change
Change affects customers, workers, investors, partners and more. The future looks astounding. However, what industry insiders think will happen and what really will happen may be two different things.
Because many of today's leaders don't seem to understand how quickly things can change, they're being left in the dust. Of course, this has happened before. Just ask companies like Nokia and RIM. They were once leaders in the wireless space. They didn't believe change could happen so fast. Today's leaders are Apple and Google.
Over the last decade or two, Waves of change have transformed several industries, starting with music, then movies, then smartphones, tablet computers, and next in line is cable television. That's right.
We know who the leaders are today. However, we should expect the pay television industry to transform over the next few years, just like the smartphone wireless industry did over the last few. In fact, we may not even recognize this industry in the next few years.
That's both good and bad, depending whether you are on the growing or falling side of the Wave.
Looking at today's changing marketplace and taking a peak at what is coming next, I think it's clear that competition, technology, partnerships, winners and losers will all be very different a few short years from today.
It's About TV Everywhere
Comcast is one of the big players. Of course, it showed incredible growth and transformation in recent years with acquisitions, telephone, Xfinity and, of course, now the television side, with NBC.
Now Comcast is heading into the cloud with TV Everywhere. This is a new frontier. And it is not alone. This is the direction of the entire industry, including other cable television companies, telephone and wireless companies.
The good part is that these innovative services are unbelievable and transformational. If you want to, you can do more than ever before.
The bad part is if you are happy with your traditional cable television service and the lower price, you are out of luck. It will be replaced by everything new in coming years, and it will be very costly. It always is.
Transitioning to this more expensive model and moving away from a more affordable model may pinch existing companies with existing models and all the new competition that is rushing into the marketplace.
Time Warner, Cox, Bright House and others are all on the same track. The entire business already looks very different from a few years ago when it was a plain old cable television industry. Looking forward 10 years, it will look completely different as well.
In addition, suddenly the industry faces real competition from a variety of new services — and more competition is coming later this year.
The cable television industry, which never had to worry about competition, is now surrounded, and the volume is only getting louder.
Customers Don't Think Alike
Cable TV started with just a handful of channels at an affordable price. Since cable TV had no competition, quality was not great, but the cable companies didn't really care. They didn't have to. Where could you go?
Then satellite television providers like DISH TV and DirecTV entered the fray and carved out a slice of the pie.
Then local telephone companies started offering their Americast television. That was put on the back burner when the Wave of Baby Bell mergers started in the late 1990s.
Now local telephone companies like AT&T and Verizon are offering their new IPTV services — uVerse and FiOS. The marketplace is getting more crowded.
The problem is that basic service is disappearing. So are low prices. Every 10 years, the price pretty much doubles.
That is causing many customers to search for alternatives, and suddenly there are new technology alternatives that cost much less.
One is going back to the antenna. That's right. When we used to use an antenna, we only got a few channels. Today every network offers a number of different channels, so the customer can get between15 and 20 channels for free, over the air.
Add to that Internet services like Netflix, Hulu and others, and customers can download movies and other television shows very inexpensively.
This television model is growing rapidly. And this is just beginning.
Customers don't all think alike. Think of them as a pie. There's a variety of slices, and each customer is like one of those slices.
Cable television industry leaders don't seem to get that yet. Whether they will before they get hurt is the question.
Later this year, another big change may occur that could transform the entire industry.
Could Apple and Google transform the television industry the way they transformed the smartphone industry? Perhaps. The products they're expected to launch will not represent either company's first attempt. Both are companies that see an opportunity and want to crack it wide open.
Wild and Crazy Times
To battle all of this innovation, the more traditional players are starting to come up with new and crazy things.
Comcast and Verizon Wireless have become partners, for example. That's right. Verizon Wireless to sell Verizon's FiOS television service in its stores. Suddenly that's changed. Now it is selling a competitor's cable television service.
Wait, isn't Verizon and Verizon Wireless the same company? Nope. Fooled you, didn't they. They are two completely different companies. When it made sense, they helped each other out — but suddenly, they are going into competition with each other.
So that means Verizon Wireless and Verizon will be competitors? That's the way it looks. Crazy, I know. Wait — more is coming.
Comcast lets you download an app and use your iPhone or iPad as a remote control.
So, as you can see, the sleepy cable television industry is starting to wake up — and like the giant in the "Jack and the Beanstalk" story, it is starting to roar.
What will the industry do next? Who will the leaders be going forward? Which technology will lead? Which companies should you invest in, and which should you stay away from? Which should you work for, and which should you give your business as a customer?
There are so many questions today, but few answers. What will happen next is anybody's guess.
The only thing for sure is that the television industry is beginning a massive transformation. There will be new competitors and new technologies, and everything will cost more.
So buckle up! The ride has already begun. , T-Mobile, C Spire and others — move rapidly into the 4G space, the IP network becomes more vulnerable to bad guys wanting to wreak their havoc on us.
Both carriers and users need protection from this nasty online world that's going wireless.
Just like we need virus protection software for our computers — like Norton, McAfee or ESET Nod32 — increasingly, we need the same protection for our mobile devices.
Adaptive Mobile is based overseas, but I spoke with Cody Bowman, its executive VP of sales and GM of the Americas, who is based in Texas.
Norton, McAfee and other major virus protection companies are weak in the mobile area, said Bowman. That's the space Adaptive Mobile serves.
What is different is that customers don't buy their software and load it on their phones. Instead, the networks do business with them and can protect all their users from the network end.
Think virus protection software, but for 4G wireless networks — and on the network, not the device.
As 4G grows, and as we use more mobile broadband, the need for protection from spam, malware and viruses also grows.
Adaptive Mobile is a 7-year-old company and already covers 800 million subscribers to companies like Vodafone and Telefonica, said Bowman. Now it wants to break into the U.S. market.