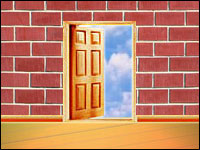 Where is the U.S. government going with the cloud? With annual federal spending on the technology now well over US$2 billion, it appears that cabinet departments and a host of other federal agencies "get it" in terms of appreciating cloud benefits.
Yet many vendors and others in the information technology community view the same spending pattern as evidence that the pace of cloud development at the federal level is far too slow, and that agencies are resisting innovation that would greatly benefit their operations and their services to the public.
Two recent reports tilt to the notion that federal agencies have been sluggish in the adoption of cloud technology — yet one top industry analyst counters that view.
"Collectively, information leaders across the federal government are recognizing the value proposition of consumption-based buying and managed services for cloud computing," said Dave Wennergren, senior vice president for technology at the Professional Services Council.
"That said, four years after the Office of Management and Budget issued its 'Cloud First' policy, aspirations exceed implementations at many agencies," he told the E-Commerce Times.
For example, in a recent survey supported by the Professional Services Council and conducted by Grant Thornton, only 8 percent of federal IT professionals indicated their agencies were "exactly where they needed to be" on cloud adoption, and 18 percent were "just getting started" on cloud projects. The remaining 74 percent were at various stages between those two points.
The survey covered a wide range of IT issues, and a report on its findings, "Expanding the Role of the CIO," was released in early June.
Many Agencies Still Undecided
The Congressional Cloud Computing Caucus, established to encourage adoption of cloud technology, reported similar findings in a separate survey of federal IT and financial professionals.
Government managers have forecast that potential savings from cloud deployments could reach almost $19 billion per year, but only 41 percent of survey respondents said their agency was considering cloud as part of its overall IT strategy.
The report on the survey, "Don't Be a Box Hugger," was prepared by the Congressional Caucus in partnership with MeriTalk, a public-private forum on federal IT issues. Amazon, Booz Allen Hamilton, Dell and Microsoft supported the research.
Most federal agencies are currently fence sitters that may have dipped a toe into the cloud but are not yet ready to make major cloud migrations, according to the Congressional Caucus-MeriTalk report.
The study characterized box huggers as "an anti-cloud group that wants to own their own hardware and software — and their cloud anxieties."
For example, 2015 federal cloud spending of nearly $2.1 billion will be concentrated in just five departments, amounting to more than 50 percent of the total, with the Defense Department leading the way at $773 million, according to the Congressional Caucus-MeriTalk report.
Finance, Contract Worries
Among the factors impeding adoption is the reluctance of chief financial officers to support projects.
"CIOs see the cloud as a business transformation opportunity, but the potential savings have failed thus far to capture the attention of federal CFOs. Whether this is because CIOs are holding their savings close to the vest in hopes of reinvesting those funds to pay for other priorities, or because IT represents too small a slice of most agency budgets to command a CFO's attention remains unclear," says the Congressional Caucus-MeriTalk report.
"IT managers must be more assertive and quantitative about both potential and realized ROI to grab CFOs' attention," the report recommends.
Also, agencies are still struggling with determining the true costs of cloud migration.
"Pricing, terms and requirements are opaque, and developing an apples-to-apples price comparison is difficult," PSC's Wennergren noted.
While cloud offers great efficiencies, "too often we still see contracting practices and security processes impeding implementation plans," he said. Agencies may not be taking full advantage of contracting flexibilities that allow them to buy Capabilities as a Service rapidly and effectively.
In that context, agencies are not the only parties that can help break the logjam.
"It's crucial for industry and government to have a strategic conversation on the outcome to be achieved, and the best contracting approach to achieve that outcome. Industry needs to help government understand the value proposition of moving to the cloud, and how to best structure a contract to allow flexibility and the rapid adoption of new technologies and best practices as they emerge," Wennergren maintained.
Data Protection Hovers Over Cloud
Security remains a major concern, as the Caucus-MeriTalk survey revealed. Only 20 percent of federal IT professionals believed the protection offered by cloud service providers was adequate.
The Federal Risk and Authorization Management Program (FedRAMP), a government effort designed to provide a standard for security across all agencies, "has made good progress" toward certifying commercial and government CSP offerings, according to the report.
Still, four years into the process, there are just 35 FedRAMP-approved CSP offerings.
CSPs are taking too long to move through the certification process, and there is confusion about how to accelerate that progress, the study found. Industry and government are pointing at one another, whereas more collaboration is required.
"This is not about the FedRAMP office — the market needs enhanced public-private collaboration to move the ball forward," says the report.
"Concerns over data security are a significant contributor to the fence-sitter mentality, but as the government's cloud pioneers have demonstrated, data is often more secure in a cloud environment," said David Hantman, general manager at MeriTalk.
As agencies continue to find success with cloud, and familiarity grows, the pace of adoption will accelerate," he told the E-Commerce Times.
Cloud Adoption on Target?
Contrary to the reports' conclusions, the U.S. government is about "on pace" in pursuing cloud technology, considering the multiple hurdles involved in the process, suggested Alex Rossino, research analyst at Deltek.
"In fact, contrary to the complaints about cloud adoption being sluggish, there is some evidence that it may have been progressing too quickly," he told the E-Commerce Times.
Multiple agencies last year released reports concluding that agencies could not accurately identify which cloud services were being used, and that they had not put into place adequate data management and security.
"These concerns sure don't sound to me like they are the result of too slow a pace of adoption," said Rossino. "Rather, they are the result of adopting too fast."
Deltek's current forecast for cloud adoption, which will be updated in the fall, is still on target. It shows annual federal cloud spending growing steadily from $2.4 billion in fiscal 2014 to $6.5 billion in 2019, with a breakout year in fiscal 2017 at just over $4 billion.
"Fiscal 2016 will be a year when cloud spending picks up greater speed, particularly because the Defense Department will have policies and strategies in place to make adoption more rapid," Rossino noted. "In addition, if the total value of contract awards is a metric to measure by, then the year-to-date total for fiscal 2015 has already exceeded that of 2014 — and we still have a full quarter to go."