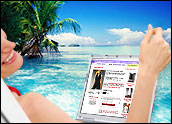 With a wealth of information at their fingertips, consumers are savvier than ever. They're also much less likely to be swayed by traditional, in-your-face advertising and commercials. They want, instead, to be entertained and engaged by marketers.
In short, consumers just want to have fun.
Marketers and e-commerce retailers are, therefore, looking at ways to provide enjoyment and at the same time sell products.
That's Infotainment
Home shopping channels have demonstrated the power of live shows and interaction with consumers in selling products. Now, some e-commerce businesses are seeking ways to replicate that experience online.
Natural products retailer Abe's Market, for instance, has been hosting live shows featuring sellers, farmers, producers and experts. These shows are intended to entertain and inform, and also to create a sense of loyalty and excitement among consumers.
"These are people who are curious about the industry, and we want to engage them," Richard Demb, cofounder of Abe's Market, told the E-Commerce Times. "They're busy, and they want information in bite-size portions."
Typically the shows have been hour-long segments hosted on YouTube, featuring producers of products sold by Abe's Market. For instance, one show focused on soap company Chivas, telling the story of the mother-daughter team behind the company's handmade goat milk soap, the process of making the soap, and the farm where they live.
"The theme is to present a product and the people who make it and let people interact," said Demb.
The key is engagement, he said. With engagement comes loyalty, which in time leads to increased sales.
"You're getting information that you're normally not getting on a retail site," said Demb. "People want to be engaged. There's this desire to learn more in a fun way."
Abe's Market recently partnered with media and entertainment company Endemol to help in the production of its live shows, the shaping of content, and the analysis of audiences and demographics.
Entertainment and e-commerce go hand-in-hand, David Armour, VP of development programming and sales for digital media with Endemol, told the E-Commerce Times.
"When you're in a platform where you can engage and buy, it's fascinating," he said. "You're one touch away from buying."
The informational aspect of such live shows, according to Armour, is also key.
"You're providing good, valuable content to an audience that's relatively underserved in the marketplace," he said. "Ideally, it's about the content."
The Power of Art
Other approaches to entertaining e-commerce focus less on information and more on the power of storytelling, artistic creation and celebrities to move consumers to buy. Think the Geico caveman or the BMW webisode series. Such marketing ploys have the ability both to capture an audience and, subtly, to sell that audience on the brand and its products.
The key to much of this kind of marketing is the development of new forms of that old standby, product placement. A star in a music video, for instance, might be wearing sunglasses that a consumer can click on and buy in an instant.
"The future of e-commerce is that it will all be integrated digitally," Christine Marie, president and founder of marketing company iMediaCandy, told the E-Commerce Times, "and the entertainment factor is what will help brands stand out."
What makes something entertaining?
"The things that go viral are funny, shocking or cool," said Marie. "Entertainment is sticky. You'll go to a website where you think you'll have some enjoyment."
Entertaining marketing is also more likely to be shared among people, leading to what's being called "word of mouse."
"People want to talk about things," Tolga Katas, iMedia Candy's CTO, told the E-Commerce Times. "You have to know your consumers are smart and well-connected."
This interconnectivity between consumers has led to a refiguring of the concept of "celebrity." It once was the case that only national or international celebrities had enough clout to sell products through endorsements or product placement.
Now, though, local celebrities, bloggers, and others with influence in the digital world can boost sales just by posting a simple "like" on Facebook, or mentioning a product in a blog post — and they're often cheaper to get than big-name celebrities.
"There are a lot of tiny little superstars — people who are extremely influential in the community they're in," explained Katas.
Artists, too, can help drive sales by creating storylines, videos, artwork and other entertaining content to keep consumers coming back for more. Like smaller local celebrities, artists need not have hit it big in order to help a company sell products. They just need to create engaging content.
"Artists are the key," said Marie. "They're the product promoting the product."