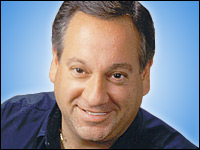 Motorola has been struggling for years to recapture its greatness. Suddenly, it seems to be on the right track, thanks to working with Google's Android operating system and Verizon Wireless. There are so many issues to consider, but the main question today is what are Motorola's plans for the next few years, and what are the chances it could be on the verge of a longer-term recovery?
The marketplace changes quickly. Five years ago, Apple's iPhone didn't yet exist. Three years ago, neither Google's Android OS. Today, both are leaders in the wireless handset smartphone space. That new reality is fueling many success stories in the handset maker community, while causing many leaders to squirm.
Motorola didn't always struggle. It was an industry leader for decades. In the mid 1990s the StarTac cellphone was the latest hit for the company until the networks suddenly switched from analog to digital.
When that happened, Motorola had two big problems. One was that it had no digital handsets to transition to; another was that its brand simply said analog. Not that it paid much attention to its brand at the time. After all, it saw itself as Motorola, King of the handset makers.
That attitude became a real problem. Motorola thought it was more important than it actually was. It thought the industry would not change, leaving it behind in the dust. Yet that is just what happened.
I tried to share this with Motorola several times, but the company's leaders just didn't want to hear it at the time. In the meantime, it continued further down the wrong path.
New Blood
Motorola eventually brought in a new CEO, Ed Zander, who had one success. It's too bad that didn't last. He came in when the company was launching its Razr. That was a terrific device, and it helped spur Motorola's recovery over a few years.
I remember everyone being confused at the time when I kept talking about how great that single device was, but emphasizing that my longer-term concern was what was coming next — after the Razr rode the wave up and down like every product does? I saw nothing new coming next. No next wave.
There wasn't one. Motorola rode the Razr wave up and back down again over a few years. Then the company once again became mired in the mud.
As it was shrinking and dying, Motorola brought in another new CEO, Greg Brown, in an effort to save itself. The company also enlisted Dave Dorman to become chairman. Dorman ran AT&T until it was acquired by SBC a few years ago.
I knew both of these guys and had followed their past successes. I met Brown in the 1990s when he ran a business unit for Ameritech, one of the baby bells. I met Dorman several times in Atlanta and at AT&T HQ.
I decided these two were Motorola's best chance for success. Either they would find a way to turn this company around, or it would be time to grab the shovels.
They decided to break Motorola into two parts, and they brought in Sanjay Jha as co-CEO. Jha, who came from Qualcomm, has done a great job so far on the handset side.
In fact, the three of them do seem to be starting to turn the company around. That is the good part of the story. The next natural question is what is in the pipeline to keep the success waves coming?
Let's take a look.
Strategic Staying Power?
Google getting into the wireless phone business seems to be the single key to Motorola's newfound success. Originally, the Motorola brand was a tired leader in analog handsets. Then Nokia became No. 1 with its digital handsets and has kept that lead over the last decade.
As a matter of fact, today the marketplace is changing again with the Apple iPhone and the many smartphones running Google Android soaring in popularity. In today's marketplace, Nokia and RIM seem to be battling the same tech and brand problems Motorola dealt with in the 90s — but that's another column.
Suddenly, Motorola is reinventing its brand and tying it to Google's Android. Its Droid devices have been very successful for Verizon Wireless.
So far, things look good. What is coming next? That's the question.
Motorola has a very aggressive rollout of many new devices planned over the next several months, according to Jha. Not only that — it will also be selling those devices through a variety of wireless carriers. Perhaps AT&T Mobility, Sprint and T-Mobile? Motorola intends to have a device for every consumer's and every business user's wants and needs, offered by every carrier.
Aggressive plans. Working with multiple carriers spreads the risk. Good move.
The one part that worries me is that Motorola is becoming so reliant on Google's Android. Motorola's success depends on this single lynchpin. As long as Google Android stays hot, Motorola can continue to build.
Motorola is building its future around the exploding smartphone segment. That is the good news. However, putting all your eggs in one cart is always risky.
Get Well Wishes
Android has become the hottest mobile phone software in the industry. As long as this continues to be the case, the sun will shine at Motorola. However, the marketplace changes every few years. In just a short time, Android overtook the iPhone. What is next? Will it be a plus or minus for Moto?
Motorola is tying its success or failure very closely to Google's Android. If it softens, it will impact Motorola, and there may be nothing it can do about it.
The best plan would be for the company to widen its net. Build smartphones based on other OSes besides Google's. Perhaps it will. Jha said Motorola will consider Microsoft's Windows Phone 7 operating system. He said the company plans to unveil 20 additional smartphones.
I remember meeting with Brown and assorted execs a few years ago at CTIA in Las Vegas. They were a group of determined leaders, but they didn't have a clue yet how they were going to pull the rabbit out of the hat.
Since then, two good things have happened. Jha has joined them, and Google's Android was born. They may be the way out of the darkness for the company after all these years.
So, Motorola's recovery story seems to be in the early stages, but it looks good so far. Next year will be important, as the company breaks into two. Can Motorola keep its eyes on the ball? Let's hope it learned the Razr's important lessons and can continue to build on success. Every Motorola investor, worker and customer hopes the company gets it right this time.
---
Jeff Kagan
is an E-Commerce Times columnist and a wireless, telecom and technology analyst, author and consultant. Email him at
[email protected]
.