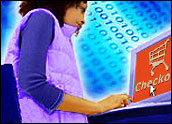 Back in the early days of the Web when bandwidth was at a premium and surfing was considered something you did on your own time, the idea that the Internet would one day transform an entire media industry, challenge established economic models and — gasp! — bring people closer together, may have seemed farfetched to the average user.
As we quickly move beyond the days of "You've Got Mail" toward an environment where instant delivery, unlimited access to content, and connections that seamlessly bridge continents are as unexceptional as dialing a telephone number, the foundation that once intimidated most of us is now opening new doors for content consumers and producers alike.
From Window Shopping to Two-Way Conversations
For the average person, today's online experience looks a bit different than it did back when Al Gore claimed to have invented the Internet. What was once a mass of static storefronts designed to drive dollars back to traditional monetization models, is now a living, breathing collection of conversations, rich media experiences and voices from around the world that ebb and flow with the tide of newsworthy events, fads and day-to-day interactions.
The instantaneous benefits spurred by new delivery channels such as Web feeds in RSS or Atom format, coupled with the widespread availability of personal and professional publishing tools such as TypePad, have created a means by which anyone can establish a voice, share their opinion and even build an audience of loyal followers.
For example, consider the following shift in behavior. Previously, if you read an op-ed piece that struck you as ludicrous, you may have reacted by throwing down your newspaper in disgust, stomping wildly and shaking your fist in the air before setting out to write a scathing response to the editor and praying it would be published in a future issue.
Today, consumers can immediately — and publicly — share and publish their praise, demands and dissatisfaction with the click of a button. This freedom can often produce surprising results, even bringing about a level of accountability to otherwise silent and faceless corporate entities. The sheer transparency of today's new media is closer to the reality of the world we live in. And some might argue, a lot more fun.
Subscription Gets Personal
There's no denying that the Internet has become a vibrant infrastructure for facilitating connections on a very personal level. For content creators across the globe, online journals, blogs and podcasts make it incredibly easy to publish just about anything, in any format and distribute it widely. According to recent reports, millions are already doing this today.
However, as consumers living in an era when information overload is the norm, it can be exceedingly difficult to keep your fingers on the pulse of emerging trends and new ideas, not to mention keeping track of the information that you voluntarily choose to consume every day. Aimlessly browsing the Web can be time-consuming; searching the Web assumes you always have an intention or end goal in mind. Today, we're seeing the emergence of a "subscribable" Web, where it's easier than ever to aggregate in one place the many bits of information that interest you most — be it text, audio, video, photos, etc.
It's fairly trivial to create a destination page comprised of the most recent headlines from your favorite section of USA Today, family comments about a photo you posted of Aunt Ginny and a list of movies you recently reviewed on Netflix. More than just a repository of links that reduces the number of sites you must remember to visit, subscribing to content feeds means you will automatically be alerted to updates, even if you're vacationing in Transylvania and accessing your feeds via the PlayStation Portable you received for Festivus 2005.
Inside the Series of Tubes
Customer-driven demand, coupled with widespread access to niche content, are just two of the key drivers behind the Web's transformation. Cheap bandwidth, cross-platform device compatibility and the aforementioned syndication formats have made the subscribable and conversational Web possible. Unlike the days when establishing a presence online required serious technical chops, hiring an outside design firm or bribing the neighborhood computer science whiz, the ability to customize the creation, delivery and subscription to individual bits of content is facilitated by new media tools and services.
Beyond the "subscribable" Web, we now have visibility into behavior that was previously very difficult to gauge without the help of an expensive market research studies and/or clairvoyance.
For example, understanding who else is talking about a particular subject, what your customers are saying about your new Web site, or how your competitor's recent product launch was received. Phone trees are being replaced by SMS. Marketers are joining the conversation and becoming publishers. Publishers are becoming advertisers. The wisdom of crowds who collective contribute to sites like Wikipedia are replacing shelves of dusty encyclopedias. Transformations are happening at levels we could not have anticipated years ago.
Turning Insight Into Cash
Naturally, with the onset of any significant technological disruption comes the opportunity to derive economic value. The scattering of content to the edges is a positive benefit for those seeking to increase their reach and build an online community. Today, the most established media brands are rethinking their content strategies to incorporate new media. Meanwhile, marketers are aggressively shifting dollars online, locating new ways to aggregate niche content into previously untapped, target–worthy groups.
Chris Anderson, editor of Wired magazine and best-selling author of "The Long Tail," discusses the emergence of this new economy brought on by the abundance of choice online and the shift in focus away from "hits" toward market fragments and limitless niches. Google and Apple are just starting to prove that this business model is more than viable.
These models will become even more powerful as conversation facilitates the discovery and efficient promotion of ever more fragmented media. If your content is not open and syndicated, you will find it harder to participate in the conversation. If you don't participate in the conversation, you will find it harder to participate in the marketplace.
---
Dick Costolo
is co-founder and CEO of
FeedBurner
. Previously, he co-founded and was CEO of Spyonit.com. He also co-founded Burning Door Networked Media, and spent eight years working as a manager with Andersen Consulting.
---