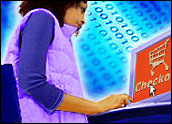 Traditionally, online advertising was viewed primarily as a direct-response vehicle. However, the growing use of data to define and deliver audience targeting means it now can have an impact on all levels of the purchasing funnel — from fostering awareness to reaching consumers at the ideal intersection between desire, intent and action.
The ability to reach consumers at the most crucial point in their buying decision-making process, steer them toward a particular product or service, and then capture them at point of sale is a very powerful solution. This is why search marketing is so appealing to marketers, as consumers' desires are instantly telegraphed by their actions.
For etailers, the challenge is that users are often relatively far into the purchase funnel when they arrive at a particular site. However, an etailer that is able to capture the consumer's attention and activity further up the funnel and combine it with onsite browsing and shopping behavior can begin to assume the mantle of the ultimate data provider.
Shopping Behavior Data: E-Commerce Gold
While e-commerce sales will continue to grow over the next four years, eMarketer estimates that the rate of growth will drop steadily, making it even more vital for etailers to be strategic about the ways they use data to reach consumers.
Today, data is ubiquitous, but not all data has the same value. While first-party data is more valuable than third-party, there is no more powerful information than shopping behavior — and in particular, actual purchasing data.
While behavioral targeting and audience segmentation can point toward high incidences of someone potentially being in-market, retailer data points toward actual sales.
The real opportunity lies in harnessing these different levels of information with the retailer data and applying it to on-site inventories. By doing this, etailers can transform their display space into e-commerce sales, as well as a revenue stream for partner advertising.
Over the last few years, etailers have increasingly integrated advertising into their sites. While incremental advertising revenue opportunities may be useful, the ability to drive incremental sales can be more attention-grabbing and beneficial.
Certainly, online activity and subsequent online sales can be analyzed. However, if offline purchase data can also be paired with online data, retailers are suddenly in a very powerful situation. By gaining insight into the impact a number of variables have on both on and offline sales — what creatives, targeted at what users with what offers, at what time of day, with what level of frequency, and against what specific content — an etailer can significantly increase effectiveness.
Leading the Charge
By understanding what user characteristics make up the purchase audience for each product, performance can be evaluated and advertising campaigns optimized to "supercharge" display ads. Applying key values such as creative, geography, time of day, and content placement to hard factual retailer data allows the right ads to be served to the right people at the right moment in their decision-making process.
Finally, appreciating the interactions of campaign activities with off and online sales can help etailers develop more effective multichannel strategies. The end result is that real additional sales can be driven.
Capturing this data and then utilizing it to drive incremental transactions is challenging. Retailers need to acquire the tools, analytic prowess and necessary skills to enable this to happen. However, the valuable data retailers hold means they have the ability to be at the forefront of the data-driven digital revolution.
By harnessing their transactional data alongside the wealth of audience data from their websites and third-party information, etailers can gain critical insights that can help drive new sales, identify cross and upselling opportunities, and grow the lifetime value of their customers across all their channels to market.