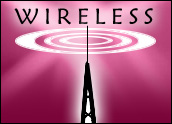 Which cellphone network offers the best service for you? Simple question. The answer is a lot more complicated. When we walk out of the house each morning, we make sure we take our wallet, our keys and our wireless phone. We don't leave home without them. Our phone is our connection to our world. However, all networks are not equal. Some are better and some are worse…
My Pick of the Week is a backup wireless phone for an unbelieveably low price: free. Well, almost free. I'll explain below.
Drum Roll, Please
So, which wireless network is best? Consumer Reports publishes an annual report that tries to help us answer this question. It looks at individual carriers in indidivual states, and it also offers a big-picture ranking on a nationwide basis. This may be the most comprehensive comparison most people will ever have, and it's on the magazine rack at your favorite store right now.
It is important to remember this Consumer Reports piece makes generalizations, though, and it is not an accurate guide for everyone. What I mean is that it is valuable if you have strong signal strength from all the carriers and can compare them all on other factors.
However, many of us don't have strong signals from all the carriers. If you do not, then even the best carrier is not for you, because you will not be connected.
That said, let's look at Consumer Reports' conclusions in this year's annual report.
On a regional basis, U.S. Cellular is the best carrier overall — if you are in its region.
On a nationwide basis, Verizon Wireless provides the best service for most people.
If you have basic needs, either Consumer Cellular or TracFone may be your best bet.
This isn't noted in the report, but TracFone is the parent company of NET10, Safelink Wireless and Straight Talk. These companies don't have their own network. They resell others, such as Verizon, AT&T, Sprint and T-Mobile.
Here is the order of the top five carriers: 1) U.S. Cellular, 2) Verizon Wireless, 3) Sprint, 4) T-Mobile and 5) AT&T. Some have improved, and others have stayed at the bottom.
Interestingly MetroPCS was not even mentioned. What does that mean?
Movers and Slackers
Sprint is turning itself around, and that is good news for its customers. Several years ago, its service was not very good. In the years since, it has worked hard to improve.
Verizon Wireless is usually at the top and has stayed there. Good job.
AT&T Mobility is usually at the bottom, and it has stayed there as well. Come on, guys.
This is not new. AT&T has been dealing with this kind of report for many years — even before the iPhone troubles. I remember years ago, when Consumer Reports first said AT&T had bad quality, I got lots of phone calls from AT&T trying to put a better spin on the damaging headline.
I told those callers the answer was to simply improve the company's service. That was the only logical path. In fact, we can now look at the way Sprint improved as an example.
However, AT&T has stayed at the bottom with customers report lack of service, dropped calls, and problems with texting and data.
On the good side for AT&T, its rollover plan is a hit. I love it. If you buy a bundled package but do not use all your minutes, you can carry the unused minutes to the next month.
Since AT&T suffers from this same ranking, year after year, I am very surprised it has not yet fixed its problems. At this point, who knows if it ever will? Its focus seems to be on the investor — and not on the customer and employee. So as long as investors are happy with its stock price, customers and workers will just have to deal with it or leave.
Boiling It Down
This is my take away from the Consumer Reports comparison.
If you are a basic customer, one of the prepaid services may be best for you. It will offer the lowest cost and very good service. Consider companies like Consumer Cellular and TracFone, which rank at the top.
Prepaid plans are actually growing in popularity. They cost less. They have no long-term contracts. The downside is, the phones are more basic. If that is OK with you, then these phones are great. The good news is they are also starting to introduce prepaid smartphones.
If you want one of the new super-hot smartphones today, then U.S. Cellular or Verizon Wireless are your best bets for service and quality.
Remember to check for signal strength where you spend most of your time. If those companies don't offer strong signals where you are, then you can consider Sprint, T-Mobile or AT&T, in that order.
The first priority in selecting a phone is the network. Is there signal where you spend your time? Check your home, at work, and everywhere else you regularly spend time.
Trust me on this. And to make your choice easier, simply eliminate the networks that don't give you strong signal. This is the most critical part of your decision.
Cost of Service
The Consumer Reports piece doesn't address the cost of service — just quality. So here are some cost considerations.
Generally speaking, both Verizon and AT&T offer the highest-priced services. Somebody has to pay for all that advertising.
Next is Sprint. Then T-Mobile. Then the assorted other smaller companies.
The smaller the company, the lower the price — it has to give you a reason to choose it over the big guys.
You can pay more than US$100 per month for service with the big guys or as low as $45 per month with the smaller companies for the same unlimited service.
There are also many other carriers in between that are not mentioned in the Consumer Reports comparison. Cellular South is an example. I would be interested in finding out how customers think about those companies as well.
Were their rankings too low to write about, or are they simply too small? Then again, U.S. Cellular took the No. 1 spot, so who knows?
Cost could make a big difference in your choice. Of course, if you don't need an unlimited plan, then you can pay as little as a few dollars every month for a small bucket of minutes.
Some carriers let you carry unused minutes to the next month. After several months, you can have quite a bucket of minutes to use for only a few dollars every month. Something to consider.
Hope this helps you sort through the mountain of choices. Buying a wireless phone is getting more complicated, but if you check which carriers have signals where you spend time, and then evaluate your typical usage patterns, the choice gets much simpler.

As my Pick of the Week, I want to share a secret that will help make sure you have a connection wherever you are: Get a second phone. That's right — but not a regular wireless phone. Get one of the prepaid phones with a zero monthly cost. Let me explain.
With pay-per-use services, you simply buy a phone, activate it, then turn it off, stick it in your glove compartment, and forget about it until you need it. Just make sure the battery is charged.
Choose a prepaid plan that lets you pay nothing on a monthly basis unless you use it. Then, depending on the network, you pay either a per-minute charge or a per-day charge when you do use it.
I recommend having a second phone tucked away for a variety of reasons. I do, and I have used my backup phone more often than I imagined I would.
Make sure it uses a different network from your regular cellphone. Occasionally, you may find yourself out of the coverage area for your carrier, while others have strong signals. You might want to be prepared in case there is a hurricane, or a terrorist attack, or just a down or busy network. These things happen.
It's always smart to have a reserve chute when you go parachuting, right? Just in case the main chute does not open. Same thing here. If you rely on the always-on connectivity of the wireless world, make sure you are always connected.
You can find a wide variety of these plans from every carrier and the smaller brands.