Retail marketers posting their social media messages at random times are likely overlooking key opportunities to convert potential customers into successful checkout cart transactions.
Social media analytics company Sprout Social recently published its report "2023 Best Times to Post on Social Media," which outlines the best and worst times to post. It also delves into industry-specific data for retail marketers to consider as they plan their social strategies across platforms like Facebook, Instagram, and TikTok.
Sprout Social derived its insights on the optimal times to post on social media from an expansive dataset that includes inputs from 2,000 entrepreneurs, brands, and businesses of various scales who leveraged Amazon's global retail platform.
The data, collected from Dec. 1, 2022, to Jan. 3, 2023, encompassed an analysis of nearly 2 billion social engagements, usage patterns across 400,000 social profiles, and Sprout's 34,000+ customers.
The research provides insights into adapting retail strategies beyond the growing Amazon empire. The report underscores two crucial takeaways for brands, according to Rachael Goulet, director of social media at Sprout Social:
The digital landscape is evolving at a rapid pace.
Each platform offers distinct benefits depending on a brand's goals, content type, and audience.
"Understanding this evolution and adjusting for it is crucial for marketers to connect with their target audiences successfully," she told The E-Commerce Times.
Knowing When To Post on Social Networks
Across the board, the highest engagement times are Tuesdays, Wednesdays, and Thursdays, generally between 9 a.m. and noon. The research shows that midweek mornings are also successful across most social platforms.
That goes for Facebook, Instagram, Twitter, and LinkedIn. Pinterest and TikTok see higher engagement in the afternoons.
However, these stats bear important nuances, Goulet warned. Engagement levels on each social network vary throughout the week and at different times. Furthermore, various industries like consumer goods experience unique peak engagement periods.
"The bottom line is that social is where the entire customer journey is unfolding, with a growing expectation for brands to meet them there. The brands that are prepared and present on social will be the ones to provide competitive experiences," she offered.
Marketers should consider these collective insights and their brand's own social data as they plan social media strategies for 2023 and beyond.
Peak Social Engagement Shifts to Business Hours
The report finds a shift in peak times across platforms compared to past years.
Engagement times now favor general business hours, with optimal times being Monday through Thursday from 8 a.m. until early afternoon. Similarly, Twitter saw a shift in engagement compared to past reports, with peak hours being weekdays from late mornings to midday.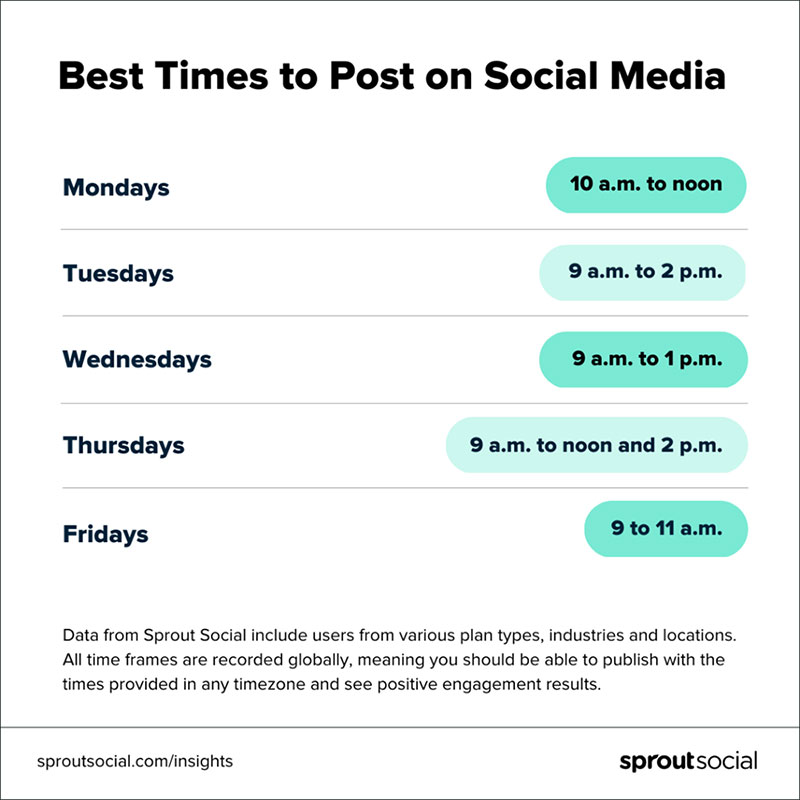 The consumer goods industry exemplifies this pattern. Social media interactions have risen consistently every day of the week. Facebook, for instance, sees steady activity starting at 7 a.m., while Instagram peaks at specific times — Thursdays at 2 p.m. and Tuesdays at 10 a.m.
"It is clear that consumers are no longer just turning to social media for entertainment or to unwind after work. They are engaged during peak business hours. This shift follows consumer trends in increased use of social commerce and seeking brand connection and discovery across social," Goulet observed.
Researchers also see consumer behavior patterns shifting on social in response to changing work schedules. Peak engagement times now align more closely with business hours.
According to Goulet, this trend is especially evident on Facebook. Still the most used platform by the overwhelming majority of marketers, its peak times have shifted to coincide with business hours, likely due to its utility as a daytime business tool.
"These findings further solidify social media as the preferred and primary communication channel for brands to connect with consumers and for consumers to get in touch with brands," she said.
New Factors for Social Commerce Success
Economic conditions are changing while media options continue to expand. So, marketers must understand consumer behavior to optimize marketing strategies. That is paramount to business success.
Knowing when NOT to post can help marketers make data-driven decisions to reach and engage with their target audiences during the most opportune times. With more effective, data-driven strategies, brands can ultimately drive more sales, despite economic constraints, noted Goulet.
E-commerce retailers must also consider how current economic conditions impact specific industries. A good example of this strategy is the consumer goods industry.
That sector has rebounded in terms of consumer spending. In fact, U.S. consumers spent 18% more in March 2022 than the two years prior.
The report underscores that social media engagement has grown as spending habits have increased. That brought marketers new opportunities to counteract economic conditions.
"Our recent survey data also supports this notion and the importance of social media as the channel for marketers to connect and engage with consumers, especially in response to increased spending," Goulet observed.
Social data is vital for marketers to be effective today. As platforms evolve, how brands and consumers use social media will also change.
Marketers need to stay aware of these shifts to reach their audience in fresh ways. They need to focus on discovering new segments, platforms, and personas they were not prioritizing before, Goulet urged.
Businesses that pair this report's data with their own social media data analysis will discover a deeper understanding of their audience's behavior. This approach will enable them to develop tailored content that resonates with their followers across all social networks.
"These rich connections that social media allows enhance the businesses' ability to compete and ultimately win," she added.
Trends Shaping Profitable E-Retail
The Sprout report presents other insights reflecting the trends that successful retailers use to their advantage.
Somewhat surprisingly, despite economic hardships, 89% of Amazon sellers managed to maintain profitability, with 37% reporting increased profits throughout the previous year.
E-commerce retailers are keen on expansion within Amazon's ecosystem and beyond. Half of the sellers aim to explore new e-commerce platforms and global marketplaces, underscoring the importance of an omnichannel presence. The growing emphasis on multichannel exposure supports the fact that 61% of Amazon sellers were also selling on at least one other channel last year, marking an increase from 58% the year before.
Additionally, more than half plan to expand their presence to new e-commerce platforms and global marketplaces this year.
Another critical trend is the rising popularity of social media advertising. Forty-one percent of sellers now utilize social media for marketing, marking a 15% year-over-year increase.
Video advertising is surging, with e-commerce platform pay-per-click (PPC) ads remaining the most common marketing strategy. Still, many sellers are turning to social media to advertise their products. Video-focused platforms such as TikTok, Snapchat, and YouTube have seen the most growth in this regard.
Two trends stand out as directional markers for sellers in Amazon's marketplaces and beyond: the need to increase social engagement and connect globally through multichannel messaging.
Beyond organic growth strategies, there is a significant shift towards strategic consolidation in the industry. One in three sellers plans to acquire other e-commerce brands this year, which signals overall confidence in the industry's future.
For more information on the best times to post on social media, see the Sprout Social report.