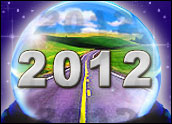 Over the last 25 years, I have had a ball as a tech analyst following who is hot and who is not and what is next. I look at companies and technologies. There was plenty to follow in 2011. What about 2012? Believe it or not, it may be even busier with winners and losers.
At the end of every year, I look around the industry and try to call the winners and losers and predict what is coming next. Remember when I discussed the Wave in past columns? It's when companies or their technologies are either on their way up or down the other side of the Wave.
An example: A few short years ago, when RIM's BlackBerry was still hot, I predicted in a speech and later wrote that the company was heading for trouble. That Apple and Google were transforming the smartphone space. That this would impact RIM. After my speech, I was taken aside by several people who thought I was nuts. But today we all see the problems RIM is having.
So what do we have to look forward to in 2012? Once again, it will be a transformational year in the tech, telecom and wireless industries. There are thousands of companies. Some are going up, and some are coming down the other side of the Wave. Plus, there may always be new companies and ideas that will pop up.
Companies can actually be hot and cool. Hot as a technology and cool as an investment, or vice versa — or both can be hot or both cold. So there are four different positions that companies can find themselves in.
This week, I'll look at companies. Next week, I will look at technologies.
If you think there is a company that should be on this list, drop me an email. Perhaps I will keep my eyes open for it in the coming year.
Here we go…
Tech Companies in 2012 in a Nutshell
Apple has seen incredible growth; however, it is going to slow down. It has transformed industries and created new sectors. Now that Steve Jobs has passed, this will be a transitional year. Apple will remain a top-tier company like Google, but it will also see struggles. Superman may have lost his superpowers.
Google continues to grow rapidly and transform many different spaces. Expect increased pushback from the government in 2012. Investors love the company. So do many users and customers. Many, however, feel uncomfortable by issues like the loss of privacy. Expect continued growth with Android and now with Motorola.
Facebook is one of today's phenoms. While customers continue to sign up in record numbers, privacy concerns will play more of a role. Like Google, expect more government and user pushback in 2012, although the company continues to grow rapidly.
Amazon.com started as a simple online bookseller, but has transformed itself into an incredibly large and successful marketplace of quite a few different online retail categories. It makes nothing. It sells everything. Kindle devices will help it continue to grow rapidly. It will compete more directly with Apple. This new battle space will be interesting to follow. Will Jeff Bezos replace Steve Jobs as the industry point person?
Barnes & Noble will compete more directly with Amazon.com. The traditional book selling business is crashing and burning. Just look at Borders disappearing. However, B&N is rushing into the new book world with its Nook. This could be very successful if it's marketed correctly.
Verizon is a traditional phone company that's moving beyond the telephone. The traditional phone business is shrinking. Other areas like wireless, television and the Internet are growing. Verizon is also moving into new business opportunities — like offering a Netflix-type service. In fact, it may acquire the suddenly failing Netflix. The acquisition of spectrum from the cable television industry will help it avoid the same problems AT&T deals with. Traditional growth will slow. Will it make up for it on new Waves of growth?
AT&T is not the AT&T you remember. It is SBC from Texas, which acquired AT&T and took the name several years ago. That said, it is strong and important. It is doing well for investors. Customers, on the other hand, really don't like it very much. In fact, Consumer Reports just released its latest customer satisfaction survey last week and ranked AT&T the worst carrier in the U.S. — again. This is several years in a row. It is also trying to acquire T-Mobile to get more spectrum, a move that the U.S. government opposes. Like Verizon, traditional growth will slow. Will Verizon create new Waves of growth? No signs yet, but I expect it will. I expect both quality problems and growth to continue.
Sprint Nextel has had plenty of ups and downs. Five years ago, this third place wireless carrier was crashing and burning. Then it found a new CEO and has been recovering ever since. Now it is struggling again. It was the wireless carrier for companies like Qwest and the cable television industry, which looked promising, but it has lost them all. Customers are happier, but investors are concerned. 2012 looks like a rough year for Sprint unless it turns things around.
T-Mobile got a late start to the wireless data party and found itself falling behind. It has struggled over the past couple of years to catch up. It has a happy customer base who like the lower prices. AT&T is trying to acquire T-Mobile, but the government is getting in the way. If the companies do merge, existing T-Mobile customers may flee. If they do not merge, then AT&T gives T-Mobile US$3 billion in cash and $1 billion in spectrum. Not a bad way to get the cash and spectrum it needs to build its network into a real competitive force. Stay tuned.
C Spire is changing and expanding. This regional wireless player is the fourth company to offer the Apple iPhone. It is taking a different path with customers. Building customer connections with a loyalty program called "Percs." It changed its name from Cellular South and is actively reinventing itself. So far, things look good.
U.S. Cellular, another strong regional player, was offered the iPhone too, but said no thank you. It has been growing but has hit a rough patch lately. It remains to be seen whether it can turn things around. It has good quality and happy customers.
MetroPCS has its own network and has been building over the last several years. Its customers love to pay less.
TracFone is perhaps the lowest-priced national wireless phone service in the market. It also offers other brands like Straight Talk. Its resells networks like AT&T and Verizon. It offers a good-quality service. However, the phone numbers it assigns are often recent disconnects, and new users get lots of calls from collectors looking for old users. This is a big waste of customer minutes and must be solved.
RIM is going from hero to zero. I predicted this problem was coming a few years ago. RIM's BlackBerry was king of the smartphone world until Apple and Google transformed the segment. Now RIM is struggling. Its new tablet has been a failure. This is a good company, with good people and good technology, but it is like dear old grandpa. Can it recover?
Motorola fell off the fast track in the 1990s, and Nokia took over as No. 1. Things were rough, but the last couple years have been better with the debut of the Droid phones. Perhaps getting together with Google will work. We'll see.
Nokia took the same path as Motorola, but a decade later. It led through the last decade, but when Apple and Google transformed the smartphone space a few years ago, it lost its way as well. The Nokia brand is strong in cellphones, but not smartphones. Now it is partnering with Microsoft, and the first new smartphone handsets are just hitting the market. We'll see.
Samsung has been trying to carve out a niche in the smartphone segment over the last several years. It has been successful so far, but not to the same degree as Apple and Google.
HP is in transformation. Under new CEO Meg Whitman, the company will look completely different and hopefully be much more successful. This is a work in progress. No guarantees. Its board of directors makes being a CEO tough work.
Lenovo acquired Thinkpad from IBM and has been growing strong ever since. However, I have purchased two Thinkpads within the last couple years and have had different problems with each. Problems are a first. When I switch back to older IBM Thinkpads, things are still fine. I contacted Lenovo for help and got none. I am hearing similar stories from others as well. Strong company for investors for now. Some customers like it, while others don't. I'll keep my eyes on it going forward. Would not like to see it take the same path as Dell.
Netflix has been a very innovative young company leading the charge to change the way we enjoy our television and movies. It was going strong until several months ago, when it goofed. It split services and raised prices too high and didn't communicate well with users. The backlash was immense and long term. It has not recovered. The segment is getting ready to transition as well. Companies like Verizon are getting into the business. In fact, Verizon could acquire Netflix. Otherwise, I see it continuing to fall.
Kodak, one of America's best-known and loved brands, is collapsing. It missed the big transformation of the photography business. It should be providing the cameras on every smartphone. It is now trying the computer printer business but is struggling. No brand name in that area. Will Kodak survive? If not, it would be a tragic loss.
Microsoft is a wildly successful and strong brand and company. However, it struggles outside its core business. Example: It has been trying to make a dent in the wireless phone business for 10 years without success. Perhaps now that it is partnering with Nokia, it can finally make a dent in the business. No guarantees. I'll keep my eyes on it.
Comcast has grown into the largest cable television provider over the last decade. It is also rapidly growing into the network television space with NBC, CNBC and MSNBC. It has failed in its attempts at wireless. It is now selling its wireless data spectrum to Verizon. May give Comcast another shot at wireless. This company has generally happy investors and unhappy customers. Growth has slowed. It will be interesting to see what 2012 brings.
Cox is a strong but quiet cable television company. Its customers love it. Investors did, but may be cooling. Cox recently pulled the plug on its own bold wireless initiative. Why can't cable television companies make a dent in wireless? Good people running the business, but how will Cox grow in 2012? I will be watching for an answer to that question.
Qualcomm will grow. Period.
Clearwire had an innovative idea but has stumbled. Will it survive long term? Sprint Nextel still needs it today, but as it builds out its 4G network, what will happen to it?
CenturyLink is now the No. 3 Baby Bell after acquiring Qwest. It has grown well during recent years. However, it is not as advanced as its larger competitors. It is only playing with wireless and television right now. Will it continue doing well now that it is suddenly a much larger and potentially much different company?
Windstream is the fourth-largest local phone company after CenturyLink. It has been on a successful growth track. It makes acquisitions that keep propelling it forward. It is strong in the business side. It does not have a wireless component. Will it? This growth track will continue as long as it keeps acquiring. What then?
EarthLink was one of the top Internet service providers in the 1990s, like AOL and Prodigy, but as cable television and telephone companies started selling Internet access, much of its growth and business evaporated. It has survived, but it's much smaller. It will likely continue as is.
Vonage, a startup that created lots of angst several years ago, is still around and seems more stable today. Not as profitable as we expected, but it is a smaller player in the market and will continue to stay that way.
Carbonite is a company that helps you hang on to your computer data in case you lose it. A backup company that continues to grow strong. I like the ease and simplicity. I also tested MOZY, a competitor, which is also a good service but not as easy to use. Growth for both continues.
LightSquared is a brand new company, still in the building stage. It wants to offer smaller wireless companies the ability to offer high-speed wireless data services. Great idea, but AT&T and Verizon would rather keep this market to themselves. Does LightSquared interfere with GPS or not? The U.S. government is involved. Either this company will solve the GPS problem and be wildly successful, or it won't get off the ground. Stay tuned.
Waiting and Watching
These are a few of the interesting stories to keep your eyes on in 2012. There are so many more. Our tech, wireless and telecom industries remain as strong and vibrant as ever. However, all companies are not on the same path. Some are on the growing side of the Wave while others are on the falling side. Knowing the difference is vital if you are an investor, worker, competitor or regulator.
Drop me a line with your thoughts on other interesting companies worth keeping an eye on. And stay tuned. I guarantee there will be some very interesting surprises in 2012. There always are!