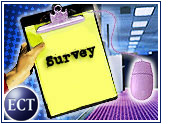 If you can hold your breath just a bit longer, demand for IT services will rebound. That is the shared conclusion of two surveys released Wednesday — one by research company IDC and the other by research firm Gartner and financial services powerhouse Goldman Sachs.
Gartner and Goldman Sachs' "IT Spending Confidence Survey" polled 369 of the 1,800 attendees at Gartner Symposium/ITxpo in early May 2002.
IDC's report, "Worldwide IT Services Industry Forecast and Analysis, 2001-2006," analyzed a somewhat broader range of data gathered from IT service providers around the world.
Studies Agree
Both studies concluded that the downturn in the IT services space has not quite run its course.
"In the short run, the worldwide economic slowdown will continue to impact IT services," said Ned May, program manager of IDC's Worldwide Services program.
For the year as a whole, the IDC report cautioned IT service providers to expect "slightly lower growth in the market."
Meanwhile, the Gartner/Goldman Sachs study predicted that technology budgets for U.S. businesses will remain flat through the rest of 2002.
Short-Term Negative
In the short run, according to Al Case, Gartner senior vice president and co-creator of the survey, sentiment concerning technology spending is so negative that 78 percent of respondents said they will not spend more on IT services — even if the U.S. economy seems to be rebounding.
"Our clients are telling us that they are married to predictable budget forecasting this year," Case told the E-Commerce Times. "They are locked into their budgets, and solutions that aren't in the budget have little hope [of being purchased] this year."
The Good News
So where is the good news? Gartner's Case noted that many companies have slightly under-spent their IT budgets so far this year.
That is one reason, he added, "why you will see spending on IT pick up during the fourth quarter." Beyond that, Case predicted, the uptick will continue in the form of larger IT budgets in 2003.
Case added that expansion and replacement buying for existing applications are already taking place, although purchases for infrastructure upgrades are still on hold.
IDC's report agreed that a recovery in IT services spending is just around the corner. Sometime in mid-2002, according to the survey, pent-up demand will begin to force spending in such areas as systems integration and custom application development.
Long-Range Forecasts
IDC's long-range forecasts are even more encouraging. By 2006, according to the company'sreport, IT services spending will increase at an annual rate of 12.4 percent and will exceed US$626 billion worldwide.
The IDC report cited a wide range of reasons to support its conclusion that demand for IT services will rebound over the long term.
Those reasons include the increasingly pervasive nature of computing with the adoption of portable computing devices; the growing role of IT services in cutting corporate costs and increasing productivity; and the expanded capability of software applications to tackle a wide range of critical business problems.
Asia-Pacific To Lead
IDC predicted that U.S.-based providers of IT services will continue to dominate the global market while growing their revenue at an average annual rate of 11.8 percent through 2006.
The United States and Europe combined will account for 74 percent of global IT services spending through 2006, according to IDC. And IT spending for services in other regions will grow even more rapidly. The Asia-Pacific region, led by Japan, will enjoy a five-year annual cumulative growth rate of 21.9 percent.