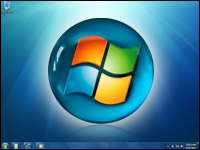 Though consumers won't be able to buy a copy of Windows 7 until October, businesses will reportedly be able to order copies of the upcoming operating system on Sept. 1.
However, the OS doesn't look like it will rake in money from the majority of businesses — at least, not right away. In fact, more than 59 percent of businesses have no current plans to deploy the new operating system, according to a survey conducted by ScriptLogic.
Insufficient time and resources appear to be the biggest barriers to deploying Windows 7, with nearly 43 percent of respondents citing those factors as contributing to their reluctance to adopt Microsoft's upcoming OS.
Application compatibility is the next biggest barrier, concerning more than 39 percent of respondents.
Despite these difficulties, the remaining 41 percent of survey respondents plan to migrate to Windows 7 by the end of 2010.
About the Survey
ScriptLogic, which offers network administration software for Microsoft Windows-based networks, claims more than 20,000 customers worldwide using its solutions on more than 5 million desktops and 122,000 servers.
Those customers include 71 percent of Fortune 500 firms.
The company sent out an online questionnaire to all its customers, and 1,100 responded.
"Our intent was not to drive a particular issue home," Nick Cavalancia, ScriptLogic's vice president of Windows management, told the E-Commerce Times. "We were just asking the questions to get some answers."
Holding Off on Win 7
Windows upgrades certainly aren't the only bits of commercial software taking a hit from the recession; overall investments in IT have been impacted as well.
Nearly 35 percent of the survey's respondents said skipping upgrades or delaying purchases have been their biggest money savers. Nearly 21 percent said they have cut staffing levels or delayed hiring, while more than 14 percent said their budgets have been frozen.
"Customers have other things that are more pressing than doing an upgrade," Cavalancia said. "It's not a reflection on Windows 7 at all; it's just the impact of the economy."
Problems With Migration
In a logical follow-on from staff cuts and hiring delays, time and resources jointly formed the biggest barrier to deploying Windows 7 for nearly 43 percent of the survey's respondents.
"Time and resources have always been one of the biggest problems to upgrading," Rob Enderle, principal analyst at the Enderle Group, told the E-Commerce Times.
"The cost of deployments exceed the cost of new software, and often companies do as much as they can to put things off."
The price tag of buying and installing the software isn't the only thing weighing on IT managers' minds, however.
More than 39 percent of respondents to the ScriptLogic survey cited application compatibility as their biggest barrier to upgrading to Windows 7.
"You can run Windows 7 with a full Windows XP installation under a virtual machine, but then you'd have a dual boot system, which increases support costs dramatically," Enderle said. "A lot of XP applications have to be rewritten for the new operating system."
Don't Be Hating Microsoft
The perceived lack of compatibility is not all Microsoft's fault, Laura DiDio, principal at ITIC, told the E-Commerce Times.
Microsoft has worked with major players such as Dell, HP and IBM to ensure driver compatibility with Windows 7, but it would not make business sense for the company to stretch out to every small player in the market, she noted.
On the other hand, the small guys aren't the villains either.
"Smaller companies with a tool or utility aren't willing to commit to the cost of development for a new environment until they're sure the demand is there," DiDio explained. "It's a chicken-and-egg situation."
Love, Sweet Love for Win 7
Despite the difficulties of upgrading to Windows 7, demand for the new operating system is strong among companies that can afford the move. Forty-one percent of respondents to ScriptLogic's survey planned to have the new OS installed by the end of 2010.
"All things considered, 41 percent is tremendous," ScriptLogic's Cavalancia said. "We did a similar survey when Windows XP came out, and the result then was something like 12 to 14 percent."
Here's the breakdown: 34 percent plan to deploy Windows 7 by the end of 2010; 5.4 percent plan to deploy it by the end of this year; and 1.4 percent have already deployed the new operating system, which was distributed freely in time-limited beta and release candidate versions.
The strength of the move to Windows 7 is the result of pent-up demand, DiDio said.
"You can't stay on the same operating system forever, unless you're a consumer who has very static needs," she explained.
"If you're a business, you're adding equipment and adding or upgrading applications — and at some point, you have to upgrade the operating system to handle larger applications," DiDio pointed out. "You have more digital media, streaming audio and video, more mobile workers and more mobile applications, and these all need an operating system that's streamlined for that."