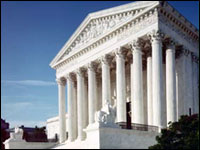 The U.S. Supreme Court last month granted a request from Spokeo, a data aggregator, to consider whether the legal basis litigants must meet to file a claim in federal court should be broadly or narrowly defined.
In the case, Spokeo, Inc. v. Thomas Robins, Thomas Robins is a resident of Virginia acting individually and as representative of a class.
Google, Facebook, eBay and Yahoo submitted a joint brief in support of Spokeo. Separately, credit data firm Experian and the U.S. Chamber of Commerce also supported Spokeo.
Spokeo, Inc. v. Thomas Robins is "the most important privacy class action and consumer case of the decade," said Stephen Embry, an attorney with Frost Brown Todd.
Spokeo asked the Supreme Court to issue a ruling that would prevent the filing of what it contends are essentially frivolous claims that could saddle e-commerce firms and other businesses with costly damages.
Opponents contend that a ruling favoring Spokeo would place severe restrictions on the ability of consumers to pursue legitimate claims against businesses dealing with data breaches, credit reference errors and various civil rights.
Conflict on Constitutional Test
At issue is the test under which lawsuits can be initiated under the U.S. Constitution. By virtue of the "cases and controversies" element of Article III, courts generally have avoided considering disputes in which little or no actual injury or harm has been inflicted upon an aggrieved party.
However, a U.S. Appeals Court (Ninth Circuit) early last year ruled that Thomas Robins was correct to file a claim against Spokeo for disseminating false information about him via electronic media. Spokeo had posted information that Robins had obtained an advanced degree and that he was wealthy — both of which assertions were determined later to be false.
Robins made a general claim that the erroneous posting affected his ability to seek employment but otherwise failed to establish any financial harm. Spokeo contended that since the inaccurate information caused no actual or measurable injury, Robins had no legal basis to sue the company.
The appeals court ruled that the posting of false information violated Thomas' rights under the federal Fair Credit Reporting Act, or FCRA, and therefore constituted abridgement of a statutory right, which was sufficient to satisfy the injury-in-fact requirement of Article III.
Violation of a right embedded in a federal statute provides a legitimate cause for injury in and of itself, even though it cannot be measured in a tangible way, the appeals court said.
"When, as here, the statutory cause of action does not require proof of actual damages, a plaintiff can suffer a violation of the statutory right without suffering actual damages," said appeals court judge Diarmuid O'Scannlain.
"This is the precisely the question that the Supreme Court will be reviewing. The law, at this point, is settled that Congress is entitled to define rights by statute, and violation of those rights gets an individual whose rights were affected into court," said Jay Edelson, managing partner at Edelson, the firm representing Thomas Robins in the case.
"Robins had a right under FCRA which required Spokeo to take a series of actions that would assure the maximum possible accuracy of his information on Spokeo's website, which we claim it willfully failed to do, and resulted in Spokeo publishing a host of false information. The law, in these circumstances, does not require Robins to prove that he suffered additional harm beyond the violation of his FCRA rights. This is essentially what the Ninth Circuit found," Edelson told the E-Commerce Times.
"Spokeo is saying that even if it violated the FCRA and published false information about millions of Americans, Congress does not have the right to allow people to file suit to force Spokeo to fix the false information or recover damages. We believe that this is wrong and would overturn hundreds of years of precedent," he added.
The Technology Sector Impact
"Worse though, if Spokeo's argument is accepted, it would gut not only the FCRA but a host of other consumer, employee and civil rights statutes. It would mean that large companies can violate laws like the Employment Retirement Income Security Act, the Equal Credit Opportunity Act, and the Americans with Disabilities Act — and Americans would not be able to bring a federal suit to hold them responsible, Edelson said.
"From the perspective of the technology world, a win by Spokeo would threaten the ability of intellectual property holders to protect their IP. It would also eviscerate privacy laws, making it difficult for consumers to sue when their information was hacked or taken, and sold without their permission. We do not believe the Supreme Court will endorse such a drastic and unprecedented result and look forward to having that conversation with the Justices," Edelson said.
While economic injury is not present in such cases, plaintiffs can still seek monetary damages, and when class action cases are involved, the liability increases.
"This is an extremely important case, because Robins purports to represent an entire class of people allegedly injured. Leveraging his own non-injury into a class action means that he is seeking substantial statutory damages — potentially running to tens or hundreds of millions of dollars — for technical violations that caused no harm," said Deborah La Fetra, a principal attorney for the Pacific Legal Foundation, which also filed a brief supporting Spokeo.
"The Ninth Circuit decision encourages plaintiffs to bring such actions, survive dismissal, and succeed in certifying a class," La Fetra told the E-Commerce Times.
Such "no harm" lawsuits, especially class actions, "are a drain on both economic and judicial resources, to no one's benefit except the plaintiffs' bar," she said.
Opponent Claims 'Shakedown' Process
"The case impacts a wide variety of statutes: For example, the Fair and Accurate Credit Transactions Act has already been particularly prone to abuses of the class action procedure combined with statutory damages to become, essentially, a shakedown statute. Similar cases have arisen with regard to the Telephone Consumer Protection Act and the Cable Communications Policy Act," LaFetra added.
"Every business, large and small, both brick and mortar as well as Internet-based, should be very concerned with federal standing issues. Federal courts were designed to resolve disputes between injured parties and those who allegedly caused the injury. They are not designed to make legislative policy, or to issue advisory opinions, or to serve as the plaintiffs' bar backstage hammer to coerce class settlements over technicalities," she said.
Spokeo is described in court documents as "operating a website that provides users with information about other individuals, including contact data, marital status, age, occupation, economic health, and wealth level." The company cautions that the personal data it offers should not be used for employment screening or credit checks.
FTC and Spokeo Settled on Claim
The Federal Trade Commission in 2012 alleged that certain Spokeo activities violated the Federal Credit Reporting Act. Without admitting any violation of law, Spokeo reached a settlement with the FTC that included payment of a US$800,000 civil penalty, and a commitment to avoid actions that could harm consumers.
"Spokeo did not need to change its business model because of the FTC settlement. The FTC's allegations concerned a prior version of Spokeo's website, which Spokeo had already changed. The FTC action did not affect Spokeo's then-current website, which Spokeo explained to the FTC was not marketed to employers," the company said in a statement provided to the E-Commerce Times by spokesperson Vanessa Waite.
The Ninth Circuit Appeals Court decision, in fact, limited its scope to the issue of what constitutes a statutory violation, without ruling specifically on any connection to the FCRA.
"Because standing is the only question before us, we do not intimate any opinion on the merits of this case. We do not decide, for example, whether Spokeo qualifies as a consumer reporting agency or whether Spokeo actually violated the FCRA," Judge O'Scannlain said in an explanatory note.
"We are pleased that the Supreme Court decided to consider the important constitutional issue raised by our petition — whether the Constitution permits class actions seeking millions or billions of dollars even though class members have not suffered any injury. We look forward to presenting our case to the court," Spokeo said.
The Supreme Court will consider the case in its term starting in October 2015.