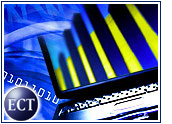 Despite continued growth in the percentage of Americans online, there will still be 50 million Americans without basic Internet skills by the year 2005, according to a study released Monday by technology research firm Gartner (NYSE: IT).
This lack of Internet access for many Americans means that e-commerce businesses will continue to miss out on opportunities to serve a large chunk of the population unless government and industry take measures to close the gap.
Digital Divide Could Continue
According to the study, which was based on February interviews with 40,000 adults, Gartner projects that 75 percent of Americans will have Internet access by the year 2005, up from about 50 percent presently.
However, Gartner stressed the need to bridge the current digital divide. Otherwise, a high number of the 50 million Americans unconnected to the Web will continue to be among the lowest economic classes.
Today, only 35 percent of Americans described as being of "low socio-economic status" have Internet access, while 79 percent of those in the upper-middle bracket and 83 percent in the highest bracket can get online either at home or at work.
Gartner said that those without Internet access will be at an increasing competitive disadvantage.
High-Speed Gap
"As more and more of the Internet 'haves' harness the technology to gain better jobs, more educational opportunity and potentially an improved lifestyle," the report said, "they become far better equipped to elevate themselves than those without Internet access or the ability to maximize its potential."
Along with basic Internet access, the report also suggests that a gap is growing between those who have access to broadband, or high-speed, Web services, and those who are stuck using pokier dial-up connections.
While those who use dial-up services can often get their service for less than $20 (US$) a month, the report points out that higher-speed functionality can top $40 a month.
Government-Business Partnership
To help close the gap, the report urges government officials to create policies that would speed Internet access to all U.S. homes. The suggested moves include offering tax credits to businesses that provide Internet access to employees, providing telecommuting incentives, and encouraging programs that bring Internet access into homes.
For example, a business and government program that provided laptops to students in Hundred, West Virginia has met with great success. After distributing 144 laptops to students for both home and school use, West Virginia has jumped from 33rd to 11th place on national achievement tests.
"In response to a shift to knowledge as the center of wealth production, most global enterprises will require major overhauls of governance, people management, workplace policies and workforce planning by 2005," Gartner analyst Mark Smolenski said. "If government agencies maintain to a traditional view of management, public sector employees and public service will face an increased risk of becoming obsolete."
Gartner, founded in 1979 and headquartered in Stamford, Connecticut, has over 10,000 technology clients and specializes in consulting and technology research.