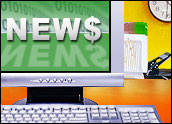 It's well known that certain second-rate media outlets use provocatively misleading headlines to attract viewers and parlay those figures into increased ad revenue, but some better known outlets appear to be resorting to clickbait as well.
For example, Time earlier this year published the findings of a Gallup poll with the headline "Americans Are More Afraid of Being Hacked Than Getting Murdered."
Popular Mechanics' similar take on the same story: "People Are More Afraid of Being Hacked Than Murdered."
This is how Gallup itself put it: "Hacking Tops List of Crimes Americans Worry About Most."
A host of other headlines implied that Americans were more fearful of hacking than pretty much anything else.
Of course, the Gallup report actually suggests no such thing. Its researchers asked participants how often they worried about various crimes, not to what degree they feared them. Neither surprisingly nor sensationally, most people felt they were more likely to be victimized by hacking than an array of other possibilities.
Though it wasn't part of the poll, it's probably safe to assume that given the choice, most people would prefer having their credit card information stolen to being murdered.
Does the rampant misdirection of these headlines indicate that even major publications are sinking to the level of less reputable outlets in the competition for eyeballs and, hence, ad revenue?
The Curse of Digital Technology
Eighty-two percent of people in the U.S. get their news using a desktop or laptop computer, and 54 percent using a mobile device, Pew found earlier this year.
What Pew calls "commercial digital native sites" — or online news sites — are giving legacy news organizations a run for their money. For example, Buzzfeed.com claims 17 million unique visitors a month, while The Washington Post has 19 million. Yahoo is the top news site online.
Meanwhile, Internet ad revenues hit a new high of $23 billion in the first half of 2014, the IAB reported. Mobile revenues increased 76 percent, accounting for $5.3 billion of that haul.
In short, competition is keen, and only the fittest will survive.
What Happened With Gallup's Poll
This brings us back to the Gallup report. Time and several other online news outlets merely parroted Gallup's own misleading headline, sometimes tweaking it for even more drama. Few questioned the poll's methodology or conclusions.
"It's a Gallup poll, on the Gallup website," Andrew Sherry, spokesperson for the Knight Foundation, pointed out. "The questions and answers are available for download, so you are free to analyze for bias."
The questions and responses were "about free-floating anxieties," said Charles King, principal analyst at Pund-IT.
"Given the massive attention that data thefts this year at Home Depot and Target received, I'm not really surprised that credit card theft was top of mind for so many respondents," he told the E-Commerce Times.
The Media-Analyst Tie-In
"There is a symbiosis between media and analysts to a degree," said Dean Bubley, founder ofDisruptive Analysis.
Media like reporting on trends and forecasts and quoting experts, while analysts want to be seen and perceived as influential and as authority figures in a particular area.
Often, surveys, especially in the high-tech world, are paid for by vendors.
"There are often themes, but they tend to be driven by vendor product announcements," Bubley told the E-Commerce Times. "It happens over months and not days, though."
The larger analyst firms tend to be less contrarian, less prone to risky visions that might prove wrong, and more willing to repeat "standard" mantras, Bubley wrote, pointing to the "years of hype and hockey-stick curves about RCS, mobile payments, mobile TV," and other examples.
In many cases, survey findings appear to be published verbatim, with few or no questions asked about the methodology or bias or who's sponsoring them.
It's "becoming more and more evident to more and more people that so-called objective polls are being skewed subjectively," King said. "The problem is likely to continue, so it isn't impossible to foresee a day when subjective polls poison the well for broad swaths of objective market research. In fact, it's probably already happening."
Collateral Damage
So is this part of a cynical money grab with unstated collusion between the media and analysts, or is the problem of survey results being published with few, if any, questions being asked by the media more in the realm of unintended consequences?
The problem is "certainly more common because the number of news outlets has increased exponentially in the past decade, and the pace of publishing has accelerated, so many more items get published with only perfunctory review," Sherry told the E-Commerce Times. "However, the reader is capable of learning to discern which are the most credible brands and reporters."
Other factors are the increased pace of publishing and the reduction in newsroom resources such as fact-checkers. Further, editors' workloads have become considerably heavier because their headcount has been reduced.
The War on Clickbait
Few things raise readers' hackles as much as clickbait, and sites mocking the phenomenon are all over the Web.
They include Upworthy; @SavedYouAClick ClickHole, which mocks BuzzFeed; and @HuffPoSpoilers, which mocks tweets from The Huffington Post.
Facebook earlier this year cracked down on clickbaiting with a NewsFeed revamp.
Nobody wants to read something that's dull and boring, so journalists are trained to put snap into their copy and headlines. The question is, where does creativity end and clickbaiting begin?
"Commercial journalism has always depended on the eyeballs it hoped would parse paid-for ads," King said. "A short trip to the library to revisit the heyday of the 'yellow journalism' favored by William Randolph Hearst and others still has an ability to shock with the brutality of its prose and the unbridled pandering to people's worst instincts."
There's the rub. By its very nature, news is transient and designed to be readily absorbed, and to be noticed, publications have to arouse the public's interest. News organizations have to tread a very fine line that's continually shifting as public tastes change over time.
"Publishers will continue to use what works, but they need to think about both clicks and credibility if they want to be longlasting media brands," Sherry said. "Some publishers use clickbait-inspired headlines to share serious news, Upworthy and Policymic among them."