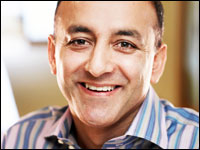 In this business climate, the road to striking a venture capital deal is difficult for both funder and fundee. Small startups with big ideas obviously have a harder time finding VC firms willing to take a chance on them, but those VC firms themselves are under added pressure to make the correct decisions regarding where to put their limited resources.
In the case of Sierra Ventures, one of its latest bets is on a firm called "webappVM." WebappVM is attempting a next-generation approach to application management that leverages cloud architecture rather than adapting a previous architecture that hinders cloud benefits.
WebappVM's new approach works as a virtual layer without agents. Other approaches use a series of agents and management servers to achieve application management functionality. The minds behind webappVM believe the latter approach can disrupt the benefits of moving to the cloud: on-demand scaling, portability, low cost, self-service, etc. Instead, webappVM goes in as a virtual layer.
The E-Commerce Times spoke with Tim Guleri, managing director at Sierra Ventures, about the state of the tech VC marketplace today and ways in which new companies can catch the attention of venture capitalists.
Guleri has led the firm's investments and serves on the boards of Approva, CodeGreen Networks, DotNetNuke, Everest Software (acquired by Trilogy), Greenplum, MakeMyTrip.com (in India), Sourcefire and CarWale (in India), among others. A serial entrepreneur, Guleri built two software infrastructure companies before joining Sierra in 2001.
E-Commerce Times: How much more difficult is it to obtain seed money and supplemental rounds of investment support in today's economic climate?
Tim Guleri: It's a tough climate for companies to raise capital. One reason is the macro financial markets have been very choppy. And obviously the growth over the last couple of years fell off. The last time we saw this was after the 9/11 event. The second reason is the capital which flows into venture capital funds was also at a lowpoint. So there is less capital coming in, and the market is in the doldrums. This makes it a tough market. The balance is that great entrepreneurs with well-thought-out business plans are still getting funded and are the kind of businesses that we scour the landscape for.
ECT: In light of what you've just said, how different is the role of providing funding in today's market?
Guleri: We haven't seen the process change much. We do the same amount of due diligence and still call customers and prospects and try to get confidence in the financial model that's been presented to us.
I think it's fair to say there is a little more time that's available for us to make these investments from the venture capitalist's standpoint, so both sides– the entrepreneur and the venture capitalists — can do more thorough work. I think the process can still be very efficient, but at the end of the day, it all comes down to the idea and the team.
ECT: Does that hold true whether the applicant is an open source company or another type of company? Are there different qualifications depending on the type of business the applicant comes from?
Guleri: Yes, precisely. Venture capitalists like to invest where the market is. There's going to be correcting in a few years, so we tend to invest ahead of the market, so if you can get to us before these ideas become mainstream. We are looking for emerging trends and companies that have a sense of how to capitalize on these modern trends.
So from that standpoint, new things that are affecting existing architectures — like cloud computing, like a whole new generation of storage, like a whole new generation of database architectures, a whole new generation of how you manage applications in the cloud — those are the kind of forward-looking trends that we like to pick up on early and then get behind.
ECT: If I were an open source vendor, would I have a leg up in getting considered for a VC money award?
Guleri: You would have a major step up over others if you were an open source company. Open source used to be a bit of a misunderstood business model. Now it is something that has picked up good momentum and is something that VCs love to see.
ECT: Are you seeing more requests from open source startups, or is that still a sparse field?
Guleri: It's still a sparse field, and that's a good thing because every discipline, be it software or hardware or data center, has an open source project that knocks them to death. So consequently, what happens is that the customers are not getting a value from a closed source like a McAfee or Microsoft. They would rather look for an open source company. And when that open source company gets to scale, then that open source company will come looking for money. So that field hasn't become over-crowded. There are only a handful of companies that have reached commercial status following open source
ECT: What advice would you give to a startup entrepreneur whois reaching out for VC support? Are there certain things that need to be done, or are you just looking for something that is out of the ordinary?
Guleri: The first thing to do is get conviction around the customer ROI. The way to do that is to know the market and get confidence in the market. So number one is product market. Number two is getting confidence in your financial model. This is where I tend todo a lot of work. I like to invest in companies that are efficient in servicing customers. I like a company to know how to develop the company and how to leverage that. So entrepreneurs need to be very focused on this early because the decision we make today about funding a small company will be based on how do you go to market, how do you market and how much money do you need to raise.