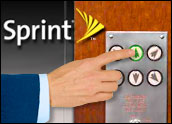 Sprint has been holding its breath while under water for a painfully long time. Several months ago, it surfaced for a gulp of air on news it would be acquired by Softbank. Since then, I've been listening for the buzz about the new Sprint — but so far, I'm just hearing crickets.
This is a mistake. Investors, customers, workers and competitors know Sprint will change, but they are uncomfortable not knowing how. They are all anxiously waiting for some kind of signal.
Softbank CEO Masayoshi Son said last week that Sprint investors need patience — perhaps up to two years of patience. This is the first signal of things to come. At least, we know how long we'll have to wait — but we need more. We need a road map, of sorts.
In today's media-centric world, keeping up the excitement is key to success, but Sprint has had trouble with this. When the excitement started to build over the Softbank deal, I hoped the company had learned to build on the sizzle and not just count on the steak.
Where There's No Smoke
I would hate to see the spark that Sprint and Softbank created die, but the early signs aren't good. It's not too late, though. After creating the spark, the companies should fan it till it becomes a small flame, then continually feed the fire to make sure it continues. This is necessary for success in the marketplace in 2013.
Sprint should regularly be talking to the marketplace. If it doesn't want to tell the whole story due to corporate or competitive secrets, fine — but it must feed the flames. It must show how it is changing and how it will reinvent itself and perhaps the industry. It's tough to restart a fire after it goes out.
Masayoshi Son has answered some key questions. He has asked for patience. It will take at least six months for any signs of change to appear, he said. It will take a year or two for real change to be apparent. For better or worse, Son has created a time frame that Sprint will now be held to.
We're resetting our alarms, but we still don't know if there's a there, there. Either the new Sprint will successfully transform the company — and perhaps the entire industry — or it won't.
As for keeping the spark that was created by the merger alive, that's critical from a public relations and marketing perspective. You are either growing or shrinking — and it's important to keep growing.
There have been several key executive departures recently. It's good to see Dan Hesse remain as CEO. However, he has a hell of a job ahead of him — transforming Sprint, and keeping the marketing and public relations pumping during the rebuild.
There's No Fire
There's a lot of enthusiasm for Sprint to succeed. To do that, however, it needs to be a player. Quietly regrouping behind the scenes isn't enough.
These are just the first few pages of the first chapter in the new novel called The Sprint of Tomorrow! There is still plenty of time. However, it is very important for Sprint to stir the embers and start smoking before the spark goes out once again.
Hey Sprint, it would be a shame to blow all the goodwill you've built up over the last year during merger mania. Just share with us — what will Sprint look like going forward?