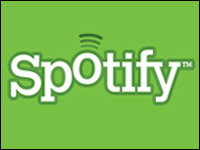 Spotify has raised US$526 million in its latest round of funding, according to reports that surfaced Wednesday.
That's more than half the $1 billion Spotify raised in funding over the past nine years, said Susan Schreiner, analyst at C4 Trends.
The news came on the heels of Apple's Monday announcement of its new music-streaming service.
Given that Apple may do to the streaming music business what it has done to every field it has entered — ravaged competitors and dominated the market — why would companies pump all this money into Spotify, which has had its share of problems recently?
"Apple is the catalyst," Schreiner told the E-Commerce Times. "They're expecting the market to grow."
TeliaSonera, which led the round with a $115 million investment in exchange for a 1.4 percent stake, has been partnering with Spotify for five years. The two companies are setting up a joint team to tackle media distribution, customer insights, data analytics and advertising.
Spotify "spent a good deal" of the funds received previously on acquiring subscribers, Schreiner said.
In the last year, it doubled the number of paying subscribers from 10 million to 20 million, and increased its active user base from 40 million to 75 million.
However, with 55 million of its users opting for the free version, "it needs more money," Schreiner said.
Spotify's revenue grew 45 percent between 2013 and 2014, she noted, but that didn't put a dent in its losses, which almost tripled, from $68 million to $197 million.
All About the Money
More subscribers means more payouts to musicians, Spotify pointed out.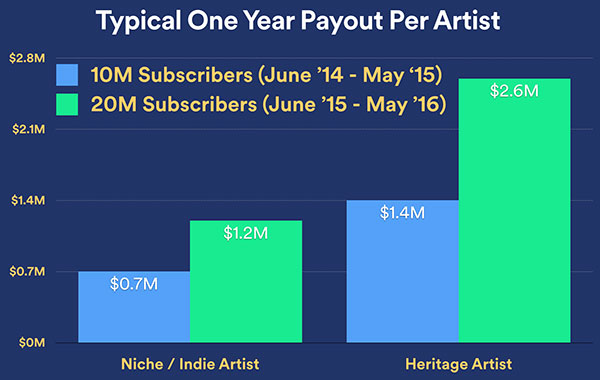 Some musicians, the most prominent being pop diva Taylor Swift, have quit Spotify because they believed that its free service was costing them money.
Spotify has paid out more than $3 billion in royalties so far — more than $300 million between January and March.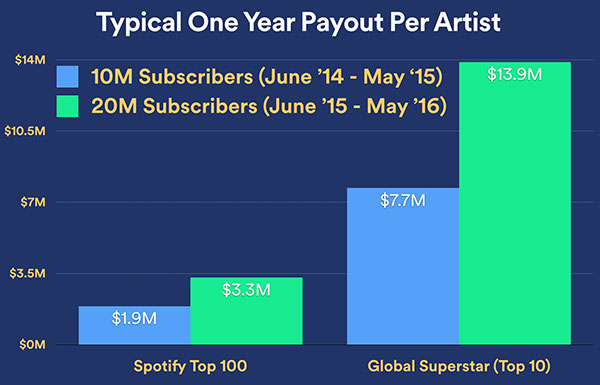 The combination of Spotify's free service, which carries ads, and a premium paid version that's ad-free, "has let the company gain significant traction," observed Andreas Scherer, managing partner at Salto Partners.
On the other hand, Apple "is leveraging its brand recognition to simply convert its global customer base into paying subscribers of its new streaming service," he told the E-Commerce Times.
There's plenty of potential for Apple to ramp up quickly to a huge paying customer base, because "it has 800 million credit cards on file," C4 Trends' Schreiner remarked.
More paying customers means higher margins, and record companies and music publishers will make more money as well, Scherer said.
It's Not Just Music – It's a Lifestyle
"Apple's late to the game, and based on what I've seen and on remarks from people I've talked to, they're trying to achieve differentiation in a rather well-occupied market," said Mike Jude, a research manager at Frost & Sullivan.
Streaming music sites abound, one of the latest being Tidal, owned by rapper Jay Z, and supported by a slew of other mainstream artists.
However, Apple "is not selling streaming music, it's selling an Apple experience, and that's what they hope to capitalize on — the Apple brand, the well-thought-out interface, the packaging," Jude told the E-Commerce Times.
Whether Apple will succeed is iffy because "$10 a month for streaming music seems kind of pricey," he remarked.
Big Is Beautiful
Spotify "is very disruptive to the market, and they're getting big enough so they can dictate terms," Jude pointed out.
It's raising funds because it's "thinking of how it can evolve to become even more powerful and provide some features it currently doesn't — such as mass customization of content, which is similar to what Apple offers," he speculated.
"Imagine a Spotify where you not only can find the music you want to listen to for a flat rate, but can also download it for a fee," Jude suggested. "Now they're in a position to compete directly with iTunes."
Both Apple and Spotify aim to provide a more pervasive music experience, allowing users to stream music not just to their computers but to wherever they are, including their autos, Jude noted, "but Spotify was aiming at it first."