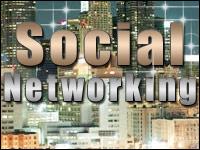 Social networking platforms can be powerful tools. Twitter strikes fear into the hearts of repressive regimes, and Facebook was nearly single-handedly responsible for the revival of Betty White's career. So how can something with that much influence be easy and unintimidating for a small-business owner to use?
There's no need to be intimidated, blogger Christopher Bucholtz of Forecasting Clouds told the E-Commerce Times. Cost isn't really a major concern, either — your major investment when adopting a social marketing strategy is time.
Small businesses might actually be better positioned to take advantage of social media than larger ones, Bucholtz said. Because they have daily face-to-face contact with their clientele, small-business owners have a better feel for what makes their customers tick and what marketing strategies will resonate best with their audience, he said.
Depends on What You Do
However, small businesses shouldn't just start using social media as a marketing tool just because everyone else is doing it, Jay Ehret, who heads The Marketing Spot under the title Chief Officer of Awesomeness, told the E-Commerce Times.
Although a recent study by the University of Maryland's Robert H. Smith School of Business shows a doubling in the rate of social media adoption on the part of small businesses from 12 percent to 24 percent in the past year, businesses cannot just shift their conventional advertising strategies to social media and expect them to take hold, Ehret said.
Social marketing strategies and the mix of platforms will vary depending on the business you're in. For example, Kogi BBQ, which operates a fleet of Korean-fusion taco trucks in the Los Angeles area, made its bones announcing on Twitter to savvy late-night customers where its trucks would be. The company, which started with one truck, has grown to four and has a stationary location now as well. It may be chiefly to blame for the recent rise in food-truck culture, and it certainly is responsible for short-rib-and-kimchi tacos we're told are quite tasty.
The point, however, is that Twitter was the perfect platform for a taco truck that was going after the hipster, after-club crowd. The strategy was surprisingly simple: Show up outside the popular spots with delicious food, let people know you've got a Twitter account they can follow to find out where you'll be, and ride the wave of underground buzz.
For a pet store with a fixed location, the strategy might be different. Perhaps you would rely more on Facebook, which lets you schedule events and invite those who choose to receive invitations. You can get the word out pretty effectively about that microchipping clinic, or the Naughty Dog training session next Saturday. It's a lot more effective than an e-mail blast to a list of people who gave you their address one time a couple of years ago.
Let's Just Talk
The balance took some time to figure out for Village Books, Lindsey McGuirk, the independent bookstore's digital marketing and publishing manager, told the E-Commerce Times. At first, the Bellingham, Wash., store took to its Twitter stream with perhaps a slightly too-eager series of pitches: Discounts, events and specials. Eventually, customer feedback began to guide the conversation, and the marketing messages were toned down. It became more authentic and organic, McGuirk said — more like a conversation between two participants who respect each other and listen to what the other is saying.
That's how it ought to be, she said. "Our biggest goal is just to make our customers feel like they're part of this. We want to hear what's going on with them as well. We love getting book recommendations from customers," she said. "We're not just throwing our business in their face."
The tweets that elicit the greatest response for Village Books are, perhaps unsurprisingly, the ones that have very little to do with a marketing message. McGuirk might pose a question such as "What book did you start but not finish but think you ought to pick up again?" and the clientele will run with the topic for days.
Getting started is fairly simple. The key, said Bucholtz, is to let people know where to find you in the social media world. "You've got to hold up your end of the bargain," he said. Customers who are aware of your social media presence will use it, and they have friends — largely grouped geographically — who may have never heard of your business, but can be made aware of your brand.
Some platforms such as Yelp are now enabling users to "check in" to businesses they frequent, using smartphone apps and a little GPS trickery. Now that Facebook is tying the whole Internet together by pulling in data from Yelp — and a gazillion other sites — any time someone checks in to your business on Yelp, it is broadcast to their Facebook friends. The benefit of this function to your business is that people who might have never heard of your business now suddenly know that one of their friends goes there — and if it's good enough for their friend, maybe it's worth checking out.