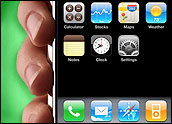 It's no secret that the smartphone is fast becoming the hottest product in the mobile device market. What hasn't been so obvious is exactly what people are doing with their smartphones.
A Nielsen survey seeking answers to that question has produced what might be surprising results. For instance, the survey revealed that social networking — and specifically connecting with Facebook friends — is among the most popular activities for all smartphone users.
Even iPhone owners are using Facebook more than any of the 200,000-plus applications developed specifically for that device, according to survey results released Wednesday.
Twenty-one percent of all wireless subscribers in the U.S. owned a smartphone at the end of 2009, up from 14 percent at the end of 2008, the survey found.
Smartphones are expected to overtake feature phones in the U.S. by 2011, according to a Nielsen blog posting about the survey.
App Choices
To determine how consumers were using their smartphones, the firm surveyed more than 4,200 people who had downloaded an application in the past 30 days.
Key findings:
Games are the most downloaded applications on all smartphones, with 65 percent of survey respondents saying they had accessed one in the previous 30 days.
Facebook is the most popular individual application, with 54 percent of all smartphone owners saying they had used the social network in a 30-day period.
One surprising fact about Facebook usage on smartphones: 58 percent of iPhone owners visited Facebook on their devices in the 30 days preceding the survey, while only 48 percent of iPhone users used their devices to download or listen to music.
Usage patterns aside, iPhone owners download more applications than any other group of smartphone users. The average iPhone owner has 37 applications, compared with 22 applications on the average Android-based phone and 10 applications on the average BlackBerry, according to the survey.
Sixty seven percent of Android-based phone owners have downloaded Google Maps, according to the survey, making it the most popular application on that platform, which also was developed by Google.
iPhone Users Do It More
"These numbers mean two things," Brian Marshall, Senior Analyst with Broadpoint AmTech, told the E-Commerce Times. "iPhone users have more apps to choose from — and they are more inclined to use mobile apps than users on other platforms. That's because the Apple ecosystem cannot be beaten in terms of ease of use and user satisfaction. In general, the iPhone is more of a media/content-rich smartphone. Android-based smartphones fall into this category as well, while the BlackBerry is more an email-rich communication device."
Similar findings emerged in a study conducted by Parks Associates in the third quarter of 2009, according to Harry Wang, director of research, mobile, for Parks Associates.
"We found multimedia (music, video and games), social networking, and information-related applications like search were the top three categories of applications downloaded during the previous 12 months," Wang told the E-Commerce Times.
"We also found that Apple users are more avid downloaders, averaging 27 apps over the 12 months," he noted. "Android has gained a lot of momentum over the last eight months; our data showed that back in 3Q09, it had a lower average download, with only 13 apps. BlackBerry was second in our survey, but since the company is focused on quality of apps and enterprise customers, Nielsen's number probably shows the correct trends."
As for Facebook's popularity among smartphone users, "Facebook on mobile is popular because the free app offers a convenient way for people to update their profiles and get alerts about friends' activities," Wang said.
"There also are a lot of other applications linked to Facebook that further increase its popularity. Maybe you can call that the 'network effect' on apps," he concluded.