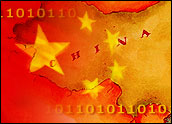 For the first time in six years, China's massive mobile market saw contraction in its smartphone sector, IDC reported Monday.
There were 98.8 million smartphones shipped in China by the end of the first quarter of 2015, down about 4 percent year over year, according to IDC's Trackers. Quarter over quarter, the market's Q1 2015 shipments were down by about 8 percent.
Xiaomi slid into second place, and Apple moved back into the top spot, holding about a 14.7 percent share of China's smartphone market. Xiaomi held about a 13.7 percent share, followed by Huawei at 11.4 percent, Samsung at 9.6 percent, and Lenovo/Motorola at 8.3 percent.
China will experience relatively flat growth for the entire year, as the market continues it maturation, IDC predicted, and the bulk of sales will be in low and mid-range handsets.
Coming of Age
The term "emerging market" may be a better descriptor of the Asia-Pacific region than of China, which is in fact a maturing mobile market, according to Ryan Reith, program director for IDC's Mobile Device Tracker.
China has a population of roughly 1.4 billion, and there are roughly 900 million users of feature phones and smartphones in the country, he observed.
That said, "a good majority of the country is still not covered with mobile service, or it's sporadic at best," Reith told the E-Commerce Times. "These are areas where disposable income is extremely low: Think farming villages. So, if you assume the potential mobile phone (total available) market is about 1 billion, and active users is 900 million, that would equal mature in my eyes."
The low and mid-range of China's smartphone sector is expected to see the most growth in 2015, but that's not where the focus will be for the likes of Huawei, Xiaomi and ZTE. Although China's mobile device manufacturers have risen into prominence due to their success in delivering value-packed smartphones, they likely will aim higher, Reith said.
The margins are significantly better for high-end handsets, and there's still an appetite for premium smartphones in China and other markets, he pointed out.
"They will continue to put out low-cost devices, but they will try and make money on the high end," Reith predicted. "A prime example of high end still being relevant is Apple taking the No. 1 spot in China in Q1."
Eyes on Apple
Although the market was down about 4 percent as a whole, Apple's year-over-year growth stood at about 62.1 percent, noted James Quin, senior director of Content and C-Suite Communities at CDM, a think tank for CIOs.
It's "tough to have a better year than that," he told the E-Commerce Times. "The challenge comes in sustaining that rate of shipments. The new [iPhone] 6 and 6 Plus obviously helped, as does the perception of Apple as a premium product worth upgrading to."
To keep up that dominance, Apple will have to stick to its strategy of annualized releases, Quin suggested. With its latest phones having launched last fall, this year looks right for "s" variants.
Samsung Sinks
The contraction in China's market could mean trouble for other players in the sector, according to Quin.
A handful of players are starting to dominate the market — much like what has occurred in markets generally considered mature — but it's not just the bit players that are being challenged right now, he noted.
Samsung's share contracted by 53 percent, year over year, pushing the company from a cozy position at the top of the market into a "precarious fourth place," Quin noted.
"I suspect that this is indicative that manufacturers like Xiaomi and Huawei are now sufficiently advanced in their designs that they are eclipsing the other Android manufacturers," he said, "and that this could be the precursor of a trend that will be seen in other markets."