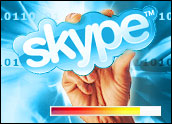 VoIP provider Skype announced on Monday the beta version of its business-user-oriented Skype for SIP (session initiation protocol), which will run on enterprise PBX (private branch exchange) systems.
SIP is a signaling protocol that lets users set up and tear down multimedia communication sessions such as voice and video calls over the Internet. It can also be used for video conferencing, streaming multimedia distribution, instant messaging, presence information and online games over the Internet.
Announcing the technology, eBay-owned Skype touted its ability to cut costs. "Businesses can benefit from Skype's low-cost global calling rates when placing calls to landlines and mobiles worldwide from devices connected to their PBX systems," the company said.
What Skype for SIP Does
The beta version of Skype for SIP will let business users receive and manage inbound calls from Skype users worldwide on SIP-enabled PBX systems. It connects the company's Web site to the PBX system through a click-to-call feature.
Businesses will also be able to manage Skype calls using their existing hardware and system applications such as call routing, conferencing, phone menus and voice mail.
Applicants for the beta program must be businesses that have an installed SIP-based IP PBX system and are able to configure their own PBX, Skype said.
The beta is available to a limited number of participants. Go here to apply.
The Pros of Skype for SIP
SIP trunking, or connecting a PBX to a VoIP service provider over an Internet connection, is perhaps the least disruptive of the VoIP technologies businesses can get, Hugh Rees, vice president of business and channel development at telecommunications company 8×8, told the E-Commerce Times.
Users with an SIP PBX just unplug their existing T-1 primary rate interface line and plug in the Ethernet connection for a VoIP SIP trunking service, Rees said. "There's no change in user behavior and it's easy to do and it's going to cost less for the business."
Lowered telephony costs could be a major incentive. "Skype gives businesses a really cheap way to make calls," IDC analyst Rebecca Swensen told the E-Commerce Times. "Calls over the Skype network to other Skype users are free, and none of the other VoIP vendors can offer that." users such as salespeople already use Skype in the field, so implementing Skype at the back end will not involve any disruption to the way mobile staffers work, Swensen said.
Will The Enterprise Love Skype?
Skype has established itself serving the consumer market, but corporate users are another kettle of fish altogether, and observers are unsure whether it can make the transition to enterprise services.
"Businesses will be asking themselves how Skype will compete against VoIP offerings from more traditional and experienced service providers," Charles King, principal analyst at Pund-It Research, told the E-Commerce Times. "Their lack of experience in providing corporate-level services may count against them."
"Business customers are more demanding in terms of quality, reliability, scalability and, of course, customer service," 8×8's Reese said. "I don't think Skype has that kind of infrastructure in place to support this type of customer."
While Skype cannot do things like provide service level agreements now, that does not mean it will be excluded from the enterprise market, Swensen contends.
"Skype will become a supplemental solution," she explained. "You'll have one PBX and have this Skype plug-in to the PBX that lets you shunt, say, outbound calls to Skype."