Text messages are intimate, to-the-point, and readable, and they bring marketing messages straight to where people spend much of their time — their phones.
Texting, it turns out, is more than just a series of LOLs or smiley faces between friends. Increasingly, it's also a savvy and effective marketing tool.
"It's really important that entrepreneurs embrace text marketing," mobile and local Internet marketing specialist Cheryl Lynn told the E-Commerce Times. "It brings in customers. It's offers a high return in getting the message across — and it's cheaper than sending out a letter with a stamp."
Targeted Texts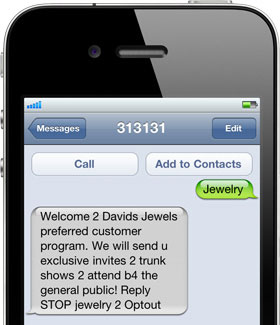 One key to the success of text marketing, according to Lynn, is that it lets businesses home in on a target audience ready-made for their message, since by law people need to opt-in for most text marketing.
The best way to get people to sign up, according to Josh Malin, chief marketing officer for Ez Texting, is to offer them something in return — like a coupon for a free slice of pizza at a pizzeria.
"You want to give your customers an incentive to sign up," Malin told the E-Commerce Times.
Another key to text marketing's effectiveness is that it's a quick and nimble way of reaching people.
"You're getting right to the target market very quickly," said Lynn. "You can even target two-hour campaigns. There's no way you could do that in a flier-based marketing strategy."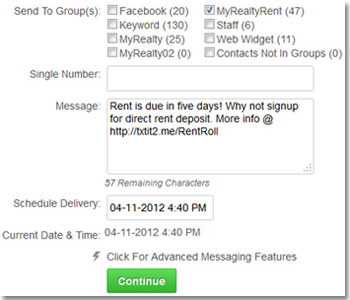 People almost always have their phones with them, and they're likely to read a text message much more quickly than they would an email.
"With texts, you can reach your customers instantly," Melissa Rucker, marketing specialist with SnapGiant, told the E-Commerce Times.
"People have their phones in their pockets most of the day, and being able to reach them that quickly is the biggest selling point in mobile marketing," she maintained.
"It's getting to them where they are," Milton Ni, SnapGiant's senior product manager, told the E-Commerce Times. "No one really gets excited about email."
Savvy SMS
The first step in a text-marketing campaign is to get people to opt in for the texts. Usually this is accomplished by inviting them to send a keyword to a short code or a series of numbers. This opting in is required for most text marketing — and even if it weren't, marketing specialists say that it's just good business practice.
"Marketing works best when people have opted in," emphasized Ken Rhie, CEO of Trumpia. "You're honoring their wishes regarding the type of message they receive and the frequency."
Effective texts are short and direct, and they offer something of value to customers. Long, rambling texts, or texts that take up more than one message, are likely to be ignored and might even prompt customers to opt out of receiving them.
"You have to be a very effective communicator," explained Rhie. "You have to be very succinct."
One-Stop Shops
Effective text marketing usually takes place within a larger marketing campaign strategy that includes email, social networking and other digital media. A number of companies provide services to businesses that need help coordinating their digital marketing efforts. Trumpia, for instance, allows its customers to send emails, texts, and voice mails — all from one central dashboard.
"We offer one service, one tech support, one vendor, one control panel," Rhie told the E-Commerce Times. "Businesses can sent email, text and voice. It's especially good for small- to medium-sized businesses. They just need something very simple, without dealing with many vendors and software."
Text marketing is evolving naturally with new technologies and new consumer expectations, he pointed out.
"Businesses need to adapt to the changing lifestyle," said Rhie. "They need to find a more effective way of reaching their customers."
It's not just for-profit companies making use of Trumpia's services, Rhie noted, but also schools and even churches. Texts might go out reminding parents of a school event, for instance, or delivering daily Bible verses. How text marketing is used depends solely on the creativity of those using it.
What about people who aren't texting? Increasingly, that's a moot point, Rhie said, since texting is becoming as ubiquitous as cellphones and email.
"If you don't get texts," he quipped, "you're not living in this century."