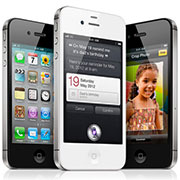 Apple's iPhone is showing up everywhere this year. Most major competitors have it, and Apple has also knocked on the doors of some of the Tier 2 players. In an interesting twist, C Spire said yes, and U.S. Cellular said no thanks. Why? I thought everyone wanted the iPhone — but they have their reasons, and this could be good news for both.
We all know how much success AT&T Mobility had with the iPhone. In fact. this device should have gone to other carriers a year or two ago, but AT&T paid Apple a fortune to be the sole provider.
Earlier this year, Verizon Wireless started selling the iPhone. Of course, it also paid a fortune for the privilege. This fall, since the new version is out, Sprint Nextel is also starting to sell the device — and yes, it is costing Sprint quite a bit as well.
Each of the top three carriers paid Apple billions of dollars to sell the iPhone. That means they won't be profitable for several years. And the surprises don't end there.
C Spire also recently announced it will sell the iPhone. That was an unexpected surprise. Then last week, U.S. Cellular CEO Mary Dillon said during her quarterly earnings call that Apple offered her company the iPhone. However, U.S. Cellular said no thank you. Another surprise.
So how many other wireless networks were offered the iPhone? How many said yes and how many said no? This story is just starting to get interesting. The truth is being revealed, one company at a time.
'Unacceptable Risks'
One of the interesting stories will be watching the big three compete. Actually, I think AT&T, Verizon and Sprint will simply sell iPhones in the same percentages as their other smartphones. Not expecting any big surprises here.
A more interesting story will be how C Spire competes. C-Spire has good service, and its customers seem to like the company. In fact, 50 percent of C Spire customers are now smartphone users. That is an incredibly strong position.
How well will C Spire's iPhone adventure work? That is the interesting question. Will it sell the expected number like AT&T, Verizon and Sprint — or will it surprise us and sell more?
It depends on quite a few different things, like marketing, advertising, public relations and so on. C Spire has been aggressive in the smartphone segment for years. It has a fast network and good quality. It has priced its services lower than the big guys. That may translate into higher than normal sales.
Another really interesting story is how Mary Dillon, the CEO of U.S. Cellular, simply said no to Apple. I am not sure Apple knows the meaning of the word "no." I'm sure the folks at Apple could not believe their ears. "We had the option to add the iPhone to our device lineup, but the risks were unacceptable," Dillon said.
Risks? This may be the first time anyone has put the word "risks" in the same sentence with "Apple." But Dillon is right. The iPhone is not a good fit for every network. There are risks. To carry the iPhone, a company has to pay Apple billions of dollars. That means it will take years to show a profit.
The iPhone battle has changed. The next year or two will reveal the real winners and losers.
This puts U.S. Cellular in both a very good and very bad position. It doesn't have to commit billions to Apple. That is very smart from an expenditure point of view. However, it also doesn't have the iPhone to sell, which is bad from a competitive point of view.
Standing on the Sidelines
What that means is simply that customers who want an iPhone will have four other carriers to choose from. Losing customers can be very costly. Will U.S. Cellular be able to successfully compete with its other smartphones? That is the question.
Of course, if it made a mistake, it can always simply agree to pony up billions of dollars and sell the iPhone next year. It will be interesting to see just how important the Apple iPhone actually is in the industry.
So it looks like T-Mobile and U.S. Cellular are not in the iPhone game this year. However, there are four others competing in this space for the first time. This year will be very interesting to watch.
There are quite a few interesting angles to this iPhone story. The top six companies will show us what they are made of with and without the iPhone in a crowded market. Advertising, marketing and public relations will rise to a new level.
It will be very interesting to watch and find out who wins, who loses and why.
new Nook Tablet on Monday.
The e-reader and tablet battle is really heating up between B&N and Amazon, and they aren't even available for sale yet.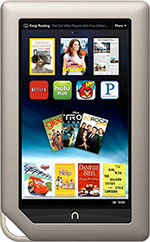 The Nook Tablet
Amazon introduced its Kindle Fire tablet a few weeks ago, along with several other e-reader models. Now Barnes & Noble has a tablet version of its own e-reader.
The new battle begins. These may be some of the hottest items for sale this holiday season. But which one should you buy? Ah, the question of the year.
If you have not taken a look recently, the changes and innovations will surprise you. You can get your choice of black and white or color screen. Some are touch and others are not. You can read books, surf the Web, watch movies and more. Of course, you can buy and read books, but now you can check out library books — virtually, of course.
Amazon just announced its new lending library. That's different from the regular library. And I'll bet Barnes & Noble will do the same thing shortly.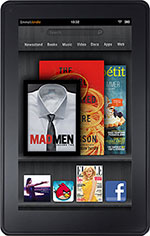 The Kindle Fire
That's the way this segment operates. When one side gets the lead, the other side catches up quickly. So the customer wins. Choose one or the other based on other factors.
Choosing is up to you, but I would recommend waiting a few weeks until these devices are on the market and you can pick them up and compare them, side by side.
You can visit your favorite store, like Staples or Office Depot or Walmart, and hold them and use them and see which you prefer.
I believe when you do this, you will quickly choose your favorite. The devices are similar, but they feel very different.
So buckle up this holiday season. Reading may never have been this much fun!