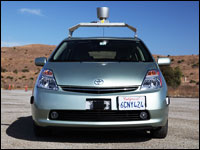 Walk into any store that sells software and you will find antivirus software from companies like Norton, ESET, McAfee and Kaspersky. Over the last few years, the risk has spread from our computers to our smartphones and our tablets. The next thing we will have to protect may be our cars — and our lives could depend on it.
We used to think the computer was the only device that needed virus protection since it was connected to the Internet. We surfed the Web, exchanged email, and shared attachments with family, friends — and unfortunately, foes as well, thanks to viruses and other online threats.
Then that risk spread to smartphones like Apple's iPhone, Samsung Galaxy line and others running Google's Android OS. Next it spread even further, to tablets like Apple's iPad, Samsung's Galaxy Tab and countless other Android devices.
As information technology expands to include smartwatches and other devices and services — like self- driving cars — the risk continues to spread.
Autonomous Cars
The self-driving automobile is one of the next new things I think we need to protect. We need to be very careful going forward with autonomous cars.
We already are seeing advances in wireless connectivity in the auto industry, which are providing an incredible experience with additional features and functionality, including Internet connectivity and in-car WiFi.
So far there seems to be little virus risk, but we need to keep our eyes open for potential threats as this new area expands. The risk for viruses and other threats will grow as more connected devices are built in.
An area of major concern may be a brand new technology companies like Google are experimenting with: the self-driving, or autonomous, car.
Google's driverless car is amazing, but it could come with many threats to our safety and privacy.
Imagine telling the car you want to drive to the store. Then you sit back and enjoy surfing the Web while your car does the driving.
Now imagine a virus affected the programming, and instead of avoiding other cars, you seek them out like a heat-seeking missile. Or instead of turning right to the store, you instead turn left and your car drives you into the river.
Bad Maps
Don't laugh — these types of things have happened in the recent past. Remember when Apple dumped Google Maps from the iPhone and forced users to use Apple's own maps for navigation?
Do you remember all the stories of the nav system telling drivers to turn into a river or worse? This was not even a bad guy — just bad programming. Now add all the bad guys into the mix, and you can see the real problem.
Technology has given us many reasons for awe and inspiration, and that is good. However, we all need to be alert to the other side of the coin. A little fear and concern around new technologies may be warranted.
How will we protect ourselves? Will the protection come from the car manufacturer, or from the information technology provider — updated through the wireless Internet? Or will it be up to the driver who must shop for and buy the latest version of auto antivirus software on an annual basis, the same as we do with our computers today?
Raising concern to an even higher level, there is no current antivirus protection for self-driving cars. Don't worry, though — not yet, anyway. The reason is there are no self-driving cars on the market yet.
High Stakes
That's good, because we are not ready. However at the current rate of experimentation, I can see Google rushing out the first version of the self-driving car, and before long there will be other competitors in the same space, city by city. Some will be vulnerable to bigger threats than others.
It is bad enough getting a virus on our computer or tablet. At least it's not deadly. However getting a virus on our self-driving cars may be a different story.
Fortunately, cars like George Jetson drove in the cartoon series The Jetsons are still in the future — just not as far down the road as we may think.
As this self-driving car phenomenon unfolds over the coming years, it's important to keep in mind that these vehicles will require the same kind of protection that we put on our computers, smartphones and tablets — actually, even more, since car safety is a matter of life and death.