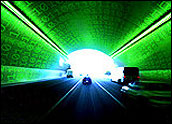 The Seattle City Council this week approved an ordinance that will allow drivers forUber andLyft to form unions, becoming the first U.S. city to pass such legislation.
The City Council voted 9-0 in favor of the ordinance, which doesn't require the mayor's signature to pass.
Drivers for Uber and other ride-sharing networks are classified asindependent contractors, like taxi drivers, though there has been a push to change the classification to employees. As independent contractors, they aren't afforded any of the protections of the National Labor Relations Act.
The two largest ride-sharing networks, Uber and Lyft, have argued that the ordinance violates federal labor laws, and the unionized independent contractors could fall under antitrust scrutiny because of their potential to fix prices.
The ordinance requires ride-sharing networks and cab companies alike to list all of their independent contractors with the city. That list will be made available to unions, which could reach out to the drivers to organize.
Driver Freedom
Uber and Lyft responded to Seattle's decision by stressing the freedom their models offer drivers.
Lyft drivers are in full control of where and when they work, the company said in a statement provided to the E-Commerce Times by spokesperson Paige Thelen.
"Unfortunately, the ordinance passed today threatens the privacy of drivers, imposes substantial costs on passengers and the city, and conflicts with longstanding federal law," Lyft said. "We urge the mayor and full council to reconsider this legislation and listen to the voices of their constituents who choose to drive with Lyft because of the flexible economic opportunity it offers."
Uber drivers choose how many hours they work, the company said in a statement spokesperson Jessica Santillo provided to the E-Commerce Times.
"Uber is creating new opportunities for many people to earn a better living on their own time and their own terms," Uber said. "Drivers say that with flexible and independent work with Uber, 50 percent of them drive fewer than 10 hours a week, 70 percent have full-time or part-time work outside of Uber and 65 percent choose to vary the hours they drive 25 percent week to week."
Who's the Winner
Going by the applause that reportedly filled City Hall when the vote was handed down and the pushback from the ride-sharing networks, it might appear the drivers won the day.
Drivers might hurt themselves more than they gain, however, if they move forward with unionization, according to Rod Martin, CEO ofThe Martin Organization.
"The effort to unionize Uber and Lyft drivers has nothing to do with helping them and everything to do with making them less competitive with taxis," he told the E-Commerce Times. "When even David Plouffe is against it, you know it's a terrible idea."
Ride-share drivers are full-time workers sweating it out in a factory somewhere, Martin said. They are people who have been trying to earn a bit of extra money on the side.
"Unionizing them will just make them more expensive and thus less attractive, helping the Teamsters by destroying a wonderful opportunity both for the drivers and for consumers," he said. "The entire exercise is shameful, and all too predictable."
Rules of the Game
Unionization just might be a move of a chess piece, part of larger effort to raise independent contractors to employees. Whatever the motive, court battles involving ride-sharing networks have been redefining what independent contractors and employees are, suggested Rob Enderle, principal analyst at the Enderle Group.
"This is less of an evolution and more of old rules being applied consistently to new opportunities," he told the E-Commerce Times. "I think we are going to get a lot of case law on both sides before this is done, but the industry will work through this as others have in the past."
What's especially interesting is how cab companies have been putting so much effort into killing off the startups, while neglecting the issues surrounding their own inability to advance, Enderle said.
"That seldom works long term," he said, "but the efforts are keeping the legacy firms from advancing and likely will assure they won't survive."