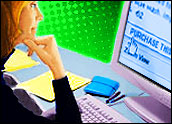 Sears and Intel crowned a list of top performing Web sites released Monday by theCustomer Respect Group (CRG), an international research and consulting firm that focuses on how corporations treat their online customers.
The annual report, now in its fifth year, analyzed the Web sites of all Fortune 100 companies. It ranked them on their performance in 130 aspects of online user experience that touch on three broad areas of consumer concern: usability, communication and trust.
Trust was more prominent in consumers' minds this year than it has been in past years, according to CRG President Terry Golesworthy.
"We try to find out what bothers or frustrates or excites the end user," he told the E-Commerce Times. "This year, we found much more emphasis on personal privacy and much more concern about loss of information."
Collecting More Personal Data
Surveyors also found that Fortune 100 companies are collecting more personal data from consumers than in the past.
Of sites with e-mail forms, 21 percent require visitors to provide more than six items of personal data, the report revealed. That compares to 15 percent in 2005.
Fewer companies are sharing the data they collect with others, the study noted, but they aren't hesitating to use that data for their own marketing purposes.
Some 45 percent of the companies in the survey said they did not share information with others, the surveyors reported, compared to 39 percent in 2005.
Lack of Opt-Out Option
One worrisome development, the report contended, is the growing trend to omit opt-out options at Web sites. In 2006, 29 percent of the sites surveyed omitted opt-out options. That compares to 24 percent in 2005.
"It appears that the temptation to use personal information for … other than its intended purpose outweighs the fear of loss of trust," the surveyors said.
Surveyors found communication to be another issue attaining prominence this year.
"A lot more people are going onto Web sites and, for the first time, have an expectation that they can communicate with those companies," Golesworthy said.
"Phone systems make it complicated to get where you want to [go], so a lot of people think it's easier to send an e-mail and get it back later on," he added.
Low Patience Threshold
The patience threshold of Web visitors continued to decline this year, noted Golesworthy.
"People want to go to a Web site, find what they want and move on," he observed. "They have a very low tolerance for difficult-to-use Web sites or Web sites where they can't find what they want."
High Flyers
After measuring a company's Web site performance in the 130 key aspects of user experience, CRG boils its numbers into an index figure. This year, the high end of the index is 7.9; the low end 2.6.
Companies with index scores that are seven or better:
Intel
Sears
Hewlett-Packard
Medco Health Solutions
Procter & Gamble
Johnson & Johnson
IBM
Pfizer
Bank of America
CVS
McKesson
Microsoft
Wal-Mart Stores
Sprint
Constant Connection With Customers
Key to driving pharmacy king CVS's performance in the rankings are its ongoing programs to take the pulse of its customers, according to Manager of Corporate Communications Mike Deangelis.
"CVS.com sends customer survey forms with every order shipped, and the consumer feedback gained from those often leads to small site enhancements designed to improve ease of use," he told the E-Commerce Times.
"We also utilize online and phone surveys to determine a monthly customer rating to ensure we are executing a high level of customer service," he added.
Bringing Up the Rear
On the flip side of the survey, companies at the bottom of the rankings with an index score of four or less are as follows:
General Motors
Ingram Micro
Plains All American Pipeline
Berkshire Hathaway
Weyehauser
Sunoco
Johnson Controls