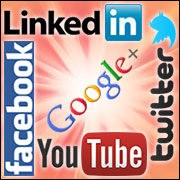 Engaging the customer has always been fundamental to doing good business. It's just that now that engagement often starts in digital, social media realms.
The trick is to figure out how to make one's content as interesting as all the other content that shows up in the newsfeed, and this is where social media marketing companies come in.
Social Campaigns
As with other marketing, social media marketing works best when it's part of an overall campaign. This is the service provided by VerticalResponse and its recently acquired social media campaign platform, Roost.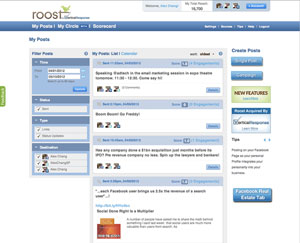 (click image to enlarge)
With Roost, business owners can create an integrated social media campaign complete with Facebook, Twitter, and LinkedIn updates and tracking. It also offers a continuously updated library of content related to a business or product, so owners can post links to interesting articles for their social media friends and fans.
"We built Roost to help busy owners and operators be effective," Alex Chang, VerticalResponse's VP of social platforms, told the E-Commerce Times. "[They can take] 20 minutes on a Sunday night and start a great social media campaign."
Using Roost, a business can create a campaign of a variety of types of posts that go out to social media sites over time, and it can then measure how well those posts do in terms of engaging fans by tracking comments, shares, click-throughs and retweets.
It can also tie the social media campaign to an email campaign, with links to specially created Web pages and other content.
Thus, a winery with an upcoming wine-tasting might create a page about the event on its site and then link to it on social media sites, along with links to articles about the wines, recipes for foods that go well with the wines, and other related content.
It could also send out an email to its existing customers linking to the event page. The key to the success of such a campaign, according to Chang, is the way it converges a variety of digital media.
"We see these things converging," he said. "There's no reason why someone should think of marketing through email as totally separate from social media marketing."
Local Social
Though social media creates a national and even international reach for businesses, this kind of engagement can benefit small, local firms just as much, if not more.
Some companies, like SnapRetail, focus on helping local businesses connect with their customers via social media.
SnapRetail helps small businesses like florists, gift shops and furniture stores plan calendars, promote products, and market via social networking sites.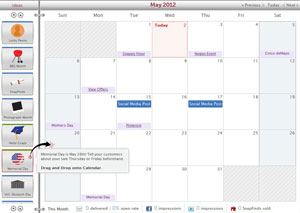 (click image to enlarge)
A subscription-based service, SnapRetail offers sample posts, templates, and ideas for retailers, as well as a dashboard that connects them instantly to their Facebook, Twitter and email accounts.
"Everybody in the social world talks about e-commerce, but they leave out all the small, local businesses and retailers," Ted Teele, CEO and founder of SnapRetail, told the E-Commerce Times. "We're trying to make it easy for these local retailers to do social commerce."
So, for instance, SnapRetail might inform its retailers when it's National Chip Day, and also offer suggestions for events, like a salsa tasting, or recipes to post on Facebook.
"We give them ideas for campaigns, especially ones that are seasonal," Crystal Vilkaitis, SnapRetail's director of social media, told the E-Commerce Times.
Many retailers don't know how to engage customers, and SnapRetail strives to help them become more effective social media marketers, Vilkaitis noted.
"You want to engage people on Facebook," she said. "We found a lot of retailers were having one-way conversations. We give them tips of things to ask, like 'what's your favorite destination spot?'"
Smart Containers
Some companies, like Cinsay, help retailers combine marketing with selling.
With its Smart Container platform, Cinsay lets customers create clickable videos that sell products or solicit donations and then promote these videos on social media sites.
"Social media and Cinsay are the perfect fit for our customers," David Burrows, Cinsay's VP of corporate marketing and PR, told the E-Commerce Times.
"Studies have shown video [increases] conversions significantly, and social media enables interested audiences to view and share that content across the Web and mobile devices."
One key to Cinsay's social media marketing strategy is that it doesn't interrupt content, Burrows said. Rather, it's integrated seamlessly into it.
"We and our clients have found interactive marketing to be a highly successful solution, because it doesn't 'interrupt' Web users' experiences while engaging in content," explained Burrows. "Our content finds targeted audiences, while at the same time, our audiences are seeking related content. It's a win-win for everyone. At Cinsay, we call it attract, interact and transact."