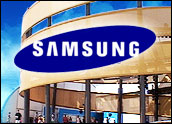 Samsung on Tuesday announced road map for a corporate restructuring that might include splitting itself into two firms.
The company has retained external advisors to review the optimal corporate structure for its activities. The review is expected to take six months. Depending on the findings, Samsung may create a holding company structure and might list its shares on additional international exchanges.
The company also announced that it will allocate more money to shareholder returns, buy and cancel shares, increase dividends and pay them quarterly, bring in independent board members with international experience, and improve corporate governance.
Samsung "has the complex and messy chaebol structure that makes Westerners crazy," said Charles Sizemore, founder of Sizemore Capital.
"Moving to something closer to a Western-style holding company will make [it] more transparent, easier to understand, and should generally raise its appeal to non-Korean investors," he told the E-Commerce Times.
Although Samsung appears to have raised the possibility of altering its chaebol structure, a split is unlikely, said Barry Randall, chief investment officer at Crabtree Asset Management.
"Asian culture is deeply conservative, and change on that scale would likely only occur as a result of either a seismic event surrounding the country — like war — or because of a countrywide change in policy that would be proactive rather than a reaction to events seen as temporary in nature," he told the E-Commerce Times.
The new shareholder-friendly changes "assume that Samsung will remain intact," Randall noted. "It seems unlikely [Samsung] would be so specific in their promises if their intent was to split the company into two or more pieces."
Pros and Cons
"I'd like to see [Samsung] split up," said Holger Mueller, a principal analyst at Constellation Research, noting that the company's many businesses are too far apart, and there are too few synergies.
A split would give Samsung better focus, make it a better attraction for talent, and facilitate more openness in working with partners, he told the E-Commerce Times.
However, a split "doesn't address the cause of Samsung's difficulties," observed Rob Enderle, principal analyst at the Enderle Group.
"This is a form-over-function move that leaves them exposed strategically but will take pressure off them for the short term," he told the E-Commerce Times.
Following in Google's Footsteps?
Google this summer announced a restructuring that resulted in its becoming a wholly owned subsidiary of a new umbrella company, Alphabet.
Alphabet became the publicly traded entity, but Google's two classes of shares continue to trade on Nasdaq as GOOGL and GOOG.
All shares of Google automatically converted one-on-one to shares of Alphabet.
The restructured firm has a hub-and-spoke architecture, with a pared-down Google handling the company's core business: Internet products.
Whether Samsung could be thinking of a restructuring along those lines is open to speculation, but "that's like moving the chairs on the Titanic," Enderle said. "The mistakes weren't caused because Samsung's too large but by bad decisions."
Further, Google was "anticipating massive fines and other penalties associated with antitrust complaints that mostly came from the EU," Enderle remarked, and it restructured to limit the impact to part of the company, as well as possibly reduce the fines.
Google restructured from a position of strength, Sizemore pointed out, while Samsung "is operating from a weakened position overall, owing to dissatisfaction with chaebols in general and the [Galaxy Note7's] failure in particular."
A split "will not address the cultural issues required to truly make a big change," said Ray Wang, CEO of Constellation Research.
Samsung "has an opportunity to rethink how they want to remake themselves; to rethink partnerships and market ecosystems," he told the E-Commerce Times. "Once they find that mission in their own digital transformation, they will be able to address governance and structure."