Salesforce on Wednesday announced integrations between its Marketing Cloud and Google Analytics 360 that equip marketers with a broad range of new capabilities, including the following:
View consumer insights from both Marketing Cloud and Analytics 360 in a single journey analytics dashboard to better analyze cross-channel engagement. For example, if marketers see a high rate of browse abandons — customers who click through an email offering but don't buy — they can create a tailored journey to re-engage them.
Create audiences in Google Analytics 360 based on their interactions with Marketing Cloud campaigns and deliver Web pages with customized content to those audiences when they click on a link in an email offer.
Gain a better understanding of how their content influences transactions, through the availability of Marketing Cloud data in Analytics 360. This lets them unearth macro trends in customer journeys and make strategy tweaks to maximize conversions.
Quickly authenticate to Analytics 360 from the Marketing Cloud, and tag each email with the Analytics 360 campaign parameters without having to seek help from IT.
---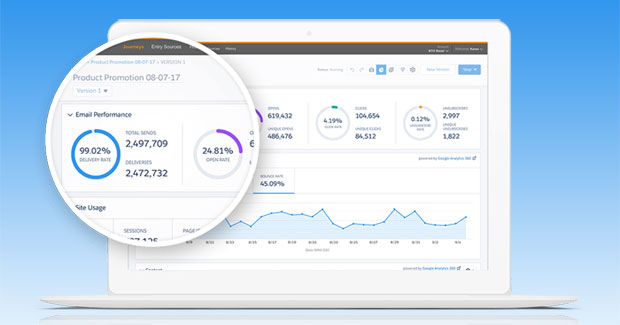 Visualize Google Analytics 360 Web interaction data directly in your Salesforce Marketing Cloud dashboard.
---
In Q3, a beta rollout will let marketers create audiences in Analytics 360 — such as category buyers, loyalty members and abandoned browsers — and activate them for engagement within Marketing Cloud by, for example, adding a specific audience to a re-engagement journey.
"This is about deeper integrations," noted Ray Wang, principal analyst of Constellation Research.
"As Adobe has gotten closer to Microsoft, Salesforce has done the same with Google," he told CRM Buyer. "Adobe does a great job with their analytics and machine learning portfolio."
What Worked and Why
The integrations are part of a strategic alliance between Salesforce and Google. Salesforce has named G Suite as its preferred email and productivity provider, and plans to use the Google Cloud Platform for its core services in connection with its international infrastructure expansion.
Viewing consumer insights from Marketing Cloud and Analytics 360 in one dashboard is important because "marketers want to know what campaigns worked and why," Wang said. "They want to know what their customers need and how to predict demand or interest."
Being able to leverage information about responses in a campaign to deliver tailored Web content "helps in reducing useless interactions and understanding if you have enough context to be relevant," he pointed out. "The goal is to leverage as many channels as you can at the right time in the right manner."
All About Personalization
The new integrations between Google and Salesforce Marketiong Cloud "will streamline the process for marketers and make it easier to provide real personalization at scale in customer engagement," said Rebecca Wettemann, VP of research at Nucleus Research.
"Marketers have been talking about personalization for a long time, but this is really about bringing the data at scale so they can truly execute on it," she told CRM Buyer.
Adobe earlier this year enhanced its Adobe Target personalization tools. Last month, it announced plans to open up its data science and algorithmic optimization capabilities in Adobe Target, along with other new capabilities.
Pegasystems last week rolled out Pega Infinity, its next-generation digital transformation platform.
Pega Infinity builds on "the continued innovation of our AI-driven marketing capabilities," remarked Jeff Nicholson, VP of CRM product marketing at Pegasystems, giving clients "the clearest path … to make the long-discussed vision of one-to-one engagement a reality."
Marketing tech has gone far beyond "simple measurement of campaign effectiveness," Nicholson told CRM Buyer. "The key to the new generation of tools is not to provide just information to the marketer, but actual AI-powered real-time insight and guidance."
The aim is for companies to convert "nuggets of insights into actual action and improve their customers' experience, along with their bottom line," he observed.
"By improving contextual relevancy, customers and clients will more than likely engage," said Constellation's Wang. "If they engage more, you'll more likely convert. That's the whole point here."