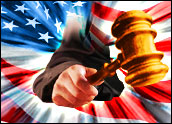 A federal appeals court has ruled that prosecutors may need to get warrants to access cellphone location data.
The decision by the 3rd U.S. Circuit Court of Appeals struck down the Justice Department's argument that the Stored Communications Act requires judges to issue orders for access to such data whenever prosecutors show that it would be material and relevant to an ongoing investigation.
However, the court also reversed an earlier decision by U.S. Magistrate Judge Lisa Pupo Lenihan of the Western District of Pennsylvania, who ruled that prosecutors must always show probable cause to access such data.
The two apparently conflicting rulings illustrate the dispute in legal circles over the question of privacy.
The 3rd U.S. Circuit Court's Ruling
The 3rd U.S. Circuit Court's ruling followed a court application by the U.S. Department of Justice to compel a cellphone provider to produce a customer's cell site location information in an ongoing narcotics case.
That application was denied by Magistrate Judge Lenihan, who wrote that "citizens continue to hold a reasonable expectation in the information the government seeks regarding their physical movements/locations — even now that such information is routinely produced by their cellphones — and that, therefore, the government's investigatory search of such information continues to be protected by the fourth Amendment's warrant requirement," the Law.com blog reported.
Judge Lenihan's ruling was wrong, said Kevin Bankston, a senior attorney at the Electronic Frontier Foundation. Instead, a judge may require a warrant if he or she considers it necessary.
"Judge Lenihan said she doesn't think the statue applies to cellphone data at all but she was wrong and the civil liberties organizations and the Department of Justice agree on that," Bankston told the E-Commerce Times. "You seldom see us agreeing with the Department of Justice."
Various civil liberties organizations opposing the DoJ's application, including the EFF, expected the 3rd U.S. Circuit Court to rule that judges have the option to require warrants, which it did.
The Thorny Question of Privacy
Several court rulings in recent months have resulted in conflicting views of privacy.
For example, the Virginia Court of Appeals ruled this week that the rights of a convicted sex offender who was suspected of committing a string of sexual assaults were not violated when Fairfax County police secretly placed a GPS on his vehicle without a warrant.
Also, the 9th U.S. Circuit Court of Appeals ruled in January that the DEA didn't violate a drug smuggling suspect's Fourth Amendment rights when its agents placed a GPS on his vehicle without a warrant.
"There are four recent decisions, all conflicting," Jim Dempsey, spokesperson for the Digital Due Process Coalition, told the E-Commerce Times. The coalition, which consists of civil liberties organizations and companies such as Ebay, Google and Facebook, is pressing for Congress to come up with a "uniform national standard for both federal and state and local investigators," Dempsey said.
"Congress has provided no guidance on this issue at all," Christopher Calabrese, legislative counsel for the American Civil Liberties Union, told the E-Commerce Times. "The ACLU is calling for a universal standard of probable cause."