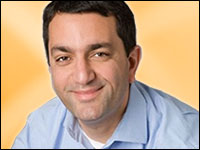 Gazelle takes your old cellphones, laptops, digital cameras, camcorders, GPS devices, game systems, calculators, e-readers, LCD monitors, tablets, and any other out-of-date electronic equipment cluttering up your home or office, and turns it all into cash.
First launched as "Second Rotation" in 2006 and rebranded as "Gazelle" in 2008, the U.S.' largest electronic recommerce company has paid out more than US$25 million to 175,000-plus customers and kept 300 tons of electronic waste out of landfills. In fact, it's not waste at all: These electronic items get a second life in the hands of people who are happy to buy last year's iPhone or a two-year-old laptop.
The E-Commerce Times caught up with Gazelle CEO and cofounder Israel Ganot. In Part 1 of this exclusive two-part interview, he told us about the founders of the company and their commitment to recycling gadgetry, how they started the business, and what has made it so successful.
E-Commerce Times: What is your background, and how did it prepare you for the recommerce business?
Israel Ganot:
My background is finance and e-commerce in general. I am an immigrant who moved here from Israel in 1989 to New York, went to school in NYU. I spent the first phase of my career on Wall Street working for Goldman Sachs covering the retail sector. Then I decided to transition into e-commerce. I got my MBA from Harvard, and after graduating in 2000 I joined eBay.
I spent six years there learning about e-commerce. I spent the first two years in corporate development doing mergers and acquisitions, including the PayPal acquisition. Then I spent two years in the UK. Then I spent the last two years back in the states with PayPal, building the finance team. After six years at eBay, I decided to move back to Boston in 2006, and that's when we cofounded Second Rotation.
ECT: Who first thought of Gazelle?
Ganot:
It was all of us — Rousseau Aurelian, James McElhiney and me. We combined our very different perspectives. Rousseau was a power seller at eBay. He saw the opportunity by looking at the used car business, and realizing that 40 to 50 percent of new car sales involved a trade-in, but that didn't really exist in any other category.
My perspective from eBay was that consumer sales had slowed down. People were frustrated with selling online, and it was a good opportunity to meet that gap. And on the recycling side, I went to a retail store with a couple of BlackBerries and asked to recycle them, and I was asked to pay for the privilege.
The idea came about: How about rewarding consumers for recycling? It was a huge opportunity to have consumers do. And James was a technologist. His perspective was 'tell me what you want me to build, and I'll build it.'
ECT: Describe some of the early conversations and plans you had with the other founders.
Ganot:
From the get-go, there were always three things that were important to us. One was we always believed this would be a huge opportunity given the market size, and we knew this would require a lot of capital. We wanted to build a big, profitable business.
The second one was that all of us had families and kids, and it was really important for us to build a company that added to social responsibility. We wanted something that was more than just about debits and credits, but delivered some benefit to society. We wanted to focus on recycling, on reuse. It's about extending the lifecycle of the product.
The third was building a culture in the company that I couldn't find anywhere in Boston at the time — a wide open environment, with an open culture. We've been really successful at building a company like that.
ECT: How was Gazelle launched? What was the process of starting this business?
Ganot:
It took a couple of years to find the right business model. In the early days, the focus was more B2B. The idea was to partner with retailers and to become a behind-the-scenes private label offering to retailers. We pursued that strategy pretty hard. In early 2006 and 2007, it was too early for the market, and recycling was not top of mind with retailers.
It wasn't until we went direct to consumers in 2007, and 2008 when Gazelle was launched, that the business really started to grow. We've really gone 360 degrees.
Today, we are building a consumer brand, and we like to think that Gazelle is to recommerce what Amazon is to e-commerce. Now we're taking this brand and the customer experience, and we're bringing it to the retailers.
In the last year and a half, we've partnered with Walmart.com, Costco, Office Depot — and they're really helping us bring the Gazelle brand and experience to the mass market.
Rewards for Recycling: Q&A With Gazelle CEO Israel Ganot, Part 2