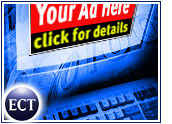 In an atmosphere where Internet users are bombarded with pop-up advertisements and "in-your-face" sales techniques, marketers need to re-examine how they use the Internet to target customers with valuable messages, not infuriate them with intrusive or irrelevant information. In order to be successful, advertisers need to adopt more credible online strategies.
An intelligent online campaign should employ a network that effectively bridges the advertiser, publisher and qualified consumer — without compromising the user experience, the publisher's content or the product's brand. By treating online advertising as a tightly integrated partnership, advertisers can more effectively target customers, establish trust and maximize results.
When considering how to launch a successful online campaign, marketers must be aware of three important issues shaping the Internet advertising industry:
The dangers of invasive online ad solutions
The transition from more invasive ad formats such as pop-ups to more intelligent solutions in Interstitials
The importance of finding the balance between advertiser, publisher and end user. At the end of the day, the Network must be able to juggle the needs of the Advertiser, Publisher and End User carefully to be successful.
Choose Network Partners Carefully
Those practicing invasive online advertising put everyone in the industry at risk. Networks need to choose their advertising partners carefully. While it is generally assumed that more invasive ads lead to better results for the advertiser, the network needs to set standards for which ads it can and cannot run. For example, the user can only try to win an iPod so many different ways, and the user is only willing to see a certain number of pop-ups throughout the day before he or she becomes desensitized to the advertiser's message.
Networks' reputations are also on the line when they are not able to police publishers that abuse the system in one way or another. A common problem we encounter is spoofed traffic; generally a publisher will sign up with somebody else's domain and, despite our fraud prevention, will be able to generate what looks to be a high quantity of impressions from someone else's URL.
The problem is that the ads are never shown. Spoofed traffic is a common problem that networks need to monitor, if they cannot catch fake traffic, a publisher could take the network for thousands of dollars and drain the advertiser's ROI.
In order to strike a balance among the advertiser, publisher and end user, the network must dedicate proper resources to monitoring publisher accounts and ensuring ads are not being abused in one way or another. The network's reputation among end users and publishers is its single best asset.
If a network can demonstrate that it performs effectively, publishers will be able to trust the brand and trust the ad delivery. At the same time, end users will respond to the advertisers' messages and a harmonious balance will be created. A positive network relationship is symbiotic — each participant meets the needs of each member involved.
Gaining Trust
Trust begins with the relevancy and perceived intrusiveness of the ads themselves. While the "Win a Free iPod" offer has been tremendously successful, it has brought back memories of the ubiquitous X10 webcam "pop under" ads that littered nearly every Web site a few years ago. The fact that companies such as Google, Yahoo! and MSN offer free pop-up blockers is indicative of user sentiment toward those types of annoying ads and ad formats.
As pop-ups have been deemed the scapegoat of online advertising, newer ad formats have made their way to the mainstream which have gained greater user acceptance and higher response rates. Networks have also had to resort to creative work-arounds in serving pop-unders such as piggybacking on click events to trick pop-up blockers. An eMarketer report from September 2004 highlights a survey done in which user attitudes toward Interstitials (also referred to as transitional pages) were ten times more positive than those of pop-ups.
Combine that with the fact that Interstitials are able to more effectively capture users' attention by employing a successful ad format that is well liked and better respected — and advertisers now have a better online ad format to consider.
Considering the Internet is a powerful, yet often an intrusive marketing vehicle, publishers need to act as the end user's trusted advisor. Advertisers must consider online advertising from a long-term, big picture standpoint in terms of protecting their company's brand and expanding its customer base. They should think about whether end users view their ads as entertaining or informative, versus frustrating.
To be effective, advertisers must look to newer ad formats, such as Interstitials, improve ad delivery and view online advertising from a more strategic, holistic perspective by leveraging the power an online network that takes into account the preferences and unique differentiators of the publisher, advertiser and end user.
---
Michael Katz
is managing partner with midADdle LLC.
---