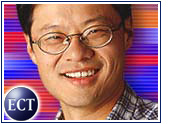 The leading global Web site in June was Yahoo!, but eBay kept visitors the longest, according to the "Global Internet Index" from the Nielsen//NetRatings audience and measurement analysis service.
The depth of eBay's site and the sense of community it fosters are credited for keeping people interested longer. The survey found that the average eBay visitor spent one hour and 42 minutes on the site last month, viewing 256 pages per person.
"That's sticky and sticky on a global basis," NetRatings' Jennifer Fan told the E-Commerce Times. Fan noted that the June survey was the first measurement of Net usage across the United States, the United Kingdom, Australia, New Zealand, Canada, Japan, Ireland and Singapore.
Yahoo! Biggest Draw
eBay may have kept viewers online the longest, but its June audience of 10,460,407 placed the site at 15th on the list of the top 25 Web sites measured in the global index.
Yahoo! nailed down the number one position with 62,772,590 visitors, while showing an impressive amount of stickiness of its own in June, holding visitors for an average of just over an hour.
Nielsen//NetRatings says Yahoo! reached about 54 percent of the entire Internet audience, which the firm estimates at 207 million in the eight countries surveyed. Of that number, about 117 million actively used the Internet in June.
Other leading sites as reported by Nielsen//NetRatings are: AOL, with 57,243,240 users who spent an average of 26 minutes and 38 seconds per visit; MSN, with 47,790,317 users, at 45 minutes and 25 seconds; Microsoft, with 39,668,640 users, at 11 minutes and 23 seconds; and Lycos, with 31,161,092 users who spent an average of 15 minutes and 15 seconds per visit.
Amazon Means E-Commerce
Sean Kaldor, Vice President of E-Commerce for the Stamford, Connecticut-based ACNielsen (Nasdaq: NTRT), said online shopping is a key draw for many Internet users. Kaldor cited Amazon.com as an example of how the move to e-commerce is being felt around the world. In June, ACNielsen's survey identified 12 percent of the world's active home Internet users as Amazon visitors.
Shopping sites were used by 49,740,761 Internet surfers in June, or about 43 percent of all worldwide active users. The average time per person at a shopping site was 8 hours and 38 minutes, according to the index.
In all, Kaldor said the "stickiest" Web site categories globally are sites dealing with the finance/insurance/investment and online community. "These areas experience average usage times nearly twice that of areas like travel, classifieds, education and others," he said.
Survey To Expand Reach
The Nielsen//NetRatings index claims it is the world's largest Internet measuring service, with more than 150,000 individuals participating in panels throughout the eight countries.
Nielsen and NetRatings moved beyond North America with its audience measurement survey for the first time in June. Fan, who works out of NetRatings' Milpitas, California office, told the E-Commerce Times that the eight-country survey measured about two-thirds of the entire worldwide Internet audience.
Next month, she said, the index will expand to measure additional audiences in France, Germany, Italy and Scandinavia.