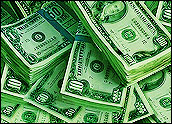 Bankrate.com on Monday released results of a survey showing that even though consumers may have more mobile payment options this holiday season, more than two-thirds of shoppers won't be using them.
That's because seven out of 10 Americans surveyed said they'll be using cash (39 percent) or a debit card (31 percent) for most of their holiday buys, according to Bankrate.
Another 22 percent of the 1,000 adults surveyed said they would do their shopping with credit cards, and 3 percent said they'd be shopping with checks.
Mobile phone owners are uninterested in using new payment systems available for their phones, the survey found. Only 14 percent of respondents who use a smartphone or similar device said they planned to use services like Apple Pay or Android Pay at least once for holiday shopping.
That number was slightly higher — 19 percent — for millennials, according to the survey, which was performed by Princeton Survey Research Associates International and included 500 mobile phone and 500 landline users.
The biggest barriers to mobile payment usage? Security (36 percent) and convenience (31 percent), the survey found.
Availability Problem
"There's no traction yet, so few people have an opportunity to make payments," said David Robertson, publisher of The Nilson Report.
Part of that can be attributed to the existing ecosystem. "The industry has some blame to share here," said Bankrate analyst Mike Cetera.
"They're really not giving consumers much incentive to use mobile payments over credit cards and debit cards," he told the E-Commerce Times.
"Not every store accepts mobile payments," Cetera said. "When I walk into a particular retailer, I don't know whether or not the mobile wallet I use will be accepted or whether any mobile payments will be accepted."
"The key issue with mobile payments is it simply is not available at many locations yet," noted Leon Majors, senior vice president atPhoenix Marketing International.
Glass Half Full
Fourteen percent of smartphone owners pledging to make at least one mobile purchase during the holidays may sound low, but it "isn't bad for a new payment mechanism that's really only been in active use for a year," he told the E-Commerce Times.
"Apple Pay started last year, and when it started, it was only available at 1 percent of cash registers in the United States. A year later, it's available at less than 10 percent of cash registers nationwide, so even consumers who love it and want to use it everywhere are limited because most merchants don't use it," Majors noted.
"I think a lot of players misestimated how long the rollout would take," he added. "It's going to take five years."
Security Misunderstood
Consumers misunderstand mobile payment security, Bankrate found.
"A lot of these mobile wallet systems have unique codes that are used whenever a transaction is made and fingerprint security for confirming payment that credit cards don't have," Bankrate's Cetera said.
"On the other hand, there are experts out there that warn it's just a matter of time before even these systems are breached," he added.
With any new payment system, it's difficult to change ingrained behavior, noted Andrew Hayter, the security evangelist atG Data.
"There's such a long culture of using a card in this country that it's hard to break that habit," he told the E-Commerce Times.
Teething Will Pass
When you have an existing system that's easy to use and accepted everywhere, it's difficult to get people to use one that can be more complicated and isn't accepted everywhere."It's a pain in the neck when you walk into a shop and you're not sure what they're going to accept," said Ryan Wilk, director of customer success atNuData Security.
"So you keep your wallet with you and then you become a creature of habit," he told the E-Commerce Times. "You continue to use what works, and that's a credit card."
Nevertheless, the mobile payment industry is expected to get over its teething problems soon.
"The reality is, a year from now I suspect these survey results will be noticeably different," the Nilson Report's Robertson told the E-Commerce Times.
"Over the next year, Samsung Pay will begin to gain traction," he said. "In addition, Walmart and other retailers that are part of the MCX consortium will be launching private-label mobile systems with built-in loyalty programs."
More point-of-sale terminals will support mobile payments, too.
"We have maybe 750,000 POS terminals that support mobile payments now in the United States," Robertson said. "By the end of 2016, we're going to have 1.1 million. Then you'll be talking about making mobile payments in one in every five U.S. merchants."