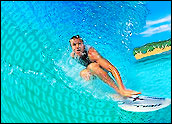 Many commercial Web sites fail to pass even basic tests for usefulness and usability largely because their architects use faulty reasoning to justify defective decisions.
That's one of the conclusions in a report released by Forrester Research, of Cambridge, Mass.
"Designers and stakeholders use false assumptions to rationalize poor decisions," said the report, titled "Don't Rationalize Bad Site Design."
"This causes problems like: barely legible text that annoys customers, forced registration that cuts into sales, inappropriate ad formats that hurt brand, and rejection of great ideas that result in missed opportunities," the report continued.
Misreading Visitors
According to design experts, those faulty assumptions most often can be linked to misreading the desires of a site's visitors.
"People throw something out there that they like, and they don't ask if that's what their users want to see," Vincent Flanders, editor of WebPagesThatSuck.com told the E-Commerce Times.
"They try to solve their corporate problems rather than solve the problems of their visitors," he added.
Behavior Ignored
When designing a site, companies frequently lose sight of how people behave on the Internet, observed Jakob Nielsen, a principal in the Nielsen Norman Group, of Fremont, Calif., and co-author of Prioritizing Web Usability published by New Riders Press.
"If they have a question, they'll go to a search engine," he explained to the E-Commerce Times. "They'll type in two words, on average.
"From that search, they'll see about 10 primary hits and maybe six ads," he continued. "If you're not on that list, you might as well not exist because people don't go to the second page."
After clicking through to a Web site, they'll spend half a minute, on average, on that Web site's home page, Nielsen said, and if they click into the site from the home page, about two minutes there.
Harsh World
"The Web is a fast-paced, rapidly moving environment," he noted. "If you don't satisfy people's information needs immediately, they're going to leave your Web site.
"If the first two words of a headline don't make sense, people won't read the third word. That's how harsh the Web is," Nielsen continued.
"If you work in a company, that's not your behavior," he said. "You spend hours looking at your site.
"If you make a decision based on arguments made at meetings where you're staring at this page all day, you're going to make wrong decisions," he asserted.
No Scratching
Information architecture — where information appears on a page — is very important in arresting eyeballs, according to Derek Olson, a project manager with Foraker Design in Boulder, Colo.
"Even in a small Web site, right up front, you want to clearly delineate the buckets you're going to put information into, and make sure you're not going to make your user scratch their head right off the bat when they get to your site," he told the E-Commerce Times.
"The best design is the design you don't notice," added Flanders, of WebPagesThatSuck. "You shouldn't have to think about where things are."
Test Carefully
In its report, Forrester recommended that in order to avoid baseless assumptions from driving bad design, Web builders should force design decisions based on user goals, adopt culture and processes that drive better customer experiences and use A/B testing to separate fact from fiction about a site.
A/B testing compares users' reactions to different designs for a Web page, page A versus page B and so forth.
Testing is valuable but it must be used carefully, maintained Philippe Suchet, CEO of Kefta, a San Francisco-based provider of personalized marketing solutions.
"Testing is often wrongly used," he told the E-Commerce Times. "People believe that A/B will provide them with the answer, but in some cases it will lead them to make the wrong decision."
The flaw with A/B testing is that it's based on a page, he contended.
"The reality is the page doesn't mean much," he said. "What's much more important than the page is who's looking at this page."