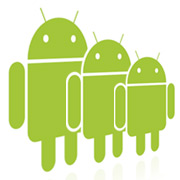 Android tablets — especially those with smaller screens — will continue to gain market share this year at the expense of the iPad, which is expected to give up its spot as the No. 1 tablet platform, according to a report released Tuesday by research firm IDC.
The trend toward screens measuring 7-8 inches will drive worldwide tablet shipments to 191 million by year's end, up from the previously forecast figure of 172 million.
"iOS tablets have already lost ground to Android tablets," Ryan Reith, a program manager at IDC, told the E-Commerce Times.
In 2011, iOS had 56 percent of the worldwide market with Android at 40 percent. The figures for 2012 were 51 percent and 46 percent, respectively. In 2013, "we expect Android will pass iOS with 49 percent share and iOS will drop to 46 percent," Reith said.
What IDC's Figures Show
IDC counted any tablet with a non-E Ink display with a screen between 7 and 16 inches, Reith said. That meant the Amazon Kindle, which has an operating system based on Android, was included in the statistics.
Half of all tablets shipped this quarter had screens of less than 8 inches, and IDC expects more growth in shipments of smaller tablets.
"Smaller tablets are ideal for content consumption and portability," he said. "Additionally, the price really matters here, as these are typically the third devices for consumers after PCs and phones."
Tablets between 7 and 8 inches will account for 64 percent of the United States market by 2017, IDC said. By then, Android tablets will have reached 46 percent of the market with iOS tablets at about 44 percent. Windows will have 7.4 percent and Windows RT 2.7 percent marketshare. Windows shipments will include both Windows 7 and Windows 8 tablets.
What About the iPad Mini?
Although IDC considers the iPad Mini with its 7.9 -inch screen a smaller tablet, "actual 7-inch devices are cheaper and the touch displays are readily available and cheap," Reith noted.
Apple has repeatedly reiterated its opposition to creating tablets measuring 7 inches or less, but "we don't believe they are making a mistake," he added.
Interpreting the Figures
IDC's figures include shipments sold both to distribution channels and to end users, meaning that there may be large numbers of unsold devices in stock. "We believe in the second half of 2012 a large number of white-label tablets were sold to retail channels that remain in inventory," Reith said. "These were cheap devices."
Apple "does not see this issue due to high demand," he added.
Killing Off E-Readers
The growth in shipments of low-cost tablets is hurting the prospects of single-use e-readers.
E-reader shipments peaked in 2011 at 26.4 million units, IDC said. That figure fell to 18.2 million units in 2012, and the category is expected to grow only modestly in 2013 and 2014 before beginning a gradual and permanent decline in 2015.
Amazon's initial versions of the Kindle e-reader were single-use models, but the new color Kindle Fire offers touchscreen and media consumption capabilities along with Web browsing. The company doesn't release sales figures for the Kindle Fire but has said it has quickly become one of its most popular products.
Amazon did not respond to our request to comment for this story.